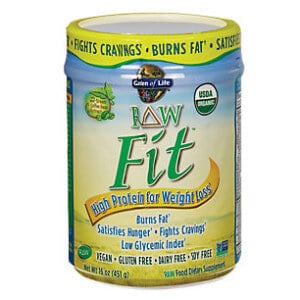 No joke – over 50% of diet products simply don't work. So what about Garden of Life Raw Fit? We've heard a lot of good things about the meal replacement protein shakes, so we did an in-depth review of the ingredients, side effects, customer service, and scientific research. Hundreds of experiences and comments were taken in as part of the process. We then compiled and condensed to give you the information you need.
EDITOR'S TIP:
Combine Garden of Life Raw Fit with a proven fat burner such as
Leptigen
for better results.
What You Need to Know
To start, the strength of Garden of Life Raw Fit is definitely in its ingredients. The all-natural, vegan, gluten-free, dairy-free, soy-free formula is healthy for just about anyone to take. It contains coffee bean extract, chromium, cinnamon, sprouted grains, and more than a dozen additional all-natural elements. It also has a low glycemic index and can be mixed anywhere, making this a convenient meal replacement shake.
This meal replacement shake has been around since the early 2010s and is created by Garden of Life, a diet supplement company with multiple weight-loss products. We like that this one doesn't use synthetic ingredients and that it's readily available online. We also like the convenient use, but read on…
Price – "Yee-Ouch?"
The first complaints about Garden of Life Raw Fit all start with price. At $30 per container plus shipping and handling, this meal-replacement system seems like a bargain until the customer realizes that each only contains 10 servings. "If you used Garden of Life Raw Fit consistently as a meal replacement shake, you could see weight-loss," said our Research Editor. "But the high cost makes it impossible to afford for more than a few weeks." For users that replace 2 meals per day with, the total monthly cost can add up to over $200.
"Way too expensive to justify adding to my daily routine," said one user.
"I'll never know if this works or not, because I can't afford to try it. More affordable alternatives are easy to find," explains another.
Scroll below for one of the best products we've seen over the last year.
Taste – "Yuck!"
In addition to the high cost of using Garden of Life Raw Fit on a daily basis, many customers also complained about a chalky taste. "Extremely chalky and tastes like cardboard," said one online review.
"If you like the taste of something foul in your mouth – this is the product for you," said another.
Some people did have success when mixing it with a smoothie or shake. "The flavor is bad and the texture is worse, but I choked it down by adding it to a smoothie," said one helpful review.
We've researched diet and exercise programs, and have concluded that anytime there is an element of a weight-loss supplement that is more troublesome or difficult than necessary (taste, cost, difficult exercise routine, negative side effects, etc.) the likelihood of losing weight and keeping it off decreases significantly. If Garden of Life Raw Fit requires the user to choke it down, this could make long-term success difficult.
The Science – "Clinically Validated?"
Garden of Life Raw Fit seems to have some support proving that their ingredients are a healthy way to lose weight, but the studies are far from impressive. This meal replacement hasn't been featured in any published trials and no research has been done comparing it to a placebo. With the high cost of this product, we'd also like to see some proof that this is more effective than supplements that are available at a fraction of the cost. Here at DietSpotlight, it's the science that sets one formula apart from another. In the case of Garden for Life Raw Fit, there's no reason to give the thumb up.
The Bottom Line – Does Garden of Life Raw Fit Work?
So now, are you ready for the final take on this one? We like the variety of products and flavors offered by Garden of Life Raw Fit and some users seem to have success with their weight-loss and fitness goals. We also like the convenience and all-natural ingredients offered, but because of the lack of scientific data backing up their claims, we have reservations about suggesting this meal replacement system as a long-term solution. We're not sure that the high cost is justified with improved results and we're also concerned with the chalky taste.
If you'd like a more affordable weight-loss alternative that offers proven results, we suggest a supplement that has clinical studies backing up its claims, doesn't have a chalky taste and is affordable for those trying to lose weight on a budget.
Among the best products we've seen in 2016 is one called Leptigen. This weight-loss pill contains a proprietary blend of just four ingredients that have no known negative side effects. The formula has been reviewed in published clinical studies that prove its effectiveness to help boost metabolism and fat loss. We've heard plenty of positive comments from customers that have tried this and it seems to be an effective way to lose weight without the negatives.
Plus, the makers of Leptigen are even offering a Special Trial Offer, which shows how confident they are that you'll love their product and see positive results.