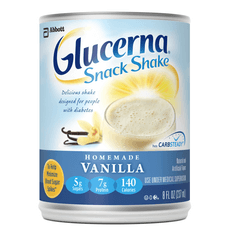 There's been plenty of gossip about Glucerna shakes, so we did one of our in-depth reviews, examining the side effects, ingredients, clinical research and level of customer service. We additionally spent a lot of time reading user comments and customer reviews that are posted online. At this point we summarized and compressed all of the facts and feedback to give you the bottom line.
EDITOR'S TIP:
Combine Glucerna with a proven fat burner such as
Leptigen
for better results.
What You Need To Know
Glucerna is a line of products specifically marketed at people with diabetes. These products include the following; Glucerna Shakes, Glucerna Advance Shakes, Glucerna Hunger Smart Shakes, and Glucerna Mini Snack Bars and Crispy Delight Bars. The purpose of these products is to help you manage blood sugar levels and watch your weight. These shakes and snacks assist by minimizing blood sugar spikes. The original Glucerna shake contains the following; 190 calories, 7 grams of fat, 5 milligrams of cholesterol, 210 milligrams of sodium, 10 grams of protein, 6 grams of sugar, 3 grams of fiber and 23 grams of carbohydrates. This shake also provides 27 vitamins and minerals.
Glucerna is made by Abbott Global, and has been available since at least 2007. This shake can be purchased online for $40 (24-pack) and both chocolate and vanilla flavors are offered. Since these shakes are prepackaged and ready-to-drink, they are easy to take anywhere, but read on…
Bad Taste!
According to our Research Editor, "We certainly noticed a lot of negative user reviews concerning the actual taste of Glucerna shakes. Unfortunately if a product tastes unpleasant, people are unlikely to use it regularly. This makes it ineffective."
One customer complained, "This stuff is nasty! Like it was ran through a hot garden hose nasty. I will be throwing the rest of this stuff out."
Another user said, "I hated the taste! Not good at all for me." Yet another person stated, "Awful tasting!"
Scroll below for one of the best products we've seen in 2015.
Negative Customer Feedback
If you take a look at dealer websites such as Amazon, you will find numerous user complaints regarding Glucerna shakes. One dieter stated, "I tried the vanilla and chocolate and both gave me diarrhea. The taste was tolerable, not wonderful. I wished it didn't make me sick."
"I tried one this morning. After about 20 minutes I felt nauseous and had a severe gastrointestinal reaction," said another person.
The research we have done has proven that if there is some particular facet of a diet shake or weight loss system that is especially concerning or difficult (bad taste, very high cost, too many customer complaints) the probability of weight loss results for the long term is rather low. So, if Glucerna shakes do result in a lot of negative customer feedback, this could be a serious dilemma.
The Science
Fortunately there are some studies that support Glucerna products for regulating blood sugar levels and not causing blood sugar spikes. This makes these shakes okay for people with diabetes. On the other hand, we did not find clinical evidence that links Glucerna shakes to weight loss. At DietSpotlight, we prefer to see documented research that proves the diet product works for weight management.
The Bottom Line
We are glad to see that Glucerna shakes and snacks are suitable for people with diabetes. However, we do not recommend these products for other people who are trying to slim down and shed excess body fat. The truth is Glucerna is not specifically for weight reduction. Also, there are quite a few complaints concerning the taste of these shakes. Some users even complained about intestinal pains and diarrhea.
For dieters who wish to see more weight loss results, we encourage you to choose a diet product that contains clinically proven ingredients specifically for boosting metabolism and speeding up fat loss.
Among the top-rated products we've seen in 2015 is one called Leptigen. This supplement uses a blend of four important ingredients, which have been proven in published scientific studies to increase metabolism and encourage fat loss. Moreover, we can't find any discussion of negative side effects and user comments posted online show people are seeing solid results.
Also, the makers of Leptigen are so confident in their product they're offering a Special Trial Offer, which is a good sign.