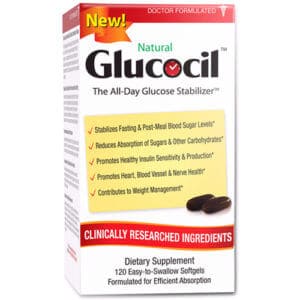 If you want the bottom line on Glucocil, give me just two minutes of your time. Our in-depth review examined the ingredients, side effects, clinical research and customer-service quality. Plus we read hundreds of user comments from around the internet. Then, we summarized and refined to give you the info you need.
What is Glucocil?
First off, Glucocil is a glucose stabolizer that claims to optimize blood-sugar levels. The ingredients include mulberry leaf extract, alpha lipoic acid, berberine, fish oil and chromium. You start off taking one softgel twice daily, but you eventually take two. The small bottle makes is rather portable.
Neuliven Health, the company behind Glucocil, has been in business since 2008. The product is available in stores and via the official website. We like the favorable BBB rating and some of the ingredients are natural, but read on…
Weight-Loss Ingredients – "There are None?"
The first concern was the effectiveness of Glucocil ingredients. "Dieters need to make an important choice when starting a journey to lose more – eat less and make good choices," said our Research Editor. "The trouble with supplements like this one is that they don't increase metabolism so you are stuck relying on dietary intake to lose."
"Been using about 4 weeks. I take one pill with each meal…No weight loss so far," according to one dieter.
"I have not lost any weight, and my glucose levels are OK, but not much lower than before," says another customer.
We did find some dieters who did lose a few pounds despite the fact that no weight-loss ingredients are used. One reported, "I have been on glucocil for 5 months. I've lost some weight already. "
Another revealed, "I have lost a few pounds so will take it just for this."
Scroll below for one of the best products we've seen over the last year.
Testimonials – "Positive or Negative?"
We examined Glucocil reviews to see if users improved results. One said, "There is no such thing as the perfect pill to assist with blood sugar control without a proper diet."
"I experienced dry mouth and mild headaches after using only 3 tablets," said a customer.
Another stated, "I have been taking it for almost 2 months with good results."
"I felt good and energized on the Glucocil," said a dieter.
DietSpotlight research has shown if there are major issues with a diet program, lack of testimonials, the dieter is less likely to experience lasting results. If customers have complaints about Glucocil, this is concerning.
The Science – "Any Clinical Support?"
Glucocil offers a ton of links for clinical research, but none of the titles are listed. The dieter has no idea if the studies have anything to do with weight-loss. The chromium picolinate can help support blood glucose levels, which can suppress cravings, but appetite is not the only issue with weight-loss. Even if there is less hunger, that does not mean they will choose healthy, low-calorie foods. At DietSpotlight, we like seeing solid science used to support claims. Without support, we see a red flag.
The Bottom Line – Does Glucocil Work?
So, should you race out for this one? We like that Glucocil ingredients support blood glucose levels and the longevity of the company. However, we're concerned that there's no connection to weight-loss. It's also troubling that we found several customer complaints.
For dieters who want to shed extra pounds, we suggest trying out a product with scientifically-tested ingredients promoting weight-loss and positive customer testimonials.
Among the best products we've seen in 2016 is one called Leptigen. The supplement is a proprietary blend of four ingredients, shown in clinical studies to help speed up fat loss and boost metabolism. We can't find mention of harmful side effects and reviews indicate dieters are happy with the product.
Also, the company behind Leptigen is confident in their formula, so they're offering a Special Trial Offer, which is a positive sign.