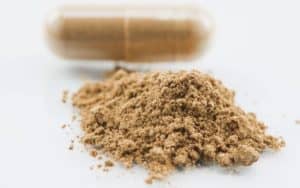 Looking at some diet products can be painful, especially if there's no backing for the formula. Let's find out if glucomannan is in this group. Our detailed review focused on the ingredients, side effects and scientific research. Additionally, we picked apart hundreds of user comments and testimonials. Then, we summarized and condensed to give you the info you need.
What is Glucomannan?
To begin with, glucomannan is a water-soluble dietary fiber extracted from the root of the konjac plant. When consumed, it works to potentially suppress appetite, improve digestion and promote weight-loss. It's used in supplements, drink mixes and added to foods.
Glucomannan is available at online retailers and local grocers. We like that it's a natural ingredient and included in healthy eating plans. There are several health benefits to this fiber, but read on…
Lack of Results – "No Changes in Weight?"
The first concern with glucomannan was the lack of results. "Adding fiber to your diet could improve overall health and wellness," said our Research Editor. "But, research proving you'll lose weight isn't that solid."
"Minimal results and way too slow," said a user.
"I just started taking this about 2-3 days ago. I didn't notice a difference in my appetite," stated another.
While some dieters didn't notice results, others reported solid results while using glucomannan.
"Since taking this drug, I have lost 3 lbs in one week. I only take 2 pills 1/2 an hour before dinner," reported a consumer.
Scroll below for one of the best products we've seen over the last year.
Side Effects – "Concerning?"
According to customer reviews glucomannan side effects were concerning. "I got very nauseous to a point that I threw up after 15 min. of taking this pill," said customer.
"Up all night sick now left with a huge migraine," commented another.
Side effects from natural ingredients are rare. We found some users that didn't notice any adverse reactions.
"I took it this morning and I feel great. Little pain in my side but it went away quickly after drinking water," said a dieter.
"I feel fuller and no constipation. No side effects," reported another.
Our research has shown that when there's any part of a supplement that's concerning, such as being the cause of adverse reactions, the chances of long-term success are reduced. It may be time to consider an alternative, if you use glucomannan and experience negative side effects.
The Science – "Research Based?"
There's a wealth of research available relating to glucomannan. In studies, participants did notice changes in their weight. What we found was that dieters also made changes to their existing eating habits; which could have been the cause of their weight-loss. At DietSpotlight, solid science is a critical part of the review process. With this ingredient, there's evidence it works, but it may not be the only option.
The Bottom Line – Does Glucomannan Work?
Ladies and gentlemen, what's the final word on glucomannan? We like that it's affordable and that it's readily available. We would have liked to see more research connecting it to weight-loss. Another concern relates to customer comments talking about the lack of results and potential side effects.
If you're interested enhancing your weight-loss, we suggest going with a supplement that's backed by research, contains ingredients connected to weight-loss and no mention of harmful side effects.
Among the best products we've seen in 2016 is one called Leptigen. The supplement contains four clinically-tested ingredients that have been shown to help ignite fat loss and accelerate metabolism. While no one it talking about harmful side effects, the chatter from users centers on them seeing great results.
Also, the makers of Leptigen are so confident in their supplement, that they're offering a Special Trial Offer.