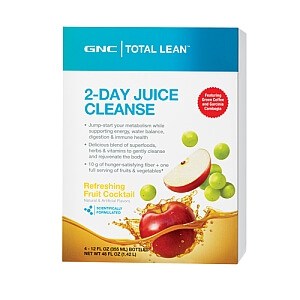 Dietary cleanses can be an effective way to kick start a weight-loss endeavor, so we were excited to learn more about the GNC 2 Day Cleanse. We looked at the numerous ingredients, the manufacturer's claims, and reviews to put together all the facts you need before deciding if this cleanse is right for you.
What You Need to Know
The GNC 2 Day Cleanse is an entirely liquid cleanse that individuals use in conjunction with an organic diet to eliminate the toxic effects an overly processed foods can have on the body and digestive system. Ingredients include purified water, whole apple concentrate, white grape extract, aloe vera gel, milk thistle extract, green tea leaf extract, citrus bioflavonoid complex, acai fruit, spirulina, grape skin extract, pineapple, apple, orange, chlorophyll, goji berry extract, broccoli, tomato, brussel sprouts, cauliflower, blueberry, grape, grapefruit, plum, raspberry, strawberry, watermelon, celery, kale, spinach, lemon, lime, papaya, cantaloupe, cherry, peach, pear, radish, onion, leek, yellow pepper, fibersol, maltodextrin soluble fiber, xanthan gum, apple pectin, carrot fiber, beet fiber, citric acid, potassium phosphate, natural flavors, potassium sorbate, sodium benxoate, calcium ascorbate, sucralose, niacin, D-calcium pantothenate, Acesulfame Potassium, Folic Acid, Pyridoxine HCL, Riboflavin, Thiamin HCL, Chlorella Algae, Kombu, Wakame, Nori, Oat Fiber, Soybean Fiber, Brown Rice, Chicory Root, Jerusalem Artichoke Tuber, Acerola Berry Extract, Licorice Root Extract, Astragalus Root, Barley Malt, Mung Bean, Soy Sprouts, Wheat Berry, Eleuthero Root Extract, Pomegranate Fruit Extract, Cranberry Concentrate, Barley Grass, Jasmine Tea Extract, Trace Minerals, and Cyanocobalamin. It looks like you're supposed to drink the supplement about 30 minutes before two meals a day.
GNC is the company behind the product. They have been in the business for decades – a positive. You can buy online as the 2 Day Juice Cleanse or purchase in a local store. We like the natural ingredients and there are people who've achieved a little weight-loss with use, but read on…
Quick Turn Around – "Too Short for Long Term Results"
The first thing that caught our attention with GNC 2 Day Cleanse ingredients is that you only take them for two days. One of the selling points is that it only takes two days to promote lasting change. While there is certainly some proof that products like this can be beneficial for overall health, it is less clear that there is a correlation between a one time course and lasting weight-loss. According to our Research Editor, "There is very little scientific support to indicate that this process will help you lose more over the long term."
Scroll below for one of the best products we've seen over the last year.
Ingredients – "Nothing to Help You Lose"
The GNC 2 Day Cleanse has an extensive, almost intimidating, list of ingredients. However, none are directly linked to, or associated with, weight-loss.
One user said, "One star cause there's no zero. Took the product as instructed. The only thing that was cleansed was my wallet."
Another shared, "Tasted bad.. did nothing for me… total waste of money….."
There were a few that did notice results, including some weight-loss.
"Easy to use, never hungry, lost 2.8 pounds in 2 days. Great way to jump start diet," said one review.
The Science – "Did We Find Proof?"
The company offers no scientific proof that the GNC 2 Day Cleanse will in fact promote weight-loss, or enhance health in any area. While cleanses are generally recognized to offer some benefits, there is no actual research provided. We do know the act of increased bowel movements and water loss will change the scale, this is only temporary. Here at DietSpotlight, we are looking for something that helps you lose more and we didn't find that this time.
The Bottom Line – Does GNC 2 Day Cleanse Work?
Have we decided to go ahead and start our cleanse? Overall, this appears to be a fairly decent cleansing regimen, which offers adequate fiber sources and may be a good way to begin a healthy eating plan. However, there is no indication that it will support weight-loss and it will have no long term effects at all without a modified diet after completed. Plus, we have reservations about recommending it because the ingredient list may be a little overpowering.
Effective weight-loss supplements are those that have been tested for effectiveness and proven to provide some sort of dynamic change that facilitates weight-loss. Look for clinically-tested ingredients and amazing customer support.
Among the best products we've seen in 2016 is Leptigen. It is made with ingredients that have been tested, and their weight-loss properties shown. After our research we found a great deal of evidence that supported the claims made by the manufacturer and testimonials consistently report fantastic results.
The makers of Leptigen are entirely confident in the efficacy of the product. They are now giving new customers a Special Trial Offer, to prove how beneficial their supplement truly is.