Updated: 09/29/2015 - Sponsored by Leptigen
GNC Lean Shakes Review - Does This Meal-Replacement Product Really Work?
Are high price and unpleasant taste deal breakers?
PUBLISHED: 09/17/2015 | BY: SUMMER BANKS, SENIOR REVIEWER
Editor
's Review:
2.9
/ 5.0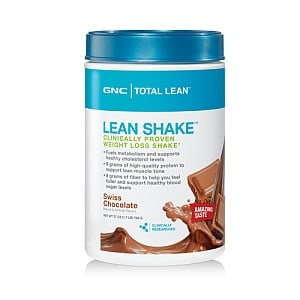 We've heard a lot of talk about GNC Lean Shakes, so we took the time to write a detailed review, examining the ingredients, side effects, customer service and clinical research. Moreover, we focused on dozens of dieter comments and customer reviews posted online. Finally, we compacted all the data we found to give you the important facts you need.
EDITOR'S TIP:
Combine GNC Lean Shakes with a proven fat burner such as
Leptigen
for better results.
What You Need To Know
GNC Lean Shakes come in flavors like chocolate peanut butter, cookies & cream, and French vanilla. This product is claimed to support lean muscle mass, fuel the metabolism and encourage healthy cholesterol levels. The ingredients used in this shake powder are as follows; Milk Protein Concentrate, Nonfat Dry Milk, Creamer, Natural and Artificial Flavors, Sucralose, Acesulfame Potassium and a Vitamin and Mineral Blend. These shakes can be used in place of meals, and you are encouraged to drink two shakes per day. Simply add two scoops of powder to eight ounces of cold water. Each shake provides 180 calories, eight grams of fiber and nine grams of protein. When used daily, GNC Lean Shakes should lead to weight loss.
GNC Lean Shakes have been available since 2009 and are sold online, as well as in common GNC store locations. These shakes provide a significant amount of fiber and are available in several different flavors, but read on…
Expensive – Wow!
According to our research editor, "GNC Lean Shakes are very pricey when you consider the fact that a single container provides 16 servings, which is only enough for 8 days. The price tag is $34.99 per container, which means you will spend almost $140 a month."
"This tastes horrible! And the jug only lasted me a week!," said one customer.
Another stated, "I can't afford this. There are cheaper protein supplements that contain more protein."
Scroll below for one of the best products we've seen in 2015.
Unpleasant Taste – Another Concern
There are literally dozens of customer complaints regarding the taste of GNC Lean Shakes. For instance, one user said, "Tastes too sweet with artificial sweeteners."
Another complained, "This is the worst tasting powdered meal replacement I've had." Yet another said, "Taste is HORRIBLE! Very Chalky! Not worth the price."
According to our research, if there is one facet of a supplement or diet program that is very troublesome (unpleasant taste, serious side effects, high price) the probability of long-term weight loss success is very low. If GNC Lean Shakes do in fact taste terrible to a lot of dieters, this could definitely be problematic.
The Science
According to the official website, GNC Lean Shakes are "clinically proven" to aid with weight loss. However, we at DietSpotlight couldn't find any documented clinical research to support these claims. We must see real scientific evidence concerning the supplement and weight reduction in order to believe the weight loss claims.
The Bottom Line
We appreciate that GNC Lean Shakes provide a significant amount of fiber to assist with regularity and appetite suppression. However, we don't recommend this supplement because it's not backed by solid clinical research. Furthermore, the amount of protein in a serving of this GNC shake is quite minimal (only 9 grams). Also, if you used this supplement as directed, twice a day, it would cost you nearly $140 a month. Not to mention, there are countless customer complaints about the taste of GNC Lean Shakes.
If you want to slim down and rock your best body, we encourage you to choose a diet supplement that is both affordable and backed by real clinical results.
Among the most promising weight loss products we've spotted in 2015 is Leptigen. This diet formula contains a unique blend of four ingredients, which have been shown in documented clinical studies to improve fat loss and increase metabolism. We are unable to find any discussion of harmful adverse effects and dieter reviews posted on the web indicate people are seeing wonderful results.
Also, the makers of Leptigen are so confident in their product they're offering a special trial offer, which is a good sign.