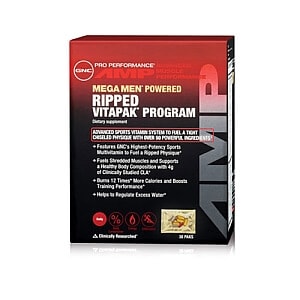 It's been a long journey but I feel I'm now qualified to advise you on whether or not to try GNC Pro Performance Vitapak. We decided to conduct one of our comprehensive reviews, taking a close look at the ingredients, side effects, clinical research and customer service. Plus, we went on to read hundreds of user testimonials from across the internet. Then, we summarized and condensed it all to give you the bottom line.
EDITOR'S TIP:
Click here
to combine GNC Pro Performance AMP Ripped Vitapak with a proven testosterone booster such as Pronabolin for better results.
What You Need to Know
Firstly, GNC Pro Performance AMP Ripped Vitapak is a collection of four different supplements including the Mega Men sport blends, CLA, Thermo Igniter 12X, and Waterex. The Vitapak is to be taken daily, but not before bedtime as it may cause interference with sleep. The pills are easy to travel with, one good thing.
Pro Performance AMP Ripped Vitapak is produced by General Nutrition Corporation. The company has more than 80 years in the business and ingredients are listed on the official website, but read on…
Reports of Ineffectiveness – "Doesn't Work?"
The first thing that concerned us was the ineffectiveness of the GNC Pro Performance Vitapak ingredients. Despite the fact GNC is a popular supplement brand, there are reports that the formula doesn't like up to expectations. "All you want out of a product is for it to work," says our Research Editor. "Otherwise, why are you even giving it the time of day?"
"I have been on this program now for over two months and have not lost any weight, even though I run about 12 miles a week and also go to the gym every day. Did not notice any type of boost of energy!," said one user.
Scroll below for one of the best products we've seen over the last year.
Negative Side Effects – "Not a Positive"
Several user reviews indicated issues with the supplements; from headaches and nausea to feeling dizzy, it seems that some of the ingredients in the vitamin pack may cause problems for users.
One user said, "Hated it! Pills are huge and It will make you stressful. One weird thing is that it making me dizzy!"
"I really wanted to like it. I tried every single combination to take these and it did not work out. I was left feeling not so good every time I took these," said another.
Our research indicates that if there's part of a diet program that's difficult, like the potential for side effects, the chances that a dieter will see long-term results are diminished. If GNC Pro Performance AMP Ripped Vitapak does lead to adverse reactions, there's no real reason to spend the cash.
The Science – "Effective?"
There is no science to support this product as a whole. Waterex is a diuretic to help remove excess water weight. However, using supplements like these too much can cause dehydration by robbing the body of water it needs to be healthy. At DietSpotlight, we need to see clinical backing for the ingredients. If that's not available, we immediately throw the red flag.
The Bottom Line – Does GNC Pro Performance AMP Ripped Vitapak Work?
Are we on the run to pick up all of these? We were looking forward to reviewing GNC Pro Performance AMP Ripped Vitapak because it appeared to be a solid supplement from a well known and respected company. We were disappointed to see a number of complaints about the products doing nothing to but changing the color of urine and in some cases causing headaches and nausea. For these reasons, we are skeptical about suggesting dieters give this one a go.
If you'd like to drop pounds, we suggest opting for a supplement that combines clinically proven ingredients with a great price and no risk of side effects.
Among the best products we've seen in 2016 is one called Pronabolin. The formula is a proprietary blend of nine ingredients clinically proven to help you reclaim energy and naturally boost testosterone levels. There's no talk of adverse side effects and comments all around the internet show people are seeing great results.
Also, the makers of Pronabolin are so confident in their product they're offering every customer a 120-day money-back guarantee and multiple-bottle discounts.