Updated: 09/29/2015 - Sponsored by Leptigen
GNC Total Lean CLA Review - Does This Weight Loss Formula Really Work?
Are lack of real science and poor user reviews deal breakers?
PUBLISHED: 09/11/2015 | BY: SUMMER BANKS, SENIOR REVIEWER
Editor
's Review:
3.5
/ 5.0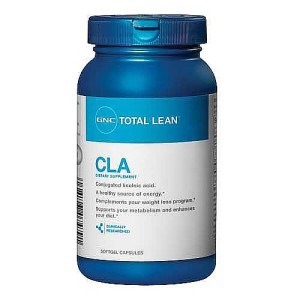 We've noticed plenty of buzz regarding GNC Total Lean CLA, so we did an in-depth review, examining the side effects, ingredients, level of customer care and scientific studies. Plus we read countless user reviews and dieter comments from all over the web. At this point we compacted the data we found in order to provide you with the bottom line.
EDITOR'S TIP:
Substitute GNC Total Lean CLA with a proven fat burner such as
Leptigen
for better results.
What You Need To Know
GNC Total Lean CLA is made by General Nutrition Corporation, and is available for $41.99 (180 softgel capsules). According to GNC, this supplement helps you maintain lean muscle mass, enhances metabolism and supports healthy body composition. The key ingredient used in this product is CLA or Conjugated Linoleic Acid (2,000mg per serving) and it comes from Safflower Oil. You just take two softgels once or twice a day.
GNC Total Lean CLA was released in 2011, and this product does not contain any artificial colors or flavors. Furthermore, this supplement can be obtained from the official website, and there is a return policy provided, but read on…
Lack of Real Science
According to our research editor, "Even though CLA is quite popular as a daily supplement for maintaining lean muscle tissue, there is no solid evidence that this essential fatty acid causes weight loss or reduced BMI (body mass index)."
One customer said, "I bought the 180 count bottle, I didn't notice any difference after 5 weeks."
"While it may be effective in the lean muscle mass department. I saw no change in my weight from it," said another user.
Scroll below for one of the best products we've seen in 2015.
Poor User Reviews
There are a lot of negative customer reviews posted online for this diet aid. One user stated, "Haven't seen any results for losing weight. The only thing that I have noticed was acne, and all over!"
Another dieter complained, "ALREADY 2 WEEKS. I DON'T SEE ANY CHANGES. NETHER MY WEIGHT NOR BODY SHAPE. I HAVE GAINED SOME WEIGHT."
Our research has shown that if a specific aspect of a weight loss product or diet program is very bothersome (no clinical research, bad taste, too many dieter complaints) the likelihood of real success for the long run is quite slim. This means if GNC Total Lean CLA does result in all sorts of user complaints, this could be a big problem.
The Science
From what we can tell, GNC does not provide any clinical research to support the weight loss claims concerning GNC Total Lean CLA. Furthermore, according to WebMD, Conjugated Linoleic Acid has not been proven to help with weight loss or reduced BMI. Since we at DietSpotlight need to see documented science that supports the diet product, we cannot get behind this CLA supplement.
The Bottom Line
It's nice to see that GNC Total Lean CLA may help support lean muscle tissue. However, we would not recommend this supplement for weight reduction and fat loss. There are actually numerous customer complaints that this product does not work for weight loss at all. Furthermore, there are plenty of other CLA supplements available that sell for much less.
Dieters that need to slim down and shed pounds more rapidly, we suggest you go with a weight loss supplement that is supported by positive customer reviews and contains clinically-proven ingredients for fat loss.
One of the finest diet products we've noticed in 2015 is Leptigen. This weight loss supplement uses four key ingredients, which have been proven in documented clinical research to help improve fat loss and kick-start metabolism. Furthermore, we can't pinpoint any discussion of negative side effects and user comments found on the internet indicate people are seeing significant results.
Also, the makers of Leptigen are so confident in their product they're offering a special trial offer, which is a good sign.