Updated: 09/29/2015 - Sponsored by Leptigen
GNC Total Lean Burn 60 Review - Does This Thermogenic Supplement Really Work?
Are fad diet ingredients and customer complaints deal breakers?
PUBLISHED: 09/13/2015 | BY: SUMMER BANKS, SENIOR REVIEWER
Editor
's Review:
3.5
/ 5.0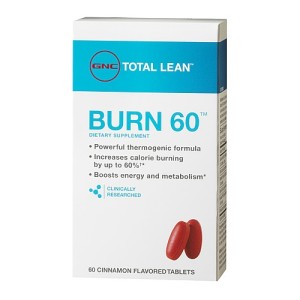 There has been a lot of talk about GNC Total Lean Burn 60 weight loss pills, so we wrote a detailed review, examining the side effects, ingredients, scientific research and level of customer service. Also, we took a close look at numerous user reviews and customer comments posted online. Lastly, we compacted the facts and details to provide you with the bottom line.
EDITOR'S TIP:
Substitute GNC Total Lean Burn 60 with a proven fat burner such as
Leptigen
for better results.
What You Need To Know
GNC Total Lean Burn 60 contains several natural ingredients, which include; Guarana Seed Extract (495mg), Black Tea Leaves Extract (272mg), MegaNatural Grape Skin and Seed Extract (210mg), Ginger Root Extract (200mg), Dill Weed Extract (5mg) and MegaNatural Gold Grape Seed Extract (125mg). This diet supplement is supposed to help increase calorie burning, elevate energy levels and boost "cellular" metabolic activity. Two tablets is a serving and this supplement should be taken daily, along with diet and exercise.
GNC Total Lean Burn 60 was released back in 2009, and this product is made by General Nutrition Corporation. This supplement is available via the official website for $36.99 (60 tablets), and plenty of customer reviews are posted on the company website, but read on…
Fad Diet Ingredients – Uh Oh
According to our research editor, "The ingredient blend used in GNC Total Lean Burn 60 is not backed by any real weight loss research. According to WebMD, the primary ingredient Guarana, has not been proven to help with weight reduction."
According to one user, "I don't think that the supplement does anything for me except that it makes me feel nauseous 30 minutes after I take it, every time."
Another customer said, "This product did not work for me. I did not lose any weight on it."
Scroll below for one of the best products we've seen in 2015.
Too Many Customer Complaints!
There are literally dozens of user complaints posted on websites like GNC and Amazon. In fact, one dieter stated, "The only difference I notice is that it makes me sick. Tried doing only 1 pill before workout and it still made me sick."
"These nearly gave me a heart attack! My heart was beating out of my chest!," said another user.
Our research has revealed if there is a certain part of a diet pill or weight loss program that is very difficult or concerning (too many user complaints, fad weight loss ingredients, unpleasant taste) the real likelihood of success for the long run is very minimal. Therefore if GNC Total Lean Burn 60 does in fact cause a lot of dieter complaints, this could be a serious issue.
The Science
GNC does not provide any documented clinical research that supports this supplement as an effective weight loss aid. We at DietSpotlight have to see published science pertaining to the diet product and its ingredients for weight loss. In the case of GNC Total Lean Burn 60, we only see a red flag.
The Bottom Line
It's always nice to see another supplement from GNC. After all, this company has stood the test of time. Then again, we don't recommend GNC Total Lean Burn 60 as an effective weight loss aid. Not only is there no clinical studies to support this supplement, there are far too many negative customer reviews posted online. Also, this diet product appears to cause side effects such as nausea, headache and jitteriness in many users.
For people who need to lose weight more quickly, we advise you to go with a diet supplement that contains proven key ingredients, is backed by real science and is supported by positive user reviews.
One of the top diet products we've come across in 2015 is Leptigen. This weight loss supplement offers a proprietary blend of four ingredients, which have been shown in documented clinical studies to help speed up fat loss and kick-start metabolism. Moreover, we can't locate any negative talk of bad side effects and customer feedback posted online shows people are seeing considerable results.
Also, the makers of Leptigen are so confident in their product they're offering a special trial offer, which is a good sign.