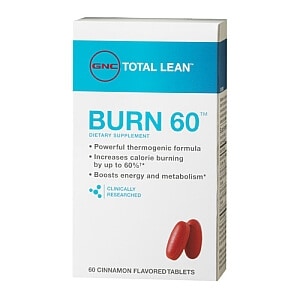 My love of diet products is bested only by my passion for reviewing them 🙂 You may have noticed that there's been a lot of discussion regarding GNC Total Lean Burn 60 tablets for weight-loss. This is why we conducted some research and created a detailed review, examining the side effects, ingredients, customer service and clinical studies. Furthermore, we scrutinized hundreds of dieter comments and user reviews from all over the web. Lastly, we compacted all of the data we found to give you the information you need.
What You Need To Know
To start, GNC Total Lean Burn 60 is a thermogenic supplement. It should be taken 30-60 minutes prior to breakfast or exercise. According to the official website, this formula helps boost energy levels, elevate the metabolism and increase calorie-burning by up to 60 percent. The ingredients used are dill weed extract, MegaNatural gold grape Seed extract, ginger root extract, MegaNatural grape skin and seed extract, black tea leaves extract and guarana seed extract.
GNC Total Lean Burn 60 has been available since 2009 and it is sold on the official GNC website for $36.99 per 60 tablets. Also, this product is backed by some customer testimonials and there is a return policy provided on the website, but read on…
Weight-Loss Ingredients – "Unproven?"
At first glance, an issue we immediately recognized with GNC Total Lean Burn 60 ingredients was lack of clinical support or proof. "We took a close look at the formula. Although ginger root, dill weed and grape seed are used, there is not evidence that shows these promote weight reduction or fat loss," says our Research Editor.
One customer commented, "Used the product for 2 months with no noticeable differences."
"This product did not work for me. I did not lose any weight on it," said another user.
Scroll below for one of the best products we've seen over the last year.
Customer Complaints – "A Problem"
There are a lot of user complaints posted on the GNC website, as well as dealer websites like Amazon. One customer stated, "Gave me terrible headaches, racing heart, light headedness, and nausea."
Another revealed, "I took this one time and it made me SUPER SICK. Maybe it was just me but I threw them out immediately."
After doing ample research, we have discovered that if a certain part of a diet program or weight-loss pill is very bothersome (unproven ingredients, bad taste, customer complaints) the chances of real long-term success are minimal. If GNC Total Lean Burn 60 does lead to numerous problems, this could prove to be an issue.
The Science – "Any Validity?"
Although "clinical research" is mentioned for GNC Total Lean Burn 60 on the official website, nothing is really explained or elaborated on. Since we at DietSpotlight need to see documentation of real science concerning the product and its ingredients, lacking this information is enough reason for us to turn away.
The Bottom Line – Does GNC Total Lean Burn 60 Work?
So, let's get to the bottom of this one right now, shall we? GNC is certainly a company that has stood the test of time. However, we do not feel comfortable recommending GNC Total Lean Burn 60 tablets for safe and effective weight management. Not only does this contain unproven ingredients, but it has also racked up a lot of customer complaints online. There are more promising weight-loss products to consider.
Those who want to slim down and shed serious fat, we advise you to choose a weight-loss supplement that is supported by clinical trial results and does not lead to adverse effects.
Among the best products we've seen in 2016 is one called Leptigen. This supplement contains four unique ingredients that have been proven in published scientific studies to help ignite metabolism and improve fat loss. We have not seen any talk of unpleasant side effects and dieter feedback posted on the web shows people are seeing significant results.
Also, it's with great confidence that the makers of Leptigen offer a Special Trial Offer, which is a good sign.