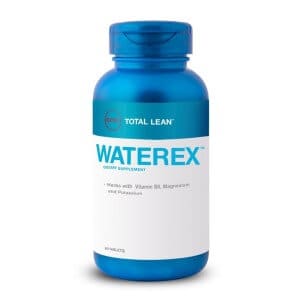 Give me just two minutes of your time and I'll tell you whether or not GNC Total Lean Waterex actually works. We examined the ingredients, side effects, customer service, and clinical research. We took the input from hundreds of customer comments and reviews. Then, we condensed and summarized to give you the info you need.
EDITOR'S TIP:
Substitute GNC Total Lean Waterex with a proven fat burner such as
Leptigen
for better results.
What You Need to Know
First off, the ingredients in the GNC Total Lean Waterex are garlic clove, parsley herb powder, uva ursi extract, elderberry fruit, horsetail rush stems, fennel seed, corn silk, hydrangea root powder, and juniper berries extract. The main purpose of the supplement is to serve as a diuretic.
GNC is the company that makes Waterex and they've been in business for decades. You can buy directly from the business or via online retailers. We do like the all-natural ingredients, and the availability of information on the company website, but read on…
Limited Weight-Loss Ingredients – "Whoa!"
The first issue was GNC Total Lean Waterex ingredients work as a diuretic, not as a weight-loss supplement. According to our Research Editor, "If you are having an issue with retaining water, this product might help, but that's about the only benefit you get."
One woman said, "I specifically bought this supplement after having my first child thinking I could help eliminate any excess water weight…This product did not work at all for me."
Another reviewer said, "They didn't work at all for me. I checked the expiration date and they're not old. I would not recommend this diuretic to anyone."
Even though some reviewers were not pleased with the results, we're happy to say some felt the product worked exactly as intended.
"I'm on my second bottle. This product works as it is suppose to. It balances your water weight so you're always hydrated, but not bloated with too much water," said a customer.
Another said, "This really helps! I have been taking this for 5 weeks and have seen great results. No more bloating, not even during that monthly time."
Scroll below for one of the best products we've seen over the last year.
Side Effects – "Any Issues?"
Another concern, as well as customers posting comments on the web, was GNC Total Lean Waterex side effects. One reviewer reported, "I only took this once. I just felt weird while taking it."
"Be careful," stated another.
While some individuals did find they felt off while taking the supplement, others experienced no negative issues.
One glowing review said, "Waterex is wonderful for those who want to take a safe water pill everyday.
Another offered, "Don't forget to drink enough water throughout the day, especially if you do exercise."
Over the years, we've found it takes a small thing, like feeling off, to stop your chances of long-term results. If GNC Total Lean Waterex does cause side effects, the dieter may change it out for a clinically-tested weight-loss supplement.
The Science – "Excess Water Weight Only"
Not every product contains a formula that's going to promote fat loss, or increase metabolism. GNC Total Lean Waterex claims it can help reduce bloating and eliminate excess water weight. While the company offered no scientific studies that supported their claims, the ingredients are commonly associated with diuretic properties. At DietSpotlight, we want to see science that shows the product is not only effective, but safe to use.
The Bottom Line – Does GNC Total Lean Waterex Work?
Should I race out for a bottle of GNC Total Lean Waterex? Maybe. While it won't help you lose fat, it might help you take off a few pounds of water weight. If that is something you are interested in, this product is from a respected manufacturer and it might be worth a try.
If the time has come to jumpstart your metabolism, we suggest a weight-loss product made with clinically tested ingredients that promotes long-term, lasting results.
Among the best products we've seen in 2016 is one called Leptigen. It's made with a unique blend of clinically tested ingredients, known to help boost metabolism. As we researched, we found tons of testimonials from dieters who've seen amazing results.
Also, the makers of Leptigen are so confident in their product they are offering a Special Trial Offer. This is always something we like to see.