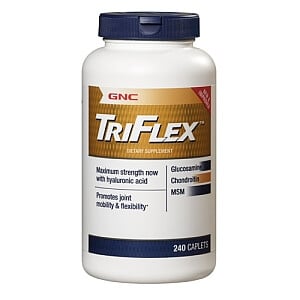 97% of people are just looking for a product that works. Yeah, we're not sure about the other 3%, either. This time we decided to take a close look at GNC Triflex via ingredients, side effects, customer service and clinical research. We read as many reviews as we could find. Then, we condensed it all to give you the bottom line.
What is GNC Triflex?
First off, GNC Triflex is a joint support formula that contains glucosamine HCL, chondroitin sulfate sodium, MSM and hyaluronic acid. The label says to take three capsules daily with food, so we assume that means one with each meal. You're supposed to notice improvement in flexibility in the joint. Both men and women can take the supplement.
GNC, General Nutrition Centers, is the company that makes GNC Triflex. The roots of the business stretch back to 1935. The official website sells the supplement, but you can also buy it from outside retailers. We like that many users are happy with the formula and the ingredients are commonly used, but read on…
Results – "Lacking?"
The first issue we came across with GNC Triflex ingredients is a lack of results. "If we found just one or two reports of the formula not working that would be one thing," says our Research Editor. "However, we found many more than that."
"After 4 weeks my old joint pains came back," said one user.
Another offered, "This product did not alleviate my joint problems."
On the flip side some users were happy with the results.
"I tried several supplements and found this to be superior," was one experience.
Yet another claimed, "It reduced my swelling and pain."
Scroll below for one of the best products we've seen over the last year.
Side Effects – "Really a Problem?"
We found reports of GNC Triflex side effects all over the place.
As one user put it, "This product caused me extreme abdominal pain within a week of using."
Another said, "Triflex caused me severe joint and muscle pain the entire time I took them."
However, as is always the case, we found some good reports, as well.
"Taking them is like taking a pain pill without any side effects," one user offered.
"Have been ordering this for 2 years and never a problem," shared another.
So, through years of research we've found what looks like a connection between something small, like mediocre results, and a lesser chance of long-term use and results. If GNC Triflex is not the strongest joint support on the market, the customer won't stick around for long.
The Science – "Any Clinical Evidence?"
Here's where you separate supplements. The main ingredients in GNC Triflex, glucosamine and chondroitin, were part of a four-year trial called GAIT. The results of the study were simple, there was no statistically significant difference in pain or joint health between the active and placebo group. At DietSpotlight we want science to prove a product's worth. This time it proves the opposite.
Does GNC Triflex Work?
Are we heading over to the GNC website for some Triflex? Well, we like that common, and generally considered safe, ingredients are used, but we have strong reservations because science says glucosamine and chondroitin don't work. That could be the reason for disappointed users.
If you're ready to fight that joint pain, you may want to try out a weight-loss supplement with clinically tested ingredients. Losing weight can help relieve stress that's causing your pain.
Among the best products we've seen in 2016 is one called Leptigen. It's made with 100% clinically tested ingredients, gives you quite the bang for your buck and it's backed by some strong customer reviews.
Plus, we're thrilled that the makers of Leptigen are so confident in the formula that they're offering a Special Trial Offer, nice touch.