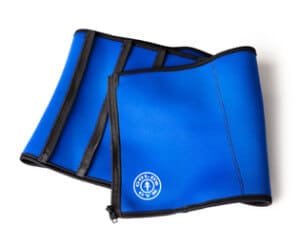 Give me just two minutes of your time and we'll give you the bottom line on Gold's Gym Waist Trimmer. We examined side effects, ingredients, clinical studies and customer service quality. Additionally, we analyzed hundreds of user comments throughout the web. Then, we condensed and refined to give you the info you need.
What is the Golds Gym Waist Trim?
First off, the Golds Gym Waist Trimmer is a fitness belt that is made with neoprene material. You can wear the belt throughout the day and it supposedly helps you shed extra weight around the midsection. One of the benefits is its one-size fits most.
The Golds Gym Waist Trimmer has been available since 2010. The product is available through various online retailers for less than $20. We like the lost cost and that we found some positive customer comments, but read on…
Lack of Results – "Slimming Effect?"
The first concern was Golds Gym Waist Trimmer was lack of results. "There's a buzz surrounding waist trimmers," says our Research Editor. "But that'll soon faze out if dieters don't see results."
One customer complained, "It doesn't make you sweat more around your midsection."
"I did not like it. It did not work. I would not buy one again," said another user.
Other customers stated why people didn't see results. "This product is to assist you with getting those results not make you slim from wearing it all of the time."
"This item works great. It fits well and is tight," stated another.
Scroll below for one of the best products we've seen over the last year.
Poor Construction – "Uh Oh"
We found plenty of customer complaints regarding the poor construction of the Golds Gym Waist Trimmer. One user commented, "Bought three of these. Ever last one ripped and tore within a week of consistent wear."
"Starts ripping from places and doesn't work a bit," stated a user.
"Great for slender woman, kids and tiny dudes. It comes no where near 50in., at most its 42in.," reported a customer.
The research we've conducted has shown that if there is some certain part of a weight-loss product or diet program that is very troublesome, like product concerns, the odds of long-term success are not good. If the Golds Gym Waist Trimmer does not hold up well, this could be problematic.
Any Solid Science?
There didn't find any scientific research that supports the weight-loss claims from Golds Gym Waist Trimmer. While there's a possibility of increasing the temperature around the mid-section, there's no evidence you'll lose weight. At DietSpotlight, we like to see published scientific research showing products work.  If there's no science, we become skeptical.
The Bottom Line – Does Golds Gym Waist Trimmer Work?
Wait for one more second ladies and gentlemen, here are some final thoughts on Golds Gym Waist Trimmer. We like that we found some favorable customer comments and the low price tag, but we have concerns about this one because of no solid science backing the weight-loss claims. We're also hesitant about the reports relating to poor construction and lack of results.
If you want to shed those excess pounds, we suggest going with a product containing clinically-tested ingredients and shown to work.
Among the best products we've seen in 2016 is one called Leptigen. This supplement contains four key ingredients. Some of which are clinically-tested and have been shown to help ignite metabolism and boost fat loss. We can't find any chatter about negative side effects and user comments found on the web show people are seeing great results.
Also, the makers of Leptigen, in a show of confidence in the supplement, are offering a Special Trial Offer, which is an excellent decision.