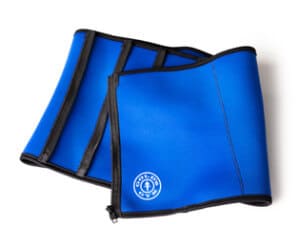 If you want the bottom line on Gods Gym Waist Trimmer, give me just two minutes of your time. We completed a detailed and in-depth review, examining the side effects, ingredients, clinical studies and customer service quality. Moreover, we read through hundreds of user responses posted all over the web. At last, we condensed and refined to give you the info you need.
EDITOR'S TIP:
Combine Golds Gym Waist Trimmer with a proven fat burner such as
Leptigen
for better results.
What You Need To Know
To start, the Golds Gym Waist Trimmer is a fitness belt that is made from "soft" Neoprene material. It fits women and men with waists up to 50 inches. It is adjustable and comes with a hook and loop closure, as well as Velcro. The purpose is to help you shed extra weight around the midsection. Put simply, the wrap fits snuggly around the tummy area and locks in heat, which causes you to sweat more in this area. Therefore, retained water weight is lost. You can wear it anywhere so it is portable.
The Golds Gym Waist Trimmer has been available since 2010. It can easily be acquired through Amazon for $11.43. There are plenty of customer reviews posted online, which is helpful, but read on…
Cancer Warning – "Yikes?"
The first problem we found with Golds Gym Waist Trimmer is a warning that appears on the label. "According to the packaging, this product contains chemicals that can lead to cancer and birth defects. This is a big red flag and many customers are turned off by this warning," says our Research Editor.
One customer complained, "The product has a cancer warning on the box. I will not use this product or recommend it to anyone."
"Why the heck would I want to wear something that can cause cancer! Why would they even continue to sell this?," said another user.
Scroll below for one of the best products we've seen over the last year.
Poor Construction – "Uh Oh"
We found plenty of customer complaints regarding the poor construction of the Golds Gym Waist Trimmer. One user commented, "Cheapest ever trimmer. Starts ripping from places and doesn't work a bit. Material is too cheap and cannot be washed in machine."
Another customer said, "It started tearing the first day I put it on."
The research we've conducted has shown that if there is some certain facet of a weight-loss product or diet program that is very troublesome (poor construction, cancer warning, pills that cause serious side effects) the odds of long-term success are not good. So, if the Golds Gym Waist Trimmer does not hold up well and breaks or tears frequently, this could be a serious problem.
Could We Find Any Science?
Sadly we were unable to find any scientific research that supports the Golds Gym Waist Trimmer for weight-loss. While we do appreciate that this type of belt will cause more perspiration in the tummy and abdomen area, it does not address excess body fat or speed up the metabolism. At DietSpotlight, we like to see documented clinical studies that prove the product works. This one just doesn't live up to that expectation.
The Bottom Line – Does Golds Gym Waist Trimmer Work?
Wait for one more second ladies and gentlemen, here are some final thoughts. We certainly appreciate that the Golds Gym Waist Trimmer fits various women and men, but this belt does not truly help with fat loss. Instead, it is more for increasing perspiration during workouts. From what we read online, there are a lot of customer complaints regarding poor construction and some are worried about the cancer warning. Needless to say, we are skeptical about giving this one the green light.
If you are serious about shedding excess pounds, we recommend you choose a weight-loss product or diet supplement that has been proven to produce real results, comes with excellent customer service that does not cause adverse effects or health problems.
Among the best products we've seen in 2015 is one called Leptigen. This supplement uses a powerful blend of four key ingredients, which have been proven in documented clinical research to help ignite metabolism and speed up fat loss. You should know that we can't find any complaints of harmful side effects and user comments found on the web show people are seeing great results.
Also, the producers of Leptigen show confidence in the formula by offering a Special Trial Offer, which is a positive sign.