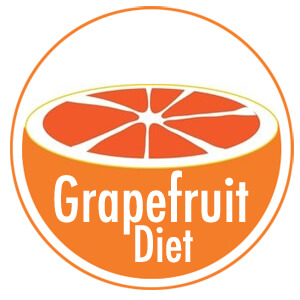 This review is what happened after I obsessed for weeks over the Grapefruit Diet. We at DietSpotlight dug deep and conducted a thorough investigation, examining the ingredients, side effects, clinical research and overall customer care. We also focused on dozens of user comments from all over the web. At this point, we summarized and compressed the data we collected to give you the facts you need.
What is the Grapefruit Diet?
First off, the Grapefruit Diet ingredients include plenty of water, whole grapefruits, and cutting back on simple carbohydrates. Put plainly, you follow this eating plan for 10-12 days. It's supposed to help you drop up to 10 pounds. You can eat lean proteins such as poultry, eggs, fish and certain cuts of beef. It's also fine to have one cup of coffee each day. You need to eat a grapefruit with or before every meal. Also, it's important to avoid sugar. Your overall calorie intake should be around 800 per day.
The Grapefruit Diet has been around since the 1930s. There are some different variations of this eating plan, but regardless, it's supposed to help boost metabolism. The enzymes in the grapefruit should aid with digestion, while providing vitamin c. Also, you are encouraged to consume eight glasses of water daily, which may help with satiety. Men and women of all ages can try this diet, but read on…
Calorie Restrictions – "Concerned Yet?"
The first concern we have with the Grapefruit Diet is restriction. "Limiting your daily calorie intake to 800 is pretty extreme, and may cause side effects like dizziness, nausea, lightheadedness and fatigue," says our Research Editor.
One person reported, "Tried the Grapefruit Diet. Not impressed. Lost a few pounds, but felt dizzy and weak a lot. Not worth it for me."
But, not all users have experienced Grapefruit Diet side effects. A different individual stated, "Definitely cleans out the colon. I lost a few pounds within the first couple of days."
Another commented, "Pretty strict diet plan to say the least. It can help you shed a few pounds before an event or something like that."
Scroll below for one of the best products we've seen over the last year.
Short-Term Results – "Another Issue"
Another issue we have with the Grapefruit Diet is short-term weight-loss results. According to one person, "This is kind of a fad diet. It will help you drop a few pounds, but it doesn't last. After all, it's only for 12 days. You go back to your old eating habits and the weight comes right back."
However, a different user had this to say, "I like the Grapefruit Diet for cleansing purposes. I would not recommend it for serious weight-loss, but it helps flush out built-up waste."
"There are a few diets like this. The lemonade method comes to mind. While you can shed a few pounds, it's nothing great," said another person.
The research we've done has shown if there is a specific aspect of a diet program that is quite troublesome (calorie restrictions, short-term results, side effects) the odds of long-term success are not good. If the Grapefruit Diet does not produce long-term results in most people, this could be a deal breaker.
The Science – "Any?"
We did not find any actual clinical studies regarding the Grapefruit Diet. However, any time you cut your calories to 800 per day, you are going to lose some weight. On the downside, this may leave you feeling drained and fatigued. The weight you lose is likely to come back once you resume your old lifestyle.
The Bottom Line – Does Grapefruit Diet Work?
Now the moment you've been waiting for. This is our bottom line on the Grapefruit Diet. To start with, we like that this plan encourages you to eat more citrus fruit, which contains fiber and vitamin C. It's also good to see that this method involves drinking a lot of water. On the other hand, we have some doubts about this diet because of the extreme calorie restrictions. Also, we're concerned about the short-term weight-loss results.
If you'd like to drop more pounds, then we suggest you select a diet or weight-loss supplement that is backed by solid science, does not call for extreme calorie restrictions and is supported by plenty of encouraging user reviews.
Among the best products we've seen in 2016 is one called Leptigen. This supplement contains a blend of four ingredients, some of which have been clinically tested and are shown to help ignite fat loss and increase metabolism. You don't have to cut back to 800 calories a day and results are lasting when taken with a healthy diet and exercise program.
The makers of Leptigen are so confident in their product they're offering a Special Trial Offer, which is very encouraging.