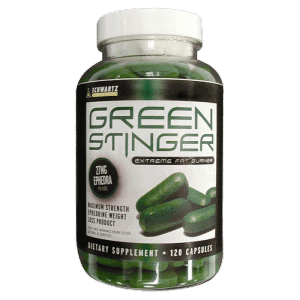 I'm here to cut through the noise and get you to the bottom line on Green Stinger. We've heard plenty of talk about these weight-loss pills, so we did one of our in-depth reviews, examining the side effects, ingredients, scientific studies and overall customer service. Also, we sorted through hundreds of comments and user reviews from all over the web. At this point we compacted and summarized to give you the info you need.
What is Green Stinger?
Firstly, Green Stinger is a weight-loss pill that's available without a prescription. It sells for $79.99 for 120 caplets. This supplement is touted as an "extreme fat burner" for men and women. It contains ephedra, citrus aurantium, acacia rigidula, phenylethylamine HCL, theobroma cocoa, green tea, yohimbine HCL, alpha-yohimbine, 11-hydroxy yohimbine, naringin, pure white willow bark, evodiamine, kola nut, guarana and yerba mate. Two caplets is a serving, which should be taken 2-3 times daily.
Green Stinger is made by Schwartz Labs, which has been in business since 1993. This diet supplement was released back in 2008. There are plenty of user reviews posted online and several websites sell Green Stinger caplets, but read on…
Questionable Ingredients – "Problematic?"
The first thing you should always consider when looking at Green Stinger ingredients is the potential negative reactions. According to our Research Editor, "Green Stinger contains banned ephedra. It can lead to serious side effects like heart palpitations, chest pain, anxiety and high blood pressure."
One customer complained, "Green Stinger Diet Pills, It made my heart pound and I got real jittery."
Another user stated, "Had some energy then BOOM….. crashed real hard."
On the other hand, some dieters didn't think the ingredients were a concern.
"Give you plenty energy to get you through your workout. No shakes, no crash and most important decreases my appetite," commented a customer.
Scroll below for one of the best products we've seen over the last year.
Customer Complaints – "A Concern?"
There are quite a few dieter complaints posted online for Green Stinger. According to one user, "Taking the dosage (2 pills) makes me super nauseous."
Another customer said, "Terrible! I was looking for energy; nothing happened! Wasted $50!!"
We found that some customers shared their positive experiences. "I will be ordering it again…I felt it gave me awesome energy… just do not take on an empty stomach," offered a user.
"I cannot express my gratitude enough for this product. I have lost weight and kept it off for two years and counting," stated another.
Our research has proven if there is one facet diet pill or weight-loss program that is seriously burdensome (a painful/difficult exercise routine, dangerous ingredients, too many user complaints) the actual likelihood of real success for the long run is quite slim. So, if Green Stinger capsules do lead to numerous customer problems, this is something that should be taken into consideration.
The Science – "Backing?"
While the official website does elaborate on the formula used in Green Stinger caplets, there is no clinical research presented on the website to back this diet pill. At DietSpotlight, it's imperative to see documented scientific studies that support the weight-loss product and the ingredients it contains. Unfortunately there is no clinical proof that Green Stinger actually works better than other legal stimulants.
The Bottom Line – Does Green Stinger Work?
So, we've gotten to the bottom of this one, ready? Green Stinger certainly contains a number of stimulants to elevate energy levels. However, we have serious reservations about this supplement because it contains dangerous ingredients. Aside from ephedra, this product also contains synephrine and other stimulants that can lead to serious side effects. Also, you cannot get a refund for Green Stinger pills unless you leave the bottle sealed.
For dieters who need to shed excess fat and slim down quickly, we recommend you try a weight-loss supplement that does not contain any dangerous ingredients, is affordable and is backed by real clinical research.
Among the best products we've seen in 2016 is one called Leptigen. This supplement provides a proprietary blend of four ingredients, which are proven in published scientific studies to help increase fat loss and kick-start metabolism. Moreover, we can't find any complaints of harmful side effects and dieter feedback posted online reveals people are seeing solid results.
We find it is good show of confidence that the makers of Leptigen are Special Trial Offer.