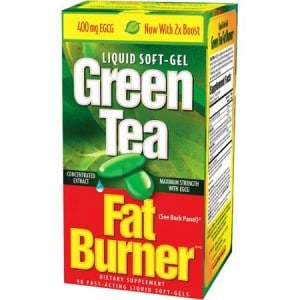 We're all searching for the right diet supplement, so we decided to do one of our thorough reviews on Green Tea Fat Burner, looking closely at the ingredients, side effects, clinical research and customer service. Plus, we devoured hundreds of dieter experiences. Then, we summarized and condensed it all to give you the info you need.
What is Green Tea Fat Burner?
First of all, Green Tea Fat Burner is a dietary supplement. The ingredients are green tea 400mg, [1] caffeine 160mg, bilberry powder, blueberry, European elderberry, [2] grape skin extract, pomegranate, eleuthero, holy basil, yerba mate, schisandra and Asian ginseng. Users are to take two liquid gels in the morning and one or two in the afternoon. Supposedly it helps boost metabolism [3] and thermogenesis. One benefit is that it's available in a blister pack, making it portable.
Applied Nutrition, the company behind Green Tea Fat Burner, was founded in 1993. You can purchase the supplement through the online store and at local retailers. We like that it contains a few natural ingredients and that we found some positive customer comments, but read on…
Green Tea Fat Burner Side Effects – "Negative?"
The first problem with Green Tea Fat Burner ingredients were reported side effects. "There were several customer reviews talking about this one causing adverse reactions," said our Research Editor. "Possibly because each serving contains 160mg of caffeine."
"Not taking back this product, makes me feel weak, tiredness, nausea and nervousness. I don't know if anyone feels the same and have not seen any changes," said one user.
"It didn't work for me. It gave me headache and I couldn't sleep," said another.
Though reports of side effects were common, there were also claims to the opposite.
"I had no side effects with these pills," said one.
Another shared, "It works well on me with no side effect."
Scroll below for one of the best products we've seen over the last year.
Customer Reviews – "Negative or Positive?"
We searched and found that Green Tea Fat Burner reviews weren't always positive. One user said, "It does add to your racing thoughts and makes you very jittery, sometimes even dizzy."
"Took pills for three weeks gained 15 lbs. always tired, no energy to do anything. Sometimes felt sick to the stomach,"  said another.
As previously stated, not everyone saw the negative in Green Tea Fat Burner.
As one person put it, "This pill green tea fat burner gave me zero side effects."
Our research indicates that if there's part of a diet program that's difficult, like the potential side effects, long-term results could be limited. If Green Tea Fat Burner leaves dieters on edge or feeling sick, that's something that needs to be considered.
The Science – "Clinical Proof?"
Studies do show green tea to be an effective fat burner, [4] at the right dose. It takes a lot of it to get the results you're looking for. [5] We like that this formula contains 400mg of green tea, [6] but we're afraid the whopping 160mg of caffeine could cause a problem. [7] At DietSpotlight, proof is needed for us to give a green light. Though Green Tea Fat Burner contains enough, the potential side effects from two sources of stimulant could be a problem.
The Bottom Line – Does Green Tea Fat Burner Work?
Are we racing out to take all these off the shelves? We were initially excited to review Green Tea Fat Burner, because it appeared to be an affordable supplement that could help people reach their weight-loss goals faster. Due to the lack of information about how much of each ingredients, the reports of ineffectiveness and potential for side effects, we are skeptical about suggesting this one to dieters.
If you'd like to shed some pounds, we recommend choosing a supplement regimen that gives you safe and effective ingredients, no side effects to worry about and a price that's not hard on the wallet.
Among the best products we've seen in 2016 is one called Leptigen. It is a proprietary blend of four clinically proven ingredients known to help increase metabolism and fat burning power. Over the course of our research, we weren't able to find negative comments about side effects, but dieters are reporting some pretty amazing results.
We're thrilled to see the makers of Leptigen are so confident in their product they're giving new customers a Special Trial Offer, which is always a good sign