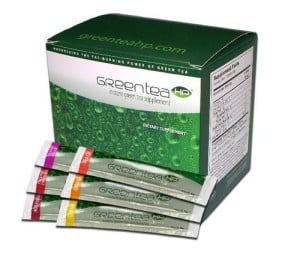 We've heard a great deal of buzz about Green Tea HP, so we decided to conduct of our comprehensive reviews, looking closely at the ingredients, scientific research, and customer service. Plus, we read hundreds of testimonials and user reviews from across the web. Then, we summarized and condensed it all to provide you with the information you're looking for.
EDITOR'S TIP:
Combine Green Tea HP with a proven testosterone booster such as
Pronabolin
for better results.
What You Need to Know
First of all, Green Tea HP is available in a variety of formulas and flavors. The products are sold in bulk and cost around $80 at the time of this review and contain 60 servings. Each serving is intended to be mixed with 12 to 20 ounces of water and consumed twice a day, but can be used once a day if the customer wants. it contains açai, Noni juice, pomegranate juice, reversetrol, and a number of trace minerals.
Green Tea HP comes from GrenX, a company that claims their green tea blends are of much higher quality than other green tea products available on the market today. We do not know when the company was founded as this information is not readily available on the official website. We like that the product has a wide variety of flavors available, but read on…
MLM Company
it seems that the primary goal of this company is to get people to join to sell the product. They are marketing to people to try to get them to become distributors of the product, but don't provide any sort of background information on when the company began other than using the phrase "years ago."
"Preferred customer pricing provides a discount, but requires automatic shipment every month." said our Research Editor.
"I dealt with a vendor in San Diego and wanted to get a refund of my credit card billing that was billed after I discontinued service with them. I got the run around from the distributor in San Diego and also their 800 number.", said one user.
Scroll below for one of the best products we've seen in 2015.
Issues with Taste
While many customer reviews speaks highly of the product, there are some complaints about the taste of the green tea products. There are several different flavors to choose from, so the variety helps to ensure that you can at least find one that you like, but if you have trouble with playing green tea, you may have issues finding the right flavor.
One user said, ""I really can't stand this product once i tried it , it tasted bad and i really don't like any other green tea products you can drink because they taste awful to me." said one user.
Our research indicates that if there's part of a diet program that's difficult, like the terrible taste, it is harder for users to continue using the product over the long term.
The Science
Green tea itself has been studied for its benefits as a fat burner. While studies have shown it is effective, the dose to get the result is pretty high. We don't know if this supplement green tea drink provides enough of the active ingredient to see real results. The other ingredients in the formula have not been studied in depth for their ability to help with weight loss.
last
The Bottom Line
We were looking forward to reviewing Green Tea HP because it seemed as though it could be different from the various other green tea products on the market today. Because of the MLM approach to selling the product, and complaints about the taste, we believe dieters will be better suited with other green tea products.
If you'd like to drop some weight, we recommend selecting a supplement that gives you safe and effective ingredients at a price that provides real value.
Among the best products we've reviewed this year is Pronabolin. This supplement is made with a unique blend of multiple scientifically ingredients, all designed to help increase testosterone production and promote weight loss. As we conducted our research, we could not find any negative talk of the product or its side effects, suggesting that users are seeing solid results.
The makers of Pronabolin are so confident in their product they're giving new customers a special trial offer, which we are happy to see.