Updated: 09/29/2015 - Sponsored by Pronabolin
Growth Factor-9 Review - Does This HGH Booster Work?
Are lack of results and side effects deal breakers?
PUBLISHED: 09/23/2015 | BY: SUMMER BANKS, SENIOR REVIEWER
Editor
's Review:
3.2
/ 5.0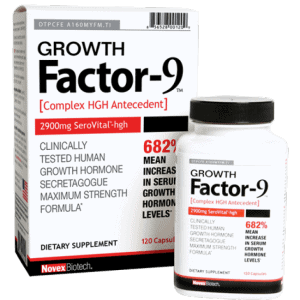 Both men and women are talking about Growth Factor-9, so we looked deep into the ingredients, side effects, clinical research and customer service. We read and digested hundreds of user comments and reviews. Then, we collected, condensed and refined to give you the info you need.
EDITOR'S TIP:
Combine Growth Factor-9 with a proven testosterone booster such as
Pronabolin
for better results.
What You Need to Know
First off, Growth Factor-9 is a supplement that is supposed to support human growth hormone levels. It has l-lysine HCL, l-arginine HCL, oxo-proline, n-acetyl l-cysteine, l-glutamine and Schizonepeta powder. You take four capsules as two, twice daily and the formula is supposed to help you "unleash your total performance." The bottle is small enough to travel with, one benefit.
The product, formulated by Novex Biotech sometime after 2005, can be purchased directly from the company, a good option. We like that the company has been around for more than 10 years and the BBB rating is good, but read on…
No One's Getting Results
The first problem dieters have pertains to the effectiveness of Growth Factor-9 ingredients. Many people using the product just don't see any results. "The competition in the supplement market is strong right now," says our Research Editor. "If you can't provide a formula that works, you'll lose your spot on the shelf real quick."
"I've taken the product for almost 30 days. 4 capsules per day as recommended. I've not notice any improvement in are area of my daily regimen. I push myself very hard and it may be that the product isn't for someone who is an advanced athlete," says a user.
"I purchased two bottle of GF-9 and consumed according to instructions. I did not feel any difference after two months," offers another.
Even working out most days of the week doesn't help, "As directed, I took 4 capsules on an empty stomach every night before bed for 30 days straight (the entire bottle) while following a 4-day/week lifting program and noticed no change whatsoever in weight or muscle measurements."
Scroll below for one of the best products we've seen in 2015.
I Don't Feel So Good
Growth Factor-9 side effects are an issue that comes up in more than a few reviews. "I have been taking this for 3 weeks, I have gained 4 pounds. I believe it is water which makes me wonder why I would be retaining so much water. If this does not change it will be my last purchase. I am not feeling any better and have no more energy than before starting this supplement," one user explains.
"I have been taking this product for over a week now and have experienced fatigue and brain fog like never before," says another.
Based on our research, a supplement only needs one issue, like poor customer experience, to ruin the chances of long-term success. If Growth Factor-9 results are not what the user expects them to be, the product doesn't have long in this business.
The Science
Hidden in the product description of Growth Factor-9 is mention of a clinical study. According to the information, the supplement can increase human growth hormone levels by more than 650%. There is no link to the published paper, but we did find even better information. The Journal of Clinical Investigation reports a "threefold increase in total GH secretion" within the first 24 hours with intermittent fasting. This method is free and clearly proven to work. At Testosterone.guide we're looking for proof. If there's none to be had, there's no reason to stick around.
The Bottom Line
Our interest in Growth Factor 9 leads us to a solid conclusion. We like that all ingredients are listed online and there are some reports of positive results, but we can't recommend the product because there are far too many negative reviews and fasting appears to increase human growth hormone better than the supplement.
If it's time to boost testosterone levels, our suggestion is to go with a supplement with a clinically-proven ingredient list and a price that's easy on your bank account.
Among the best supplements we've found in 2015 is Pronabolin. The formula combines nine clinically researched and proven ingredients into a proprietary blend shown support energy and naturally boost testosterone levels. We found no mention of negative side effects, but users are surely talking about the great results they're seeing.
The makers of Pronabolin are so confident in their product they're offering every customer a 120-day money-back guarantee and multiple-bottle discounts.