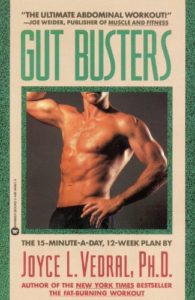 I'm here to cut through the noise and get you the bottom line on Gut Busters. We delved into the side effects, ingredients, research, and customer service associated with this supplement. We then read hundreds of reviews. Finally, we decided to condense all this information in order to give you the facts you really want.
What is Gut Busters?
First off, Gut Busters is a book highlighting ways men can decrease abdominal fat. Although they don't provide supplements, it does include a 15-minute-a-day exercise plan for 12 weeks. The material can be easily carried around if you wish to reference it for different ways to lose belly weight.
Gut Busters was written by Joyce Vedral, a bodybuilder and doctor. She published it in 1992 and has since sold about 200,000 copies. It can be bought from many online retailers, like Amazon, Google Books, and Good Reads. The book does seem to include useful abdominal exercises and sells for cheap prices, but read on…
Customer Reviews – "Where Are They?"
Our first issue with Gut Busters was the lack of customer reviews. The book has been out for 24 years, but seems to have little recognition, something that raised a red flag for us. "Before many people buy supplements or books, they like to see how others liked it," says our Research Editor. "If people aren't leaving comments about this book, then they will start to think it isn't worth a purchase."
"Without a significant amount of ratings, it makes it hard for us to believe anyone actually got any use out of this book," added our Research Editor.
Scroll below for one of the best products we've seen over the last year.
Lack of Information – "Why Just the Abs?"
When we started learning more about Gut Busters, we found that it was oddly specific. Although general information is provided to men about abdominal fat and how to get rid of it, many customers want to learn about other areas of the body. Additionally, many women have the same issues with getting rid of their gut, something that is not addressed in this book.
"As soon as you start excluding large groups of people, you start to lose customer base and interest," mentions our Research Editor.
After reviewing hundreds of supplements, we found that it takes something like a lack information to turn people away. If Gut Busters doesn't include more people in their audience, then many customers will go elsewhere for their weight-loss journey.
The Science – "Where's the Proof?"
Although Gut Busters does not reference any clinical research to support their claims, we do know that exercise in general can aid in overall weight-loss. However, just doing abdominal work-outs is not a solution for excess fat for the entire body, something that can become an issue later on. Here at DietSpotlight, we like to see significant science backing up any supplement or reading material. In this case, this does not live up to our expectations.
The Bottom Line – Does Gut Busters Work?
So, what's the real deal with Gut Busters? We know that some of the exercises suggested in this book can be useful to strengthen the core. However, when we looked at the all aspects of the book, we had many concerns about the reliability of it.
If you are ready to lose weight, we think you should choose a supplement that gives you the information you need, has a large number of customer reviews and is made with clinically tested ingredients.
Among the best products we've seen in 2016 is one called Leptigen. With a clinically tested formula, positive user comments, and a supportive customer service department, we think this supplement may just be made to work for you.
The makers are offering a Special Trial Offer for a limited time, so take advantage of it while you can.