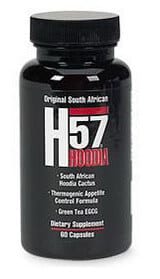 Why are people talking about H57 Hoodia? Well, we at DietSpotlight dug deep and came up with one of our in-depth reviews, investigating the ingredients, side effects, clinical research and customer-service quality to find out. We also looked at hundreds of user comments and remarks from all over the web. Lastly, we summed up all of the facts and feedback to give you the info you need.
What is H57 Hoodia?
First off, H57 Hoodia ingredients include green tea, cinnamon bark, trans-resveratrol and South African hoodia gordonii cactus plant extract. Unfortunately, we were unable to find an official website for this diet formula. Both women and men can use this supplement, and you can take up to five capsules per day. No special diet or exercise program is mentioned. Online dealers that sell this weight-loss product include Amazon.
We are unsure when H57 Hoodia was initially released. Unfortunately, the company behind this diet formula is not mentioned either. However, it is clear that this supplement contains natural ingredients and it is supposed to suppress appetite, boost energy levels and assist with weight reduction, but read on…
Fad Ingredients – "Are You Concerned Yet?"
The first concern we have is with H57 Hoodia ingredients. According to our Research Editor, "This formula contains key components like hoodia gordonii and cinnamon bark, neither of which have been proven to aid with weight-loss."
One customer revealed, "I tried H57 for a couple of weeks and it had no effect. I was still hungry and more tired. I definitely wouldn't recommend it."
On the other hand, a different user commented, "It helps curb my food cravings a bit, which is helpful."
Another individual stated, "I think it's working some. Need to give it a few more weeks."
Scroll below for one of the best products we've seen over the last year.
User Complaints – "Uh Oh"
There are several discouraging customer comments posted on the web regarding this diet aid. In fact, one person mentioned, "I have been trying the H57 Hoodia for about 2 months and have not noticed any change."
However, a different user said this, "I like that it contains natural ingredients. No H57 Hoodia side effects either."
"I take this in the morning, and it helps me reduce food cravings until lunch," posted another individual.
Our research has shown if there is some particular part of a weight-loss product or diet program that is especially troublesome (fad ingredients, user complaints, low Amazon star rating) the odds of long-term success are not very good. Therefore, if H57 Hoodia does in fact fail to produce real results in a lot of people, this could be a big problem.
The Science – "Solid?"
Unfortunately, we did not locate any solid research regarding H57 Hoodia in particular. This could mean no clinical studies were conducted. While we appreciate that this diet formula contains green tea to help boost metabolism, the primary ingredient is Hoodia, which is not backed by any science. At DietSpotlight, we prefer to see some actual research.
The Bottom Line – Does H57 Hoodia Work?
Now the moment you've been waiting for. This is our bottom line on H57 Hoodia. To start, we like that this diet supplement contains natural herbs. It's also convenient that this product is available without a prescription. But we have some reservations because it's not supported by any documented science. Also, we're concerned about the discouraging user reviews we found posted on the web.
If you'd like to shed more pounds of fat, then we suggest you go with a product that does not rely on fad ingredients, is backed by solid science and is supported by plenty of positive user reviews and comments.
Among the best products we've seen in 2016 is one called Leptigen. Its formula is a unique blend of four ingredients, which have been shown in published clinical research to help accelerate fat loss and boost metabolism. We can't find any negative user reviews, and comments around the web indicate people are seeing wonderful results.
The makers of Leptigen are so confident in their product they're offering a Special Trial Offer, which is very encouraging.