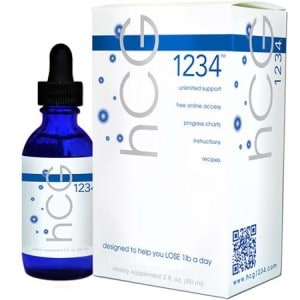 If you want the bottom line on HCG 1234, give me just two minutes of your time. We dug deep into the ingredients, side effects, customer service quality and clinical research. We digested hundreds of user comments and reviews. We then condensed and refined to give you the info you need.
What You Need to Know
Firstly, HCG 1234 is a diet support supplement with maca, pygeum, rhodiola and astragalus. You use a total of 30 drops a day and that's supposed to boost weight-loss. You take it three times, morning, afternoon and evening, so you'll need to take the small bottle with you.
The product, formulated by Creative Bioscience after 2010, appears to use only natural ingredients, a good choice. You can buy the supplement on the official website or through other online retailers. We like that the company offers a money-back guarantee and customer service is friendly and helpful, but read on…
Lack of Results – "Worth a Try?"
The first issue with the HCG 1234 diet is effectiveness, or lack thereof. "The only thing dieters want from a supplement is weight-loss support," says our Research Editor. "If it doesn't work, we can't figure out why anyone would pay money for it at all."
"I closely followed the protocol and am absolutely starving. HCG is supposed to curb your appetite, and help keep your metabolism stable. Not only am I starving, I haven't lost any weight for the last 5 days! Very disappointed," a user claims.
"I have went by the directions and the diet and have not lost a single pound. I was doing better losing the weight before I purchased the 1234 diet drops so I guess I'll go back to what I was doing before,": says a disappointed consumer.
Using more of the supplement won't change the results, according to a buyer, "It doesn't work. I tried 2 bottles to make sure I was trying it 'long enough' and nope, it doesn't work."
Scroll below for one of the best products we've seen over the last year.
FDA Warning – "Concerning?"
The FDA issued a warning letter to HCG 1234 in 2012 claiming the company used unlawful statements promoting the supplement as a drug in marketing and on the official website. The agency further suggested dieters "who are using 'homeopathic' HCG for weight loss to stop using the product, to stop following any labeled dieting instructions, and to discard the product."
Misleading Labeling – "What is It?"
HCG 1234 drops don't really contain any of the hormone. "I read about this product online after looking at the label and not seeing HCG listed. These drops apparently contain NO HCG! They are NOT REAL HCG," says a user.
"I didn't realize this stuff doesn't contain HCG, but instead whatever vitamins or whatever is in it," a buyer explains.
Another offers, "Even though the box has HCG printed on it, the product actually does not contain HCG. Buyer beware."
Our research has connected negative issues, like a lack of effectiveness, and reduced long-term success. If Creative Bioscence HCG 1234 doesn't work to promote weight-loss, that's the ball game.
The Science – "Legitimate?"
No clinical research is mentioned on the HCG 1234 website because there is none to be had. The FDA puts it bluntly, "HCG has not been demonstrated to be effective adjunctive therapy in the treatment of obesity. There is no substantial evidence that it increases weight loss beyond that resulting from caloric restriction, that it causes a more attractive or 'normal' distribution of fat, or that it decreases the hunger and discomfort associated with calorie-restricted diets." Science is a requirement at DietSpotlight. If you can't prove the supplement will work, the dieter won't buy it.
The Bottom Line – Does HCG 1234 Work?
Well now, our look into HCG 1234 was amusing. We like the money-back guarantee and we found some dieters who reported positive results, but we can't recommend it because the FDA clearly proves it doesn't work to promote weight-loss. There's also a concern with the headquarters. One address is a tire shop and the other is the middle of a major roadway.
If it's the time to spark your weight-loss, our suggestion is to go with a supplement that gives you the clinically-proven ingredients you deserve at a price you can afford. The label shouldn't give incorrect information and the FDA should not be involved with the company.
Among the best products we've seen in 2016 is one called Leptigen. The four-ingredient proprietary blend is scientifically-proven to help ignite metabolism and boost fat loss. There's absolutely no talk about harmful side effects and dieters report seeing amazing results.
Also, the makers of Leptigen are confident enough in the supplement to offer a Special Trial Offer, a rarity.