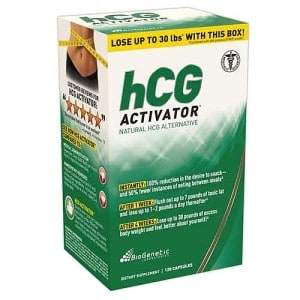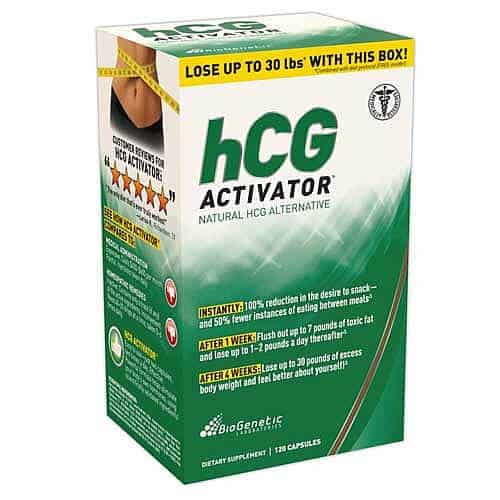 We got excited when we heard about HCG Activator with an included meal plan, but does it live up to its claims? Find out for yourself in our latest review! We looked at the ingredients, side effects, and research behind this product as well as the included meal plan. We also read hundreds of reviews, comments, and complaints online and summarized what we found into this condensed review.
EDITOR'S TIP:
Combine HCG Activator with a proven fat burner such as
Leptigen
for better results.
What You Need to Know
HCG Activator claims to be a magic pill that will help you drop weight quickly. It promises great results, and it does include some beneficial ingredients like green tea, arginine, carnitine, and more. These come in pill form, with 120 capsules per bottle, and they're convenient and easy to take with you anywhere.
HCG Activator has been around for over a decade, which is encouraging and is a good sign that it may be a viable product. It was introduced as a supplement with an accompanying diet, and it is sold through GNC and other health stores online and in brick and mortar stores. The product is easy to find, and the ingredient list is easy to find online, but read on…
Price – Cheaper alternatives available?
Our first concern with this product was the high cost of taking HCG Activator. "At 79.99 per bottle and several pills per day, the monthly cost can quickly reach $100-150," said our research editor. "Cheaper alternatives that offer proven results are readily available, and we haven't seen anything proving that HCG Activator is worth the extra cost."
"Too expensive for a 'fad' diet," said one user.
"With all the mixed results in online reviews, this product is too expensive for me," said another.
Scroll below for one of the best products we've seen over the last year.
Health Concerns – Something to be aware of?
Another disturbing find with HCG Activator was the potential for mild to severe side effects and long term health concerns. Products with stimulants often have mild side effects in some dieters, and HCG Activator is no different. Dieters experienced jitters, insomnia, headaches, and more. The accompanying diet can also lead to long term health concerns. At just 500 calories per day, the diet aims to put the body into a state of ketosis, which can cause permanent damage to internal organs. "I took HCG Activator for 1 week before realizing that it wasn't healthy to sustain a 500 calorie diet," said one dieter.
"I was constantly hungry, had stomach pain and nausea, experienced jitters and shakiness, and I didn't lose weight," said another. Many people echoed these comments with similar stories or concerns. Most people took issue with the low calorie count of the meal plan, and one nutritionist even commented on the dangers of a low calorie diet: "Nobody should be on a diet that forces you to consume less than 1200 calories per day for females or 1500 calories per day for males. It's dangerous to sustain a diet like this long term, and it can lead to permanent damage that far outweighs the benefits of modest weight loss."
Our researchers have shown that whenever a diet or exercise program has a particular aspect that is especially difficult (painful workout routine, harmful side effects, long term concerns, bad taste, etc.), the likelihood of losing weight and keeping it off is slim. If HCG Activator really does promote an unsafe diet and has these negative side effects, it could make it difficult for dieters to reach their weight loss goals.
The Science – Convincing Evidence?
HCG Activator has a lot of claims that are unsubstantiated and are missing critical research. The product claims that it will quickly help you slim down and lose excess weight, but the majority of the weight loss is attributed to the meal plan that leaves dieters hungry. We couldn't find any research on the formula that HCG Activator uses, and while some of the ingredients are known stimulants, we couldn't find any appetite suppressants in the formula that had enough to be effective.
We were also put off by the low calorie diet. Nutritionists and health experts recommend no less than 1200 calories per day for healthy weight loss, so at 500 calories per day the health risk is too high to ignore. As with any product, we recommend getting approval from a healthcare professional prior to starting a diet plan that strictly limits calories to 500 per day.
The Bottom Line
We do like that HCG Activator has been around for over 10 years, that the products are available online and at various health food stores, and that the ingredients are easy to find online. Unfortunately these positives are outweighed by the missing research and the scientific evidence that the diet practices may be unsafe. We're also concerned about the side effects and the
high cost of this product when compared to similar diet supplements.
If you'd like to slim down and reach your goal weight, we suggest you go with a product that offers proven weight loss at an affordable price. A good product will have claims backed by research and clinical studies, and won't have long term health concerns.
Among the best products we've seen in 2015 is one called Leptigen. The proprietary blend of four ingredients has been featured in clinical studies, and has outperformed a placebo when it comes to increasing fat burning and boosting metabolism. These supplements are available directly from the maker of Leptigen, and users online agree that it offers great weight loss results without the harmful side effects and long term health concerns.
Right now, Leptigen is also available through a special trial offer, which shows that the makers of Leptigen are confident that you'll see quick results with their product.