Updated: 09/22/2015 - Sponsored by Leptigen
HCG Drops Review - Does This Fat-Loss Liquid Really Work?
Are diet restrictions and side effects deal breakers?
PUBLISHED: 09/15/2015 | BY: SUMMER BANKS, SENIOR REVIEWER
Editor
's Review:
3.5
/ 5.0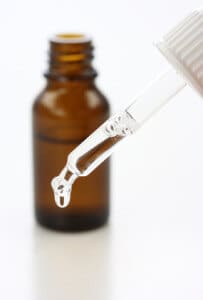 There's been plenty of talk about HCG Drops, so we wrote an in-depth review, examining the side effects, ingredients, clinical studies and customer care. We also focused on dozens of user reviews and customer responses posted online. Lastly, we condensed all of the facts to give you the information you need.
EDITOR'S TIP:
Combine HCG Drops with a proven fat burner such as
Leptigen
for better results.
What You Need To Know
HCG Drops are available from numerous brands. This "hormone" product is essentially a liquid formula that is dispensed under the tongue for fast absorption. HCG stands for Human Chorionic Gonadotropin. These drops are sometimes prescribed to women for fertility purposes. While using HCG Drops, you are expected to follow a very strict diet that includes only around 500 calories per day. There are claims that you can drop up to one pound per day.
HCG Drops were initially used as a "homeopathic" treatment for weight loss purposes around 2010. HCG, however, is not perfect (having unsightly litigations and poor customer service). These supplements are easy to find online and sell for around $25 and up. There is a great deal of dieter feedback posted online for HCG Drops and exercise is often recommended as well, but read on…
Diet Restrictions
According to our research editor, "Most HCG Drops are used in conjunction with a 500-calorie per day diet plan. This calorie-restricted diet is not realistic, nor is it healthy. Most physicians do not recommend less than 800 calories per day."
"500 calories a day is starvation, plain and simple. The weight loss on this program is not from the HCG, but from the caloric deprivation," said one dieter.
Another customer said, "You can consume 500 calories and lose the weight without spending $200 on drops, but I think only taking in 500 calories a day can be dangerous."
Scroll below for one of the best products we've seen in 2015.
Bad Side Effects
After reading all sorts of customer feedback on HCG Drops, it's clear that plenty of dieters have experienced nasty side effects. One user said, "Horrible product made me very sick. Throwing up, hot flashes, greenish bowel movement, Don't buy."
According to another dieter, "I used this product for a few days, and it gave me severe heart palpitations. I will never use this again as I almost had to go to the ER three times. I am 30 years old and I thought I was having a heart attack."
Our research has proven that if a particular aspect of a fat-loss supplement or diet program is really problematic (dangerous side effects, high price, too many diet restrictions) the likelihood of weight loss success for the long term is minimal. If HCG Drops really do cause bad side effects in a lot of people, this could be a major issue.
The Science
While there is some clinical research that supports HCG Drops for fertility purposes, there is no scientific data to support this product as a weight loss aid. In fact, these hormone drops for weight loss have been made illegal by the FDA. So, even though many weight loss companies still try to sell HCG Drops, there are no clinical studies published online to support this product as a weight loss treatment.
The Bottom Line
Even though HCG Drops are intriguing, we certainly don't encourage anyone to purchase this product for weight loss purposes. Not only is this supplement not backed by clinical studies, there have been class action lawsuits against these companies for false weight loss claims. Furthermore, some people experience serious side effects while using HCG Drops.
Those who need to lose weight more quickly and get into shape, we recommend you select a weight loss supplement that contains a proven proprietary blend and does not cause any harsh side effects.
One of the best diet products we've encountered in 2015 is Leptigen. This supplement contains a proprietary combination of four ingredients, which have been shown in documented scientific research to boost metabolism and encourage fat loss. Moreover, we can't locate any negative feedback about harmful adverse effects and dieter reviews found on the web reveal people are seeing good results.
Also, the makers of Leptigen are so confident in their product they're offering a special trial offer, which is a good sign.