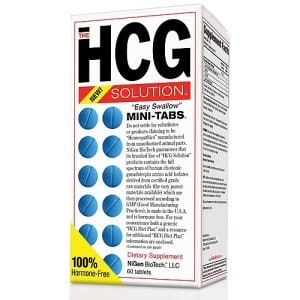 We heard a lot of people talking about hCG Solution Mini Tabs, so we decided to take a closer look at the product, the clinical research behind it, and the customer service. We went on to read hundreds of user reviews and testimonials from across the Internet and condensed it into one quick and easy to read reviews so you have all the information you need to make an informed purchase decision.
EDITOR'S TIP:
Substitute HCG Solution Mini Tabs with a proven fat burner such as
Leptigen
for better results.
What You Need to Know
Firstly, hCG Solution Mini Tabs, are small, easy to swallow tablets designed to be used with the hCG diet. The diet is widely popular in the United States, however it is highly restrictive. The diet only allows for 500 cal per day, and this is what promotes the weight loss. Many dieters struggle to follow this diet for an extended period of time as eating less than 1200 cal per day is easily considered borderline anorexia unless done with the supervision of a medical professional.
We were unable to determine when the company behind this product with sounded. We were also surprised to see that hCG is nowhere on the ingredient list as the supplement is made up of several amino acids and caffeine. We like that the product is Readily available online, but read on…
HCG Diet is Potentially Dangerous
there are a number of hCG based the diet products on the market today, and most, if not all of them advocate using their product alongside a 500 cal per day diet. This strong limitation on caloric intake is usually what promotes the weight loss users experience while using the program. However, this drastic caloric cut can send the body into starvation mode and ultimately slow the metabolism down. Women, should not a less than 1200 calories per day, and men not be less than 1500 calories per day, even when trying to lose weight. The only time such drastic caloric intake cuts should be made is under the supervision of a medical professional.
"We cannot advocate a product that advocates such a low caloric intake." said our Research Editor.
"Bottom line I lost 3 lbs because I didn't eat, and then when I ate again I gained it right back." said one user.
Scroll below for one of the best products we've seen in 2015.
Ineffective -HCG Isn't Even an Ingredient
Even if the supplement was the reason why people who followed this program lost weight, it wouldn't be because of hCG. This supplement does not contain the primary ingredient which it markets. Amino acids are essential for overall health and building of muscle, and caffeine can help boost the metabolism; however, its stimulant nature may also cause jitters, anxiety, and insomnia.
Our research indicates that if there's part of a diet program that's difficult, like Meetings of yourself to fit the guidelines of the diet, users will not be able to stick to the diet over the long term.
The Science
hCG has only been studied for use in fertility treatments. There is no science to support it as a weight loss supplement. This is a major red flag for us here at Diet Spotlight.
last
The Bottom Line
We were looking forward to reviewing hCG Solution Mini Tabs, on the off chance that they would be different, and better than the hCG products available on the market today. However, we seen this product also advocates are a very low-calorie diet and cannot support recommending this to anyone who is trying to shed some weight.
If you'd like to shed some pounds, we suggest choosing a supplement that gives you safe and effective ingredients, rather than fillet ingredients you can get elsewhere with other, better ingredients.
Among the best products we've seen so far this year is Leptigen. It is made using a unique blend of four clinically proven ingredients known to help boost metabolism and fat burning power. Over the course of our research, we weren't able to find negative comments about the product or side effects, suggesting that users are seeing good results.
We're thrilled to see the makers of Leptigen are so confident in their product they're giving new customers a special trial offer.