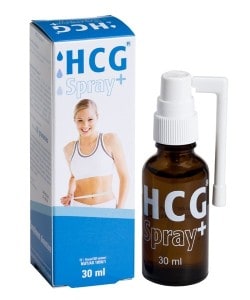 I did two things this week. I obsessed over every aspect of HCG Spray. Then I wrote this review. We decided to take a closer look at the ingredients, side effects, customer service and clinical research. From there, we looked at hundreds of user testimonials to see how others have experienced the product. We then summarize and condense all of the information to give you the bottom line.
What You Need to Know
First of all, HCG Spray is supposed to be a hormone supplement used to help you lose weight. You only eat 500 calories a day when following the program. It is the reduction of food intake that promotes weight-loss, rather than the formula. The product is simple to take on the go, one positive about this one.
We were unable to determine who manufactures the supplement or how long the company has been in business. We do like how readily available it is in the online, but read on…
Weight-Loss Claims – "Crazy?"
Our first concern with HCG Spray ingredients is that they are associated with some outrageous claims. You are supposed to lose upwards of 40 pounds in 40 days and that's impossible. "Healthy weight-loss occurs at a rate no faster than 1 to 2 pounds per week," said our Research Editor. "That's what experts have to say and that means it is a much better suggestion than one from any supplement company."
Scroll below for one of the best products we've seen over the last year.
HCG- "Not Proven"
HCG is used for fertility treatments and has not been studied for its ability to help with weight-loss. One user offered, "Not Impressed with this product, all hype did not live up to its expectations."
"It did not work it all!," said another.
Our research indicates that if there's part of a diet program that's difficult, like maintaining such a low caloric intake, it is virtually impossible for users to stick with it. If HCG Spray is partnered with an unrealistic menu, that's where we throw the red flag.
The Science – "Legit?"
We did not find a single bit of science backing the use of HCG spray for weight-loss. This is because none exists. At DietSpotlight, it is the clinical support that makes one product better than another. We simply can't find any reason for dieters to give this one a try.
The Bottom Line – Does HCG Spray Work?
Are we in a rush to buy up the HCG spray? It interested us to look at this one a bit more closely, but in the end we were not thrilled with the results. There's no science to support the HCG as a helpful weight-loss ingredient and the fact that a very low calorie diet means we are not comfortable suggesting this one to dieters as a safe and effective solution.
If you'd like to lose some weight, we recommend selecting a supplement that gives you safe and effective ingredients, no side effects and support for a healthy diet that will help you lose more at a safe pace for long-term success.
Among the best products we've seen in 2016 is one called Leptigen. It is a unique blend of four clinically proven ingredients known to help boost metabolism and speed up fat loss. Throughout our research, we were unable to find a single mention of negative side effects. However, plenty of dieters are reporting seeing some great results.
We're thrilled to see the makers of Leptigen are so confident in their product they're giving new customers a Special Trial Offer.