Updated: 10/06/2015 - Sponsored by Leptigen
Herbal Phentermine Review - Does This Fat Burner Work?
Are side effects and lack of results deal breakers?
PUBLISHED: 09/07/2015 | BY: SUMMER BANKS, SENIOR REVIEWER
Editor
's Review:
3.4
/ 5.0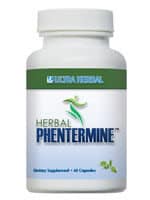 Phentermine is one of the more common prescription medications for weight-loss, but this time around we wanted to check out herbal phentermine, a natural supplement that's supposed to be safer than the alternative. We checked out the ingredients, side effects, clinical research and customer service quality. Hundreds of consumer reviews and comments were taken into consideration. Then, we gathered, refined and condensed to give you the info you need.
EDITOR'S TIP:
Substitute Herbal Phentermine with a proven fat burner such as
Leptigen
for better results.
What You Need to Know
Firstly, herbal phentermine is the name given to any supplement that's supposed to offer a natural alternative to the prescription weight-loss medication. Common ingredients include caffeine, chromium,synephrine, phenylethylamine and others. If you take it daily, you're supposed to lose more weight. Bottles are small enough to throw in a bag, so you don't have to worry about taking it with you.
The products, offered by a variety of manufacturers under multiple names, have been around for years. You can typically find a list of ingredients on the official websites, where you can usually make a purchase. We like that dieters are given a natural alternative and the prices are often affordable, but read on…
Side Effects – "Watch Out!"
The first issue we had was with herbal phentermine side effects. "Some dieters think you have to settle for jitters, shakes and nausea, but that's not how things work," explains our Research Editor. "You can use a clinically proven supplement that doesn't cause those issues, or any other side effects." Wefound hundreds of reports of adverse reactions across multiple brands.
As one dieter reports, "Doesn't work!! Causes rapid heart rate and a lot of jitters but that's the only difference I could see."
"I was jittery had nausea and a really bad headache could not sleep until 3am," explains another.
Yet another herbal phentermine user says, "Gave me jitters and stomach pain. Not worth it, I haven't seen any results, so I'm just gonna throw it out."
Scroll below for one of the best products we've seen in 2015.
This One Just Doesn't Work
Along with side effects, we found that herbal phentermine ingredients, in many cases, just didn't work as claimed. "It didn't give me any energy or curved my appetite, feel hungry constantly! Seems like it raised up my appetite," offers one user.
"From the reviews I was expecting to have a change in my appetite, but that didn't go away at all,"claims another dieter.
The same issue came up multiple times, "Simply put, it doesn't work. It gives no energy boost. There's no fat loss."
Our research has lead us to a simple conclusion. If there is an issue with a product, like side effects, there's little chance for long-term success. If herbal phentermine doesn't live up to the dieter's expectations, they will leave it behind.
The Science
Clinical research is part of the supplement world, but we come across companies every day that don't bother listing studies. Herbal phentermine is sold under multiple names and most of the formulasare slightly different. Ingredients like caffeine and chromium are proven to have a positive effect onweight-loss, but others like synephrine and phenylethylamine often come with the risk of side effects. At DietSpotlight we want science to support a company's claims. If there's none to be had, there's no reason to stand behind the product.
The Bottom Line
We were quite interested in learning more about herbal phentermine. We know that multiple companies offer a derivative of this and there are many versions to choose from, but we can't recommend a product that uses a name similar to a prescription medication to increase sales. Plus, it's concerning that many are laden with side effects or ineffective formulas.
If you want to lose weight the safe way, we suggest going with a product that's clinically proven effective without the risk of side effects.
Among the best supplements we've encountered in 2015 is Leptigen. We like that the four-ingredient proprietary blend is supported with published clinical research showing it helps sparkmetabolism and speed up fat loss. There's no talk of adverse side effects of any kind. We did find dieters reporting amazing results.
Plus, the company responsible for Leptigen is so confident in the proprietary blend that they're offering a special trial offer.