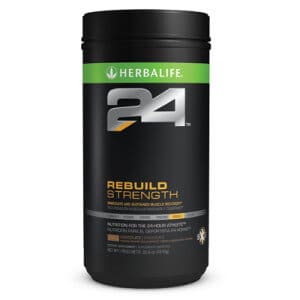 It's been a long journey but I feel I'm now qualified to advise you on whether or not to take Herbalife 24 Rebuild Strength. We created a comprehensive review, closely scrutinizing the ingredients, side effects, customer care and clinical studies. We also focused on plenty of dieter responses from around the web. Lastly, we summarized and compacted all of the data we discovered to give you the info you need.
EDITOR'S TIP:
Click here
to combine Herbalife 24 Rebuild Strength with a proven testosterone booster such as Pronabolin for better results.
What You Need To Know
To start, Herbalife 24 Rebuild Strength is a protein powder that is added to eight ounces of water or another liquid of choice. The ingredients are milk protein concentrate, L-leucine, instantized branched chain amino acids, valine, L-glutamine, whey protein isolate, isoleucine, calcium caseinate and whey protein concentrate. Two scoops is a serving and it should be consumed within 30 minutes after you exercise each day. The purpose is to support muscle tissue, assist with repairs, encourage the production of red blood cells and help speed up recovery.
It is unclear when Herbalife 24 Rebuild Strength was initially released, but it has been available since at least 2013. This protein powder can be obtained through Amazon and there are some customer reviews posted online. Also, this supplement is fine for women and men alike, but read on…
Fat Price Tag – "Pay What?"
The first problem we encountered with Herbalife 24 Rebuild Strength ingredients was the price. According to our Research Editor, "It appears that the protein powder is not sold through the official website. However, we did find it for sale on Amazon for $84.95. This is actually quite expensive when compared to other similar options."
One customer commented, "Why is it $90 per jug. That's insane!"
Another person stated, "Can't afford Herbalife 24 Rebuild Strength. Not sure why it's so high."
Scroll below for one of the best products we've seen over the last year.
User Complains – "Unhappy Customers"
We also discovered some customer complaints pertaining to Herbalife 24 Rebuild Strength. One dieter said, "Don't really care for the taste of this protein powder. Also, it's only available in chocolate, which is odd."
"Too clumpy and pasty," said another user.
The extensive research we've done has shown if there is a particular aspect of a diet supplement or workout program that is very troublesome (too many customer complaints, high price, a pill that causes serious side effects) the odds of real success are not good. This means if Herbalife 24 Rebuild Strength does have problems with taste or cost, this could be a serious issue.
The Science – "Validated?"
We at DietSpotlight prefer to see documented clinical evidence that supports the supplement we investigate. If there is no real science presented, we can't help but see a red flag. Unfortunately, Herbalife 24 Rebuild Strength is not backed by any that we could pinpoint. The official website does explain the key ingredients used in this protein product, but no research is mentioned.
The Bottom Line – Does Herbalife 24 Rebuild Strength Work?
Let's talk another quick look at this one. While we appreciate that Herbalife has been around since 1980, we are not comfortable recommending this protein powder. The cost of Herbalife 24 Rebuild Strength is very high in comparison to other products. Plus, we simply did not find any clinical studies that make this supplement worth the $91.
If you are actually serious about building lean muscle mass and boosting endurance levels, then we suggest you choose a supplement packing clinically proven ingredients, with excellent customer service at an affordable price.
Among the best products we've seen in 2016 is one called Pronabolin. This supplement uses a unique blend of nine key ingredients, which have been clinically proven to help you increase muscle strength, reclaim energy and naturally boost testosterone levels. Also, there are no complaints of adverse effects and customer reviews found online show people are seeing substantial results.
The makers of Pronabolin are so confident in their product they're offering every customer a 120-day money-back guarantee and multiple-bottle discounts.