Updated: 08/25/2015 - Sponsored by Leptigen
Herbalife Review – Does This Weight Loss Program Work?
Are price and taste deal breakers?
PUBLISHED: 08/07/2015 | BY: TORY GRAY, SENIOR REVIEWER
Editor
's Review:
3.4
/ 5.0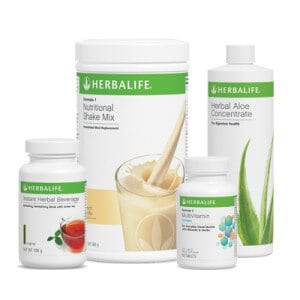 Herbalife is one of the more popular supplement lines, so we decided to dive deep into the products. We pored through ingredients, cost and customer experiences to find out what the hype was all about. After gathering all that information, we condensed it so you have the most important info.
EDITOR'S TIP:
Combine Herbalife with a proven fat burner such as
Leptigen
for better results.
What You Need to Know
Herbalife is a supplement company with products for weight-loss and overall health. The supplements contain protein, fiber, vitamins, minerals and, in some cases, caffeine. We could not find a complete list of ingredients for the weight-loss program. There are four elements to quick-start – Formula 1, Formula 2, Formula 3 and Herbal Tea Concentrate. You have to take them all for optimal results, but at least they are portable.
Herbalife entered the supplement market in 1980. You can order products from a member or via online retailers. We like Herbalife's positive BBB rating and the length of time in the business, but read on…
Price – "Wow!"
The first thing that caught our eye about Herbalife was the price. The quick-start program cannot be purchased from the official website, so we searched online retailers for the individual products. You will spend upwards of $92 to $95 each month and that's just the starter package. If you replace more than one meal with the protein powder the price goes up. "Using meal-replacement shakes to lose weight is an effective option," according to our Research Editor. "The problem with Herbalife comes with the high price tag. You can purchase similar weight-loss shakes for a fraction of the cost.
"Whatever you do, do NOT try Herbalife. It will drain your bank account and you will gain weight," says a dieter.
Another dieter claims, "It's an overpriced sugary weak protein powder."
Try scrolling down to see a product we consider one of the best of 2015.
Taste – "Not So Great"
We found hundreds of product reviews complaining of Herbalife's taste. Most dieters couldn't make it past the first shake. "French Vanilla…not even close. This product tastes like chalk…Nothing makes it taste good," offers up one dieter.
Another consumer says, "Disgusting…hate the taste, I can't even choke it down." Yet another claims, "This drink tastes like…liquid play-doh…It's really bad."
Based on our research, if a just one part of a diet program causes problems, the chance for long-term success diminishes. If Herbalife tastes as bad as dieters claim, this could be an issue.
The Science
If you're looking for science to back up weight-loss claims, you won't find any from Herbalife. The ingredients are not listed on the official website, so the dieter can't even look for relevant clinical studies. At DietSpotlight, we look at research as an integral part of the equation. If there is no support, that's when we start wondering about a product.
The Bottom Line
We took pleasure in reviewing Herbalife products. We like the fact that the company has been around for more than 30 years and has a strong BBB rating. What bothers us is the high price and terrible taste, so we can't suggest the supplements. We're also concerned about the lack of clinical support.
If it's time to shed off the weight, why not try out a supplement delivering a great price, clinically-supported ingredients and good customer reviews?
Leptigen is one of the best products we've seen on the market. The four-ingredient proprietary blend is clinically shown to spark metabolism, help boost fat loss and break through weight-loss plateaus. No negative side effects are mentioned by dieters and reviews show fantastic results.
Leptigen is guaranteed, but on top of that the company is offering a special trial offer – always a good thing.
(Feel free to scroll below for our previously published full-length reviews of Herbalife)
Previous Herbalife Review (Updated March 18, 2014):
What You Should Know
Click Here To See Our Highest Rated Review
Herbalife is a company that began 33 years ago with a "mission for nutrition," according to the company website. Today, Herbalife has more than a million distributors worldwide, offering the line of Herbalife to people who want to lose weight and look and feel better. The weight management line consists of meal programs and supplements that can help dieters achieve their weight loss goals more efficiently. Supplements include those for appetite suppression, metabolism boosters and enhancers. While we appreciate that Herbalife appears to offer something for everyone, we prefer a single formula that can effectively meet all three of these needs for convenience and cost friendliness to the consumer.
The Herbalife products are sold through independent distributors and through some online retailers. We were unable to find the products for sale on the company website. To connect with a distributor in your area, you must first supply information about how you learned about the company. There is also information available on the company website about how to become a distributor.
Ingredients
For the purpose of this review, we will take a look at one Herbalife weight loss supplement, Total Control. This product claims to boost metabolism and aid in weight loss without irritability or restlessness. The ingredients in this formula include calcium, green tea leaves extract, dried ginger root extract, dried theobroma extract, dried yerba mate extract, astragalus, celery, fennel, hawthorne berry, licorice, marshmallow, parsley, suma, dried cinnamon extract and alfalfa.
Product Features
Herbalife offers a 30-day money back guarantee on all purchases. It also provides ample information about the science and research that goes into its formulas. In addition, we found customer testimonials that back the claims of the products. This is the type of information that we encourage consumers to look for; because it shows that the company has confidence in their products.
While we are pleased to see healthy ingredients on the list, the large number may reduce the potency of the active ingredients. Green tea is the only serious weight loss ingredient in the formula. The substance can boost the metabolism and suppress appetite. However, green tea is more effective with other weight loss ingredients like chromium and safe stimulants. We don't see any other active weight loss ingredients on the list.
Advantages
Herbalife is a proven company with a long reputation.
The products are reasonably priced and come with a money back guarantee.
Disadvantages
Herbalife Total Control does not contain many weight loss ingredients.
The large number of ingredients may reduce the potency of the formula.
Products are not available for sale through the company website.
Conclusion
Herbalife is a reputable company with a relatively long history of providing weight loss and nutritional supplements. However, we are skeptical whether the long formulas and lack of active ingredients will really be the most effective way of dropping the pounds. We believe that other options filled with more potent ingredients may be a better choice.
GD Star Rating
loading...