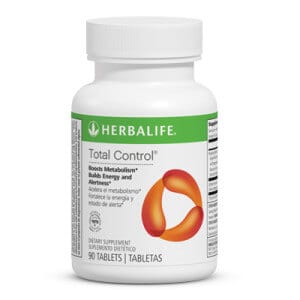 If you haven't looked carefully at Herbalife Total Control here's your chance. There's been plenty of talk about this one, so we created an in-depth review, examining the side effects, ingredients, clinical studies and level of customer service. We read hundreds of dieter reviews and comments from around the web. At this point, we summed up the facts and details to give you the info you need.
What is Herbalife Total Control?
Firstly, Herbalife Total Control is a weight-loss supplement that contains a proprietary blend of ginger root extract, green tea leaf, caffeine, oolong tea leaf extract, pomegranate rind powder and black tea leaf. It is suggested you take it three times daily with water. According to the label, it helps boost metabolism, build energy, increase alertness and support thermogenesis. A bottle of 90 tablets retails for $32.95. We see no problem with taking this one with you on the go.
Herbalife Nutrition has been in business since 1980, and this supplement has been around since 2010. Herbalife Total Control contains some natural ingredients and it's available through convenient online stores like Amazon, but read on…
No Real Results – "Problem?"
Our first concern with Herbalife Total Control ingredients is a lack of results. "Even though the company promotes this as a potent weight-loss supplement, there are quite a few reviews reporting no results," says our Research Editor. "You're not taking this one for the heck of it, you want to see changes."
"This does nothing to help weight loss," said one user.
A consumer complained, "DO NOT BUY!! DOESN'T WORK!! YOUR JUST WASTING YOUR MONEY."
Another customer suggests, "Don't waste your money, it doesn't work at all. I'm very disappointed."
We also read a few positive comments. As one said, "It gives me a boost of energy and is an appetite supressant."
"It gives energy and alertness. It also curves my appetite too," shares another.
Scroll below for one of the best products we've seen over the last year.
Side Effects – "Be Careful"
There are plenty of user complaints about Herbalife Total Control side effects, "These made my blood pressure shoot right up, do not recommend if you have any blood pressure issues," says one user.
Yet another stated, "This product made me feel sick."
We found multiple claims of stomach issues, "[U]nable to consume product, It made me nauseated, This product is not for me."
You don't find mention of these types of issues with everyone. A review said, "Works on me pretty well, no complains about it, no side effects."
Our research has proven that if a particular part of a supplement is very annoying or difficult (no clinical support, too many customer complaints, a strenuous exercise) the likelihood of real long-term success is not good. So, if Herbalife Total Control does cause side effects or lack of results, this could be quite problematic.
The Science – "Clinical Support?"
The company website for Herbalife Total Control does not provide clinical research to actually support the claims regarding this diet formula. This is a little disconcerting because there are trial into green tea and caffeine. Dieters should not that these can be bought online for about $5 each, so there's no real need to spend the money this business asks of you. At DietSpotlight, seeing documented scientific studies is crucial. Therefore it is very concerning that none is provided.
The Bottom Line – Does Herbalife Total Control Work?
Here's the final take on this one ladies and gentlemen. Although we appreciate that Herbalife has been around for 35 years, we are skeptical about Herbalife Total Control tablets. After all, this weight-loss formula is not backed by any science. Furthermore, many users complained of no results. This supplement is not even sold directly through the website. We're also concerned that dieters report side effects when taking this one.
If you'd like to slim down and rock your best body, we encourage you to go with a diet supplement that's formulated with ingredients clinically researched and supporting. The price should be good and there should be no reported side effects.
Among the best products we've seen in 2016 is one called Leptigen. This diet pill contains a proprietary blend of four ingredients, which have been shown in documented scientific studies to help speed up fat loss and increase metabolism. Lastly, we can't find any customer complaints of harmful side effects and dieter feedback around the web shows people are seeing wonderful results.
Plus, the company responsible for Leptigen is so confident in the formula that they're offering a Special Trial Offer, which is a good sign.