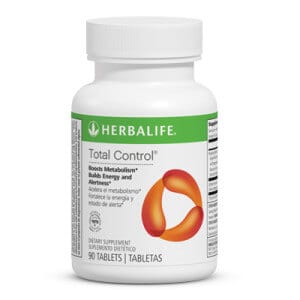 If you haven't looked carefully at Herbalife Total Control here's your chance. We put the spotlight on the side effects, ingredients, clinical studies and level of customer service. Furthermore, we examined hundreds of user comments and reviews. Then, we refined and condensed to give you the info you need.
What is Herbalife Total Control?
Firstly, Herbalife Total Control is a metabolism booster containing ginger root extract, green tea leaf, caffeine, oolong tea, pomegranate rind powder and black tea leaf. It is suggested you take one capsule, three times daily. Supposedly, it helps boost metabolic rate, increase energy, spark alertness and support thermogenesis.
Herbalife Nutrition is the company behind Herbalife Total Control and has been in business since 1980. The supplement is available through the official website and trusted retailers. We like that it contains some natural ingredients and it appears to be affordable, but read on…
No Real Results – "Problem?"
Our first concern with Herbalife Total Control ingredients is a lack of results. "Even though the company promotes this as a potent weight-loss supplement, there are quite a few reviews reporting no results," said our Research Editor. "You're not taking this one for the heck of it, you want to see changes."
"This does nothing to help weight loss," said one user.
A consumer commented, "I tried the 30 day supply. After that, my appetite went back to normal and I was eating more often again."
Another customer suggests, "I have tried many weight loss/appetite suppressants, and this one did nothing for me."
We also found positive Herbalife Total Control reviews. One said, "It gives me a boost of energy and is an appetite suppressant."
"It gives energy and alertness. It also curves my appetite too," reported another.
Scroll below for one of the best products we've seen over the last year.
Herbalife Total Control  Side Effects – "Be Careful"
There are plenty of user complaints about Herbalife Total Control side effects, "These made my blood pressure shoot right up, do not recommend if you have any blood pressure issues," says one user.
Yet another stated, "This product made me feel sick."
We found multiple claims of stomach issues, "It made me nauseated, This product is not for me."
You don't find mention of these types of issues with everyone. A dieter said, "Works on me pretty well, no complains about it, no side effects."
Our research has shown that if a particular part of a supplement is problematic, such as causing adverse reactions, the likelihood of real long-term success is not good. So, if Herbalife Total Control does cause negative side effects, this could be concerning.
The Science – "Clinical Support?"
The company website for Herbalife Total Control does not provide clinical research to support the weight-loss claims. This is concerning, considering there are studies into the effectiveness of green tea and caffeine. At DietSpotlight, seeing documented scientific studies is critical to the review process. We raise the red flag when there's no solid science available.
The Bottom Line – Does Herbalife Total Control Work?
Here's the final take on this one ladies and gentlemen. Although we appreciate that the company has been around for 35 years and that we found some favorable customer comments, we're skeptical about Herbalife Total Control because there's no connection between this supplement and weight-loss. We're also concerned about reviews talking about negative side effects and lack of results.
If you'd like to slim down, we suggest going with a supplement that's formulated with ingredients shown to help promote weight-loss and not connected to harmful side effects.
Among the best products we've seen in 2016 is one called Leptigen. The supplement contains four clinically-tested ingredients, which have been shown to help ignite fat loss and accelerate metabolism. There's no chatter about harmful side effects and dieter feedback around the web shows people are seeing wonderful results.
Plus, the company responsible for Leptigen is so confident in their supplement, they're offering a Special Trial Offer.