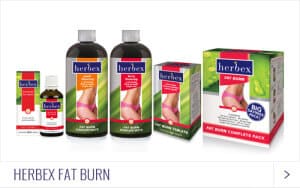 We've heard a great deal of buzz about Herbex weight loss supplements, so we took the time to write one of our in-depth reviews, examining the side effects, ingredients, clinical studies and level of customer care. Plus we focused on hundreds of dieter reviews and customer responses from the internet. Finally, we summed up all of the data and facts to give you the bottom line.
EDITOR'S TIP:
Combine Herbex with a proven fat burner such as
Leptigen
for better results.
What You Need To Know
Herbex is a supplement brand that makes products for both women and men. The core focus of these products is getting slim. For instance, the products available for women fall into two categories, which are health and beauty and slimming. Under the slimming category, some of the products include Attack the Fat, Detox, Slimmers Tea and Fat Burn. Herbex products are free of additives and harmful chemicals. These supplements are claimed to naturally help you lose weight, reduce your BMI (body mass index) and avoid fad diets. According to the website, Herbex is a holistic approach to slimming down and improving health. Some of the key ingredients used in these products are; Green Tea, Garcinia Cambogia, Black Tea, Cinnamon, Capsicum Frutescens, Rooibos Tea and Astragalus Membranaceus.
The official website does not reveal when Herbex was founded. However, it is mentioned that this company ships internationally. Also, there are some success stories posted on the website and contact information is provided as well, but read on…
Customer Complaints!
"We couldn't help but notice a number of customer complaints regarding Herbex weight loss products. The official website appears to only post user testimonials, but there are negative customer reviews found on other websites, and they should not be overlooked," says our Research Editor.
One customer complained, "I started using Herbex attack fat mix and drink on 2015-10-06 and two days later I developed rash all over my body."
According to another user, "I'm on day 2 and I have really bad cramps and upset stomach and every time I eat I get sick."
Scroll below for one of the best products we've seen in 2015.
Side Effects – Be Careful!
Apparently Herbex diet products can lead to adverse effects. One customer commented, "Hi, I have just started using Herbex, and I am also experiencing really bad cramps."
"I started using the Herbex fat burning concentrate. After 2 days I now have the most severe stomach cramps EVER," said another person.
Our research has revealed that if there is one facet of a diet product or weight loss system that is especially bothersome (a painful/difficult exercise routine, serious side effects, too many user complaints) the odds of real weight loss for the long term are not good. Therefore if Herbex weight loss supplements do in fact cause adverse effects in a lot of people, this could prove to be a serious issue.
The Science
From what we gathered, Herbex does not provide clinical trial study results for their diet products. While the ingredients are presented and explained on the official website, there is no real science provided to support the supplements. We at DietSpotlight need to see clear clinical research that supports the weight loss product and how it works.
The Bottom Line
We are glad to see that Herbex focuses on holistic and natural supplements for weight loss. Then again, we did not find any real science to support these products. Furthermore, there are customer complaints regarding side effects and adverse reactions. You should also note that Herbex does not appear to offer a 100% money-back guarantee. In the end, we cannot recommend these weight loss supplements.
Dieters looking to shed more pounds of fat and slim down fast, we advise you to choose a diet product that is backed by clinical results, does not cause nasty side effects and is affordable as well.
One of the most promising diet products we've spotted in 2015 is Leptigen. This supplement uses four unique ingredients, which have been shown in published scientific studies to ignite metabolism and accelerate fat loss. Moreover, we can't locate any discussion of harmful adverse effects and user feedback found online shows people are seeing great results.
Also, the makers of Leptigen are so confident in their product they're offering a Special Trial Offer, which is a good sign.