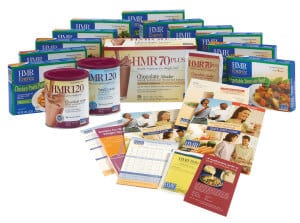 Looking at some weight-loss products can be painful, especially if there's no backing for the program. Let's find out if HMR Diet is in this group. We conducted an in-depth review, examining the ingredients, side effects, scientific studies and overall customer service. We additionally focused on hundreds of user reviews and dieter comments from around the web. Then, we compacted and condensed to give you the info you need.
What You Need To Know
First off, the HMR in this diet stands for Health Management Resources. This method uses coaches that help each dieter with reaching his or her goal. There are three different approaches mentioned on the official website that include Decision-Free (includes coaching and medical supervision), Healthy Solutions (is self-guided or in a clinic) and Healthy Shakes (can be done at home with support materials and meal replacements). Calorie restriction is an important part of this one. There are more than 40 clinics located in the United States and a tool is provided on the website to help you pinpoint the nearest one. Typically followers go through this one  for six weeks or longer, which can cost between $1,200 to $1,900.
The HMR Diet dates back to 1986. There are some success stories posted on the official website. Convenient supplement bars and shakes are included in this plan and medical professionals are available to assist you, but read on…
The Price – "Ouch!"
Our first concern with HMR Diet is the price. "After doing a bit of digging, we discovered that the actual cost of the program varies. While some people pay around $1,200, others spend up to $2,000, which may not be affordable for some dieters," says our Research Editor.
One customer said, "The cost of this diet is just insane. Be sure to ask about it before you get started!"
Another stated, "I never thought losing weight would be so EXPENSIVE."
Scroll below for one of the best products we've seen over the last year.
Negative Dieter Reviews – "No Support"
There are quite a few dieter complaints posted online regarding the HMR Diet program. In fact, one customer said, "I decided to stop because my skin itched all the time. I believe this is due to the aspartame in the shakes."
Another dieter said, "How can you HONESTLY believe this is GOOD for you?!?!? It has ASPARTAME and HYDROGENATED OILS!!!! This is a waste of money, and more importantly it is dangerous to your health to use it. STOP IT NOW!!!!!"
Our research has shown that if a certain facet of a program is especially concerning (a painful/difficult exercise routine, high price, too many customer complaints) the probability of long-term success is quite minimal. Therefore, if the HMR Diet does in fact cause a lot of negative experiences, this could be very problematic.
Does Science Support This One?
It's no big secret that reducing your daily calorie intake can lead to weight-loss. Therefore the HMR Diet can likely work for some people. As far as clinical research is concerned, this is not really addressed on the official website. We at DietSpotlight must see documented scientific studies that support the plan or product and how it encourages increased loss. Unfortunately we did not find that with this program.
The Bottom Line – Does HMR Diet Work?
Yeah, we knew you'd be waiting for the bottom line, so here goes. We are excited about this program and the fact that professional assistance is provided. However, we are hesitant recommending the HMR Diet because it is just so expensive. You should also be aware that clinic locations may not be available in your area. Furthermore, we found quite a few customer complaints regarding the supplements used for this plan.
If you are trying to lose weight quickly and rock your best body, we suggest trying out a diet program or weight-loss supplement that is easy on the wallet and supported by real science. If you find one that's backed by positive customer reviews that's even better.
Among the best products we've seen in 2016 is one called Leptigen. The formula is a unique combination of four ingredients that have been proven in published clinical studies to help boost overall fat loss and speed up metabolism. Moreover, we can't find any discussion of adverse side effects and user reviews posted online reveal people are seeing great results.
To boot, the makers of Leptigen are confident in their product so they're offering a Special Trial Offer, quite a positive for dieters.