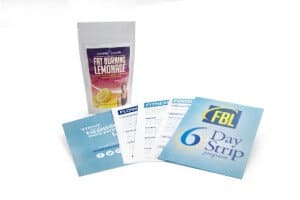 The results of our research into Holistify Fat Burning Lemonade were surprising. We were aware of this product and had heard some good things about it, so we decided to do an in-depth review of the ingredients, side effects, customer service quality, and research. We also read comments and blogs about this product online to provide you with the info you need. Finally we condensed it all so you have the bottom line.
EDITOR'S TIP:
Click here
to combine Holistify Fat Burning Lemonade with a proven fat burner such as Leptigen for better results.
What is Holistify Fat Burning Lemonade?
First off, Holistify Fat Burning Lemonade is a lemonade cleanse that is mixed with water 1 to 3 times per day to supposedly promote fat loss and help dieters lose weight. The ingredients include carnitine and ribose. It can be easily mixed anywhere, and it comes in a convenient pouch that makes travel a breeze.
This lemonade cleanse has been around for a couple years, but it hasn't really caught on for mainstream dieters. It's available through the company's website and from other online retailers and most people claim that it has a neutral taste, but read on…
Price – "Too High for a Cleanse?"
The first thing that immediately stood out was the high cost of Holistify Fat Burning Lemonade ingredients. "Each pouch of powder is just $50, but it lasts only 5 days," said our Research Editor. "If you do the cleanse for a few weeks like most people recommend, the monthly cost can quickly climb to $250-300." We're also concerned that there is no money back guarantee, and there doesn't seem to be a lot of evidence justifying the high price.
"I felt better, but this is way too expensive," said one user.
"This did make me feel a little better until I realized how much I was spending on this cleanse. It's too expensive for me," said another.
Scroll below for one of the best products we've seen over the last year.
Lack of Results – "Minimal Weight-Loss"
According to several reviews, the results of this cleanse fell far short of what the company claims. Holistify Fat Burning Lemonade claims to help you drink yourself thin, but most people didn't lose much weight at all.
"I did feel better when drinking this lemonade, but I didn't lose any weight," said one customer online.
"This tastes good, but it didn't help me lose weight," said another.
Many reviews had similar less-than-stellar results. "I took this for two weeks and I feel better, but no weight-loss at all," said another disappointed reviewer.
Our research suggests that whenever there is a particularly troublesome aspect of a weight-loss product (difficult workout or exercise routine, side effects, bad taste, high cost, etc.), the likelihood of sustained results is slim. If Holistify Fat Burning Lemonade really only provides minimal loss, it could be difficult for many people to stick with this supplement.
The Science – "Enough to Justify the Price?"
One glaring omission on Holistify Fat Burning Lemonade's website is the scientific research behind their product. There are a few studies about the ingredients, but as a cleanse, it has nothing backing its claims. With the high price, we were optimistic and expected some solid proof behind the claims that you can burn fat in your sleep, but it just isn't there. Without this information we see major red flags, and are left disappointed.
The Bottom Line – Does Holistify Fat Burning Lemonade Work?
Are we drinking our first glass now? We like that this cleanse offers a powdered drink that has a neutral taste, that it does seem to make dieters feel better overall, and that the product is easy to find. Unfortunately, we were disappointed in the lack of evidence, so we are skeptical. In the end, we were left hoping for more. We were also discouraged by the high price, lack of weight-loss, and unsubstantiated claims on the company's website.
If you'd like a proven product that is affordable for the average dieter, we suggest you go with a diet supplement that offers value and performance with a formula that is backed by scientific testing.
Among the best products we've seen in 2016 is one called Leptigen. With its proprietary blend of four ingredients, it offers dieters a product that helps improve fat burning and metabolism while encouraging weight-loss. We can't find much talk of side effects online, and users seem to agree that it's a great value and offers amazing results.
Right now the manufacturers of Leptigen are even offering a Special Trial Offer for a limited time, which shows just how confident they are in their product.