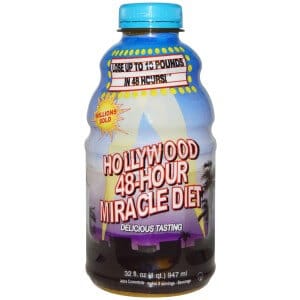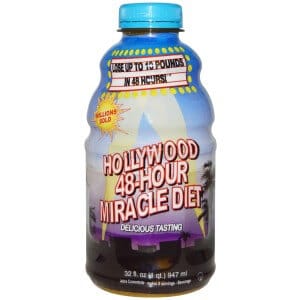 Recently, we've heard a lot of buzz about the Hollywood 48 Hour Diet. We decided to see what all the fuss is about by taking a closer look at the product, the formula, customer service, and user reviews. It's all condensed and summarized here to make it easier for you.
EDITOR'S TIP:
Combine Hollywood 48 Hour Diet with a proven fat burner such as
Leptigen
for better results.
What You Need to Know
First off, Hollywood 48 Hour Diet is marketed as a short-term detoxification designed to help you lose weight. The product claims that you can lose up to 10 pounds in two days. You simply drink nothing but the drink and water, but the official website does not mention anything about the ingredients in the juice. the official website sells a 32 ounce bottle of the juice for $19.95.
The Hollywood 48 Hour Diet has been available since 1997 and can be purchased from the official website. We like the availability of product information and the company's longevity, but read on…
Unhealthy Approach to Weight Loss
The main concern with Hollywood 48 Hour Diet is the unhealthy weight loss approach. doctors, nutritionists, and other health experts recommend weight loss at a rate are the one to 2 pounds per week, unless is done with medical supervision. 10 pounds over the course of two days means the weight loss is more than likely fluid, which will be easy to regain once you begin eating real food again.
"Even though this product is only intended to be used for two days, the fact that you are not allowed to eat any solid food is an indication about how unhealthy it is." said our Research Editor.
"Way too much sugar. I think you'd be better served getting your own juicer and making it at home. It's almost 100 grams in a day. That's a lot." said one user.
Scroll below for one of the best products we've seen over the last year.
Side Effects
Since we don't know exactly what's in the formula, we are a bit wary about it. Our research indicates the juice is made up of mostly water as well as nutrients she could get from fresh produce. Because this is not a long-term weight loss option. Many users report gaining the weight back quickly. Some users reported experiencing detox symptoms such as headaches and nausea throughout the 48 hours.
"Didn't work for me. The taste wasn't bad though and it arrived quickly." , said another.
Another user said, "Seriously this is basically a water diet. You will lose weight, Anyone will lose a few pounds in two days without eating and drinking watered down prune juice. "
Our research shows that if If a weight loss program has problems, like restricting solid food intake, side effects, or being cost prohibitive, users are much less likely to be successful with the program. The Hollywood Diet appears to be nothing more than a short-term fast, which users can accomplish on their own in a healthier way with a juicer..
The Science
The Hollywood 48 Hour Diet Provides links to a couple of different studies on their website. The study suggests the average person loses about 4.5% of their body weight, ranging from 4.5 to 16 pounds. While this sounds impressive, it is important to recognize the scale is only moving because of water weight loss. For the team at DietSpotlight, the science needs to support loss of fact, rather than fluid..
The Bottom Line
So what's our final verdict? The Hollywood 48 Hour Diet good help you drop some water weight so you could fit into that dress for a special event, but if you're looking for a long-term weight loss solution or want to lose fat, this product just won't do it for you. This approach limits you to about 400 cal per day and prevents the consumption of solid food, so it is certainly not a healthy approach for long-term weight loss.
If you're trying to shed some weight, we suggest choosing a clinically proven safe and effective supplement that delivers a good value for your money. Use it alongside a healthy diet and exercise routine for the best results.
One of the best products we've seen so far this year is Leptigen. this supplement is a unique blend of four ingredients, all of which are proven clinically safe and effective for weight loss. Through our research, we were not able to find negative mentions of side effects and saw that many dieters were experiencing solid results.
The makers of Leptigen are so certain their product works, they're providing new customers with a special trial offer, which is always a good sign.