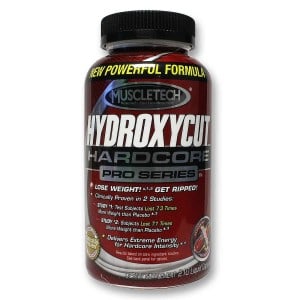 This week I obsessed over every aspect of the fat burner Hydroxycut Hardcore. We pored through the ingredients, side effects, clinical research and customer service. Comments and experiences from hundreds of users were taken to heart. Then, we summarized it all to give you the bottom line.
EDITOR'S TIP:
Click here
to substitute Hydroxycut Hardcore with a proven fat burner such as Leptigen for better results.
What is Hydroxycut Hardcore?
To begin with, Hydroxycut Hardcore is a fat burner with caffeine anhydrous, l-theanine, cayenne pepper, green coffee extract, yohimbe extract, l-tyrosine, l-methionine, l-leucine and trans-ferulic acid. You're supposed to feel a strong boost in energy and see a change in weight-loss, for the better. At the highest dose you take four daily so a bottle will only last two weeks.
Iovate Health Sciences is ultimately the company behind Hydroxycut Hardcore, though you will see the name MuscleTech. You can buy the product online through third-party retailers, but not on the official website. We like that there's some research into caffeine and a study is mentioned, but read on…
Side Effects – "Jitters and Shakes?"
The first issue was with Hydroxycut Hardcore side effects. "Any reaction that is defined as negative should not be an acceptable part of your weight-loss journey," said our Research Editor.
"Use caution, it can also cause rapid heartbeat, and shakes, even while taking the suggested dosage," was one experience.
Another person said, "Negative side effects for me were mild nausea, watering of the mouth and increased heart rate. Uncomfortable."
Others did not share the same reactions.
"I don't feel jittery but I do feel energized," a dieter said.
One more claimed, "No jitters no side effects."
Scroll below for one of the best products we've seen over the last year.
Results – "Good for Everyone?"
Not everyone who took Hydroxycut Hardcore ingredients felt they worked as expected. There was nearly always an energy boost, just not weight-loss
"Didn't increase my weight loss progress at all," a review claimed.
We also found a dieter that said, "Absolutely useless. I took it exactly as directed to, and experienced zero increase in energy, zero appetite reduction, and no additional weight loss."
On the other side, some dieters generally saw results.
A user on the fence said, "Seems to have boosted my weight loss but I don't track numbers so I can't be 100% sure."
"Been taking it for a while and yes it works," was one more experience.
If you look close, you'll see a connection between an issue that seems small, like a case of the jitters, and a lesser chance of lasting results. If Hydroxycut Hardcore causes side effects, the dieter may just change it out for a clinically tested supplement that most often doesn't.
The Science – "Any Real Proof?"
Hydroxycut Hardcore is supposed to be clinically proven – or at least one of the ingredients in the formula. The two studies mentioned also utilized exercise and a low-calorie diet. There's no way to be certain any part of this supplement was the cause of weight-loss.
The Bottom Line – Does Hydroxycut Hardcore Work?
Did we just enter our credit card number to buy Hydroxycut Hardcore? Let's see, we like that the company tries to support the formula with clinical studies and the caffeine will likely boost energy and metabolism, slightly, but we are skeptical about this one. There are too many reports of side effects and there are several other ingredients that could make it so much more effective.
If the time's come to wipe out that extra weight, we suggest trying a supplement that's scientifically tested and shown, via real people, to promote weight-loss.
Among the best products we've seen in 2016 is one called Leptigen. The formula consists of four ingredients that have been clinically tested. We found very few reports of side effects, but read plenty of reviews across the web from dieters seeing amazing results.
Plus, it's with confidence that the makers of Leptigen offer a Special Trial Offer.