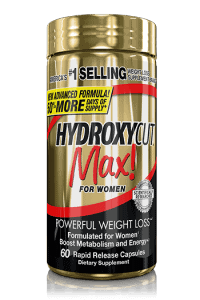 This review is what happened after I obsessed for weeks over Hydroxycut Max. We did an in-depth review, focusing on ingredients, side effects, clinical research and customer service quality. Furthermore, we analyzed hundreds of dieter comments and testimonials. Then, we summarized and refined to give you the info you need.
What is Hydroxycut Max?
First off, Hydroxycut Max is a fat burner containing folic acid, biotin, iron, caffeine, mango, kiwi, avocado, robusta coffee extract, hydrolyzed collagen and silicon dioxide. The recommended serving is two capsules per day, supposedly helping you burn fat and boost metabolism. The pills are small, so it's easy to take anywhere.
Hydroxycut Max was introduced in 2002 by Iovate Health Sciences. Hydroxycut Max is sold through the official website and at local health food stores. We like that the company has been in business for years and that we found some positive customer comments, but read on…
Price – "Too Expensive?"
The first concern we have with Hydroxycut Max ingredients is price. "On the surface, the price seems low," said our Research Editor. "But, there are more affordable supplements on the market that cost less."
"These started off OK, but after a week, I was taking too many pills to be able to afford to keep buying Hydroxcut," said one user.
"I saw good results, but I need a more affordable alternative," said another.
Cost wasn't a concern for some customers. "A bit pricey, but it's worth it since I saw results," stated a dieter.
Scroll below for one of the best products we've seen over the last year.
Hydroxycut Max Side Effects – "Troublesome?"
Customers are talking about the intensity of  Hydroxycut Max side effects. "I started Hydroxycut Max, but my heart started racing, I felt jittery, and I started sweating more than usual," said one customer online.
"This supplement may help lose weight, but I can't put up with the side effects," said another.
Negative side effects wasn't a concern for every dieter.
"The only side effect I noticed was a boost of energy in the afternoon. Which I liked," reported a user.
Our research has shown that any part of a weight-loss supplement considered a concern, like causing negative side effects, the chances of long-term success is reduced. If Hydroxycut Max causes adverse reactions, this could be an issue.
The Science – "Clinically Proven?"
Hydroxycut Max does provide one study on the official website. After a bit of digging, we found that the ingredient tested in the patented form of green coffee bean extract, not the version used in this formula. Also, it contains caffeine which has been shown to boost metabolism. The recommended serving is two capsules per day, meaning you'll consume 450mg of caffeine within 24 hours. Here at DietSpotlight, a critical part of the research process is solid science. When studies don't show a direct connection to you losing weight, is it really worth it?
The Bottom Line – Does Hydroxycut Max Work?
So, here's our final thoughts on Hydroxycut Max. We like that the company has been in business for years and that we found a few positive customer comments, but the lack of research backing the weight-loss claims leaves us hesitant about this one. Also, we're concerned that dieters are talking about negative side effects and the high price.
If you're looking to drop those extra weight, we suggest going with an affordable supplement, containing ingredients not connected to harmful side effects.
Among the best products we've seen in 2016 is one called Leptigen. It contains four clinically-tested ingredients, that have been shown to help accelerate metabolism and jump start fat loss. Dieters aren't talking about harmful side effects and users are thrilled with the results they're seeing.
The makers of Leptigen are so confident in their product, that they're offering a Special Trial Offer.