Updated: 09/29/2015 - Sponsored by Leptigen
Hydroxycut Max Review - Does This Fat Burning System Work?
Are cost and dangerous ingredients deal breakers?
PUBLISHED: 09/12/2015 | BY: SUMMER BANKS, SENIOR REVIEWER
Editor
's Review:
2.7
/ 5.0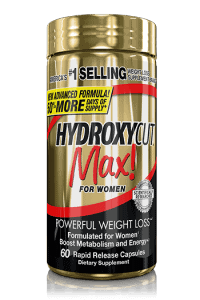 Hydroxycut Max is a popular women's supplement that we've heard a lot about lately, so we did an in-depth review of this fat burning system. We looked at the active ingredients, any harmful side effects, any clinical research or scientific studies, and checked out their official website to see how their customer service quality was. We then put all our information together in the form of a condensed review to give you all the information you need to make a decision on this supplement.
EDITOR'S TIP:
Substitute Hydroxycut Max with a proven fat burner such as
Leptigen
for better results.
What You Need to Know
Hydroxycut Max is a fat burning supplement that is designed specifically for women. The ingredients are designed to produce optimal results in females, so it shouldn't be used with males. Some ingredients include green tea extract, caffeine, folic acid, sesame oil, and several other all natural ingredients. The main active ingredient is cissus quadrangularis extract, which works to metabolize fat and boost weight loss results. Because this supplement comes in pill form, it's convenient and easy to take anywhere.
This supplement was introduced in 2002, and it's encouraging to see a company with that kind of longevity, but they've done some tinkering with their ingredients over the past 13 years. In 2004, their main ingredient, Ephedra, was banned by the FDA, so they changed their formula. In 2009, the FDA issued a consumer warning on all Hydroxycut products, leading to a total recall. The formulas have since been changed, and no known FDA bans are in place, but the current formula is not endorsed by the FDA. Some benefits of Hydroxycut Max include the accessibility of the product online and in health stores, the effectiveness of the product, and the clinical studies that have been conducted that have shown that Hydroxycut Max significantly outperforms a placebo. There are also some positive comments in online reviews, but read on…
Price – "Yee-Ouch"
One concern that is evident when reading through online reviews is the price. The current price for Hydroxycut Max is $60 per bottle, with each bottle lasting only 10-15 days. "Hydroxycut Max has a similar cost per pill to most competing products," said our research editor. "But as you progress into the program, you're required to take more and more pills per day, with some users taking as many as 8-10 capsules per day."  The total cost for many users exceeds $150 per month, which is more than most people can afford to spend on weight loss supplements. Women taking Hydroxycut Max are also encouraged to buy other Hydroxycut products, further adding to the high cost of this fat burning system.
"These started off OK, but after a week, I was taking too many pills to be able to afford to keep buying Hydroxicut," said one user.
"I saw good results, but I need a more affordable alternative," said another.
Scroll below for one of the best products we've seen in 2015.
Harmful Ingredients – Another Concern
One other disturbing thing about Hydroxycut Max that we found was that there were significant harmful side effects, and a history of dangerous ingredients in Hyroxicut products. Because they've used ephedra and other banned ingredients in the past, it's difficult to have confidence in their current ingredients. Hydroxycut has also been linked to Ischemic Colitis, Liver Failure, Caffeine Overdose, and Rhabdomylosis. "I started Hydroxycut Max, but my heart started racing, I felt jittery, and I started sweating more than usual," said one customer online.
"This supplement may help lose weight, but I can't put up with the side effects," said another. In reading through online forums, reviews, and comment sections, many customers agree, but some had some advice on how to cope with the side effects, like this customer: "Start slowly with Hydroxycut to allow your body to get used to the ingredients." It seems like those who start slowly with this program are more likely to avoid the negative side effects that are often seen with Hydroxycut Max.
Our research has shown that whenever something especially difficult exists within a weight loss program (bad taste, negative side effects, painful workout routine, etc.), users are less likely to find long term success. If  Hydroxycut Max really does have harmful ingredients that cause these side effects, this could be an issue for those aiming for permanent weight loss.
The Science
Hydroxycut Max does have significant data from clinical studies showing that the supplement is more effective than a placebo, and scientific research backs up their claims, but there are no studies proving that this supplement is more effective than dozens of widely available supplements that are much more inexpensive that also provide good results. Here at DietSpotlight, we want a product that produces results that are significantly better than cheaper alternatives in order to justify a high price tag.
The Bottom Line
There are some highlights that we noticed about Hydroxycut Max. We liked the easy access to the product online and in every major health store, the positive reviews that some users wrote, and the longevity of the company, but it all boiled down to the safety of this product. Because of the myriad of health and safety issues that people have had when taking Hydroxycut Max, we're unable to recommend this product to our readers. There is no proof that this product works better than more affordable alternatives, the cost is prohibitive to many would-be users, and the negative side effects are potentially too harmful to overlook.
If you're looking to drop weight in a safe and healthy fashion, we suggest you find a supplement that is affordable, offers proven results, and has a list of safe ingredients that are backed by published scientific research.
One of our favorite weight loss supplements from 2015 that meets these criteria, is a product called Leptigen. Leptigen contains a proprietary blend of four ingredients, and the ingredients have all been shown to boost weight loss and improve metabolism. We've been unable to find any complains of harmful side effects, and most users seem happy with the results they're seeing from this product.
Currently, the makers of Leptigen are so confident that you'll love their product, that they're offering a limited time a Special Trial Offer.