Updated: 09/29/2015 - Sponsored by Leptigen
Hydroxycut Review - Does This Fat-Loss Supplement Really Work?
Are dangerous ingredients and lawsuits deal breakers?
PUBLISHED: 09/07/2015 | BY: SUMMER BANKS, SENIOR REVIEWER
Editor
's Review:
3.0
/ 5.0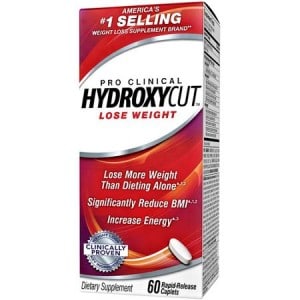 There's been a great deal of discussion about Hydroxycut weight loss pills, so we created an in-depth review, examining the side effects, ingredients, clinical studies and level of customer service. We additionally took a close look at hundreds of customer reviews and dieters comments from around the web. At this point we summarized the facts and details to give you the crucial information you need.
EDITOR'S TIP:
Substitute Hydroxycut with a proven fat burner such as
Leptigen
for better results.
What You Need To Know
Hydroxycut offers about a dozen different weight loss supplements for women and men. Some of the key ingredients found in Pro Clinical Hydroxycut are as follows; Robusta Coffee Extract, Papaya Fruit, Blackberry Fruit, Saffron Extract, Caffeine Anhydrous (200mg), Maqui Berry and Alma Fruit Extract. Other Hydroxycut products contain higher levels of Caffeine, in addition to ingredients such as L-Theanine, Cayenne Pepper and Yohimbe Extract. This supplement is taken once or twice daily. It's claimed to boost metabolism, increase energy levels and assist with advanced weight loss.
Hydroxycut is a Canadian company that is owned by Iovate Health Sciences Inc. It first began back in 2002 and these diet products are sold in common stores such as Walmart, CVS Pharmacy, GNC and Walgreens. There are some natural ingredients used in Hydroxycut supplements and it's nice to see that some customer testimonials are posted on the official website, but read on…
Dangerous Ingredients – Yikes!
According to our research editor, "Hydroxycut was actually pulled from the market back in 2009 due to serious side effects. The high level of stimulants used in these products can cause adverse effects such as irregular heartbeat, anxiety, headache, sleeplessness and nausea."
One customer complained, "This product is garbage, it made me sick to my stomach, gave me the worst headaches, my brain felt extremely tired while using this. I felt very anxious and tired. I went to see my doctor because I felt really sick. As soon as I stopped taking this I felt back to normal."
Another stated, "Made me feel sick, I didn't see any results after taking the whole bottle. I will never use again, worse product ever."
Scroll below for one of the best products we've seen in 2015.
Lawsuits – Uh-Oh
There was a class action lawsuit filed against Iovate Health Sciences Inc. that involved Hydroxycut supplements sold between the years of 2008 and 2014. According to the lawsuit, numerous Hydroxycut supplements made false claims regarding weight loss. In fact, one user said, "This item didn't improve weightless at all. In fact I gained about 4 more pounds than I originally started with."
"DO NOT WASTE YOUR MONEY!!! I am 145 lbs.. I wanted to only loose 10 lbs.. I took this for 30 days just like it said.. The bottle is empty and I did not even loose 1lb. I am not an over eater!! What a WASTE!!!," said another customer.
Our research has revealed that if a particular aspect of a diet program or weight loss supplement is a serious concern (harmful side effects, lawsuits, dangerous ingredients) the probability of long-term success is quite minimal. If Hydroxycut is in fact dangerous and fails to yield real weight loss results for a lot of people, this could be very problematic.
The Science
While Hydroxycut emphasizes the effectiveness of their diet products on the company website, if you look closely, there is no actual clinical research that proves Hydroxycut works as claimed. In fact, we can't find any published scientific studies that support these weight loss claims. We at DietSpotlight need to see documented clinical research regarding the product and its ingredients. If the science isn't there, we see a red flag.
The Bottom Line
We certainly appreciate that Hydroxycut has been around for more than a decade. However, we can't recommend these diet pills, due to the lack of clinical research. Furthermore, there are dozens of customer complaints posted online regarding side effects and poor results. The class action lawsuit against this company is also very concerning.
If you're really interested in shedding more pounds of fat and slimming down quickly, then we recommend you go with a diet supplement that is backed by real scientific research and does not cause dangerous side effects.
One of the best diet products we've encountered in 2015 is Leptigen. This weight loss formula offers a unique combination of four ingredients, which have been proven in published scientific research to boost metabolism and speed up fat loss. Furthermore, we can't locate any negative discussion of harmful side effects and the dieter comments we found online show people are seeing amazing results.
Also, the makers of Leptigen are so confident in their product they're offering a special trial offer, which is a good sign.