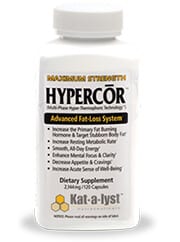 We are always excited when a supplement offers to do more than one thing to promote weight loss. This is the case with Hypercor, so we began our research with enthusiasm. We examined the claims so we could explain how the process works and what the benefits may be.
EDITOR'S TIP:
Combine Hyercor with a proven fat burner such as
Leptigen
for better results.
What You Need to Know
Hypercor is made by the Katalyst Company. The weight loss supplement claims to facilitate weight loss by increasing the body's ability to burn fat while simultaneously suppressing the appetite.
The makers of Hypercor claim that the ingredients are all natural and provide a complete program for promoting weight loss, but read on…
Combining Supplements
The list of ingredients found in Hypercor is extensive, which one would expect from a product that claims to provide so many benefits. However, the company suggests that even more supplements are required to activate maximum weight loss potential. The products they recommend be used are Somnilean and Detoxin.
Our research editor expressed concern saying, "A company that claims their product is an all inclusive resource that encourages additional products be purchased seems to be more concerned with profit that functionality."
Scroll below for one of the best products we've seen over the last year.
Ingredients
Most of the ingredients listed in the documentation for Hypercor, are in the form of proprietary blends. This is disturbing because it prevents consumers from learning how potent the ingredients are and obscures ingredients in some cases.
The ingredients that are provided include Vitamin B3, Vitamin B5, Vitamin B6, Vitamin B12, Vitamin C, Thermo-Lipolysis Blend™, Neuro-Phoric Blend™, Lipo-Adrenaline Blend™, Adrenal-Cortical Suppression Blend™, and P57 Appetite Suppression Blend™.
The Science
The makers of Hypercor offer absolutely no external scientific support that their proprietary blends will work as advertised. While this can sometimes be overlooked, the fact that the ingredients are also obscured by grouping them into the proprietary blend, is cause for concern.
The Bottom Line
When we first began looking at Hypercor we were hopeful that the manufacturers had found an effective way to combine weight loss methodologies within a single product. However, there is no way to validate these claims due to the excessive use of proprietary blends.
Weight loss supplements need a measure of transparency to give consumers confidence, and they need to be able to support their weight loss claims with scientific evidence.
The manufacturers of Leptigen do this well. The ingredients are clearly listed, and they offer scientific support for their claims. Our research has also indicated a satisfied consumer base.
The makers of Leptigen have complete confidence in their product and their process. They offer new customers a Special Trial Offer, to give them a chance to experience the effectiveness for themselves.