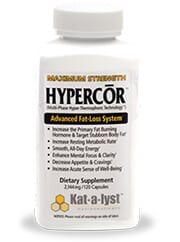 You may be surprised by what I say in this Hypercor review. We at DietSpotlight did one of our in-depth investigations, examining the side effects, ingredients, clinical research and level of customer care. We also read through dozens of user comments and responses from around the web. At last, we summed up all of the details and specifics to give you the bottom line.
What You Need To Know
To start, Hypercor ingredients include hoodia gordonii, yohimbine hcl, caffeine anhydrous, citrus aurantium, raspberry ketones, green tea, magnolia bark, ginger root, and b vitamins. This supplement is claimed to suppress appetite, boost thermogenesis, elevate energy levels, improve focus and increase fat loss. It needs to be taken twice daily for optimal results, and no special diet or exercise is required. Unfortunately there does not appear to be a return policy or guarantee available.
The company behind Hypercor is Katalyst Nutraceuticals. However, we are not sure when this diet formula was first released. This supplement does contain all sorts of natural herbs. Also, there is no prescription required, which is convenient, but read on…
Side Effects – "Concerned Yet?"
First off, Hypercor side effects were a concern expressed by dieters. "The formula in this one may cause some side effects," said our Research Editor. "It states on WebMD that combining citrus aurantium (bitter orange) with stimulants such as caffeine, can lead to heart troubles."
One user reported, "This pill will make your heart race like crazy. I can't recommend it."
However, not all customers reported adverse effects. For instance, one person commented, "Seems to give me a jolt and curbs my cravings."
Another posted, "No side effects thus far. It does reduce your appetite, which is a plus."
Scroll below for one of the best products we've seen over the last year.
Lack of Availability – "Another Issue"
From what we can tell, Hypercor is not readily available through online dealers. Although it is found on the official website, you have to enter your zip code in order to find a local distributor. But there may not be any nearby. One customer stated, "No one sells Hypercor. They should just let you order it online. Ever heard of Amazon?"
Then again, a different person commented, "Found a local dealer. Going to give this diet pill a shot."
"My friend takes Hypercor. She is letting me try it out. Curious to see how effective it is," mentioned another individual.
Our research has revealed if there is some specific facet of a diet pill or workout program that is quite bothersome or difficult (poor ingredients, lack of availability, side effects) the odds of actual results for the long haul are slim. This means if Hypercor is challenging for most people to find, this could be a serious dilemma.
The Science – "Solid?"
Well, first off, Hypercor does contain green tea and caffeine. These ingredients have been shown to boost metabolism. Then again, some of the other herbs in this product may cause you more trouble than this supplement is worth. At DietSpotlight, we prefer to see some documented studies that support the product we're reviewing, but the formula itself must be safe as well.
The Bottom Line – Does Hypercor Work?
Now the moment you've been waiting for. Here is our bottom line on Hypercor. Well, to begin with, we appreciate that this diet supplement contains a variety of natural herbs. It's also good to see that this product can easily be used/taken anywhere. However, we have some reservations about this weight-loss formula because it's not backed by any clinical studies. Also, we're concerned about the dangerous ingredient blend it contains. Not to mention its lack of availability.
If you'd like to drop more pounds of fat, then we suggest you go with a diet product that does not contain any dangerous ingredients, is supported by solid science and is easy to order online.
Among the best products we've seen in 2016 is one called Leptigen. This supplement contains four key ingredients that are clinically tested, and have been shown to help speed up fat loss and spark metabolism. At this point we can't find any discouraging user feedback, and comments around the web reveal people are seeing wonderful results.
The makers of Leptigen are so positive about their product they're offering a Special Trial Offer, which is uncommon.