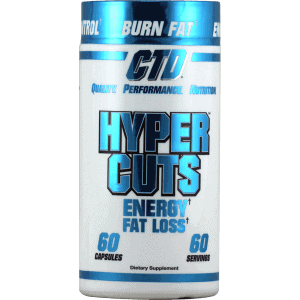 I paused before I hit the "publish" button on this one, because my conclusion was a bit of a shocker.  We decided to do one of our thorough reviews of Hypercuts, looking closely at the ingredients, side effects, customer service and clinical research. We then read hundreds of user comments, so you know what the word is on the web. Then, with all that information in hand, we condensed and summarized to give you the bottom line.
What You Need to Know
First of all, Hypercuts is a fat burner that also claims to help you improve mood and memory. It contains 2-amino-4-methylpentane citrate, caffeine, higenamine HCL, naringin, r-beta-methylphenylethylamine, rauwolfia vomitoria root extract, huperzia serrata club moss and capsicum annum fruit extract. According to the official website, the supplement is an "extreme energy fat burner." The pills are small enough to take on the go.
We do not know when Hypercuts was created, but we do know CTD Sports is responsible for the formula. We do like that it seems to be widely available online and the ingredients are listed, but read on…
Side Effects – "Time to Worry?"
Our first concern with Hypercuts ingredients was the potential for side effects. "Though the formula is a proprietary blend, adding caffeine can mean adverse reactions for dieters who're sensitive to stimulants," says our Research Editor. "We like the addition, but we need to know just how much."
According to Brown University, "Symptoms of [too much]caffeine…can include rapid or dangerously erratic heartbeat…vomiting, diarrhea, stupor and disorientation."
Scroll below for one of the best products we've seen over the last year.
No Customer Reviews – "A Concern?"
Another thing we noticed about Hypercuts was that there are few, if any, customer reviews online. In total, we found fewer than 25 and that's not enough to get a good sense of how a product works. As caffeine is an ingredient in the formula, we expected at least a few dieters to report some side effects. This could mean the supplement is just not popular.
Our research leads us to believe it takes just a small thing, like potential side effects, to offset your chances of long-term success. If Hypercuts does cause jitters or shakes, among other reactions, that could be enough to deter the dieter.
The Science – "Clinical Evidence?"
There is some science proving caffeine can be used to boost metabolism and energy, but thousands of supplements claim this stimulant. The problem is there are no studies into Hypercuts, so the dieter has nothing to go on. At DietSpotlight, clinical support is crucial and we don't have it with Hypercuts.
The Bottom Line – Does Hypercuts Work?
So, shall we race out for this one? We were initially looking forward to our review of Hypercuts, because it appeared to be a supplement that would help people reach their weight-loss goals faster, if you believe the company. We have concerns about recommending this one, however, because there are so few customer comments and the risk of side effects is there. We also found no clinical proof it works better than the competition.
If you'd like to shed some pounds, we recommend choosing a clinically proven safe and effective weight-loss supplement that's not associated with negative side effects.
Among the best products we've seen in 2016 is one called Leptigen. It is a proprietary blend of four clinically proven ingredients known to help increase metabolism and fat burning. Over the course of our research, we weren't able to find negative comments about harmful side effects. We did manage to find positive reviews, time and again, claiming dieters are seeing amazing results.
We're happy to see the makers of Leptigen are so confident in their product they're giving new customers a Special Trial Offer, which is always a good sign.