Updated: 09/29/2015 - Sponsored by Leptigen
IdealShape Review - Does This Meal Replacement System Work?
Are cost and taste deal breakers?
PUBLISHED: 08/29/2015 | BY: SUMMER BANKS, SENIOR REVIEWER
Editor
's Review:
3.5
/ 5.0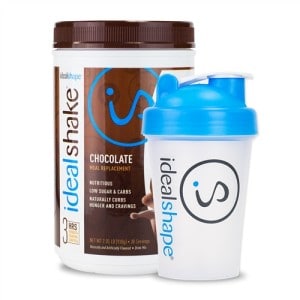 Meal Replacement shakes can be a good way to lose weight, so we did an in-depth review on IdealShape, a meal replacement shake that can be taken every day. We looked at the ingredients, side effects, research, customer service, and online reviews for this product, and compiled all the information we gathered into a summarized review to give our readers the info they need.
EDITOR'S TIP:
Combine IdealShape with a proven fat burner such as
Leptigen
for better results.
What You Need to Know
IdealShape is a meal replacement that contains Slendesta Potato Extract as the main active ingredient. The other ingredients are a proprietary blend, but a call to the company confirmed that there is some lead in this product. These meal replacement shakes are taken twice a day to accelerate weight loss, and you can take the easy to mix formula with you anywhere.
IdealShape has been around since 2003, and uses all natural ingredients. We like the longevity of the company and the all-natural ingredients, but some users don't like that the formula contains lead. We also like that they offer a money back guarantee, and that the product is easy to find online, but read on…
Price – "Yee-Ouch"
Our primary concern with the IdealShape meal replacement shakes was the expense. "If you have the money to spend on meal replacement shakes, IdealShape does help suppress appetite and reduce caloric intake," said our research editor. "But the prohibitive cost is enough to empty your wallet."  At $70 per container, a month's worth of shakes will cost over $140 when shipping is added, and that's without the optional meal replacement bars that are recommended.
"too expensive to justify; more affordable alternatives are out there," said one user.
"I can't afford this product, so I'll keep taking my affordable diet supplement," said another.
Scroll below for one of the best products we've seen in 2015.
Taste – Another Concern
Many people also complained about the gritty overly sweet taste of IdealShape. In reading through online reviews, we found that the biggest complaint that people had was that it was too sweet and too gritty to choke down. "I tried IdealShape for the first time this week, and I don't know how anyone can stand this taste," said one confirmed customer.
"I haven't liked a single flavor I've tried," said another. Most reviews agreed with these two, but some people found ways to get past the taste. "Double the amount of liquid, or try mixing this with almond milk for better results," said one person.
Our studies of diet supplements have shown that if there is something that is more difficult or troublesome about a particular workout routine or diet supplement (taste, side effects, cost, painful workout, etc.) the likelihood of achieving long-term success is slim. Losing the weight and keeping it off is more difficult when there is something that you don't like about the supplements you're taking. If IdealShape really does have a taste that is gritty and too sweet, this could be a problem for those looking to slim down.
If you are convinced that IdealShape is for you, most reviewers recommend that you mix it with pineapple juice, almond milk, or double the water that you would usually use.
The Science
There is some research behind the ingredients in IdealShape, and some evidence to suggest that it works as an appetite suppressant, but there's no evidence suggesting that IdealShape works better than more affordable alternatives, or better than diet and exercise alone.  With much cheaper alternatives on the market, we would have liked to seen a published study proving that IdealShape is a better product that helps users lose more weight than other meal replacement products. At DietSpotlight, we know the importance of published studies, and without unbiased scientific research backing up claims, it can be difficult for customers to believe the claims that a company puts on their products.
The Bottom Line
We were initially intrigued by the longevity of IdealShape. We also liked the convenience of their meal replacement shakes, the ability to purchase the product quickly online, and the appetite suppressors, but the lack of scientific data proving that this is a better weight loss shake than more affordable alternatives mean that we can't recommend this to our readers. We are also concerned about the lead content in the formula, the overly sugary sweet taste and consistency, and the high cost of IdealShape.
If you'd like a way to slim down, we suggest you find a product that is scientifically proven to help you lose weight without the high cost or unappealing taste. Finding a product that has scientific research behind its claims is important to us at DietSpotlight, so we recommend that you find a supplement with claims that are backed up by published clinical research.
One of the best diet supplements we've seen so far in 2015 is a product called Leptigen. The makers of Leptigen have a proprietary blend of just four ingredients, which have all been proven in published scientific research and clinical studies to boost weight loss by improving metabolism and accelerating fat loss. We've read hundreds of reviews on this product, and users seem to be happy with their results and side effect free
For a limited time, the makers of Leptigen are backing their product with a special trial offer, which is sign that they're confident that everyone will love their weight loss product and see positive results.