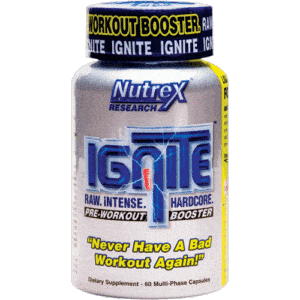 Workout products either work or they don't. Period. Let's find out which one Ignite is. We took the time to create this comprehensive review, focusing intently on the ingredients, side effects, customer-service quality, and scientific studies. Then we scrutinized user comments from all over the internet. Finally, we summarized all of the data we found in order to give you the facts.
What is Ignite?
To start, Ignite is a preworkout drink designed to be taken prior to weight lifting or other forms of exercise. The ingredients include phenylethylamine, methylsynephrine, B-methylphenylethylamine tartrate, theobromine anhydrous, and caffeine anhydrous. The manufacturer recommends taking to capsules approximately half an hour before working out. No more than two should be taken within 24 hours. The retail price for a one-month supply is approximately $50.
Ignite is made by Nutrex which is located in Oviedo, Florida, and was founded in 2002. The company makes a variety of weight-loss and fitness supplements, but read on…
Side Effects– "A Problem?"
Our first concern involves the potential Ignite side effects. While there aren't a lot of ingredients in the formula, many of them to have properties of stimulants. According to our Research Editor, "When you combine strenuous exercise with high levels of stimulants, it creates the potential for some negative situations."
A disgruntled customer quipped, "I took this before I did my regular routine and I thought my heart was going to explode."
As a man warned, "This literally made me have to stop mid-workout because my heart was pounding and I couldn't catch my breath. I'm better off without it."
Some people had less problematic experiences.
One reviewer offered, "I took this before I started training and I only noticed that I had a little more of an edge."
While another pointed out, "I felt like I was more focused during my time at the gym, which is a good thing.
Scroll below for one of the best products we've seen over the last year.
Limited Focus– "For Weightlifters"
This product is geared towards those who enjoy a hardcore workout and may not be as beneficial for the typical dieter.
This frustrated dieter noted, "I need help losing weight even when I don't have the time to work out."
And an individual complained, "I thought this would make it easier to work out or be motivated but I didn't notice anything and didn't lose any weight."
Those who enjoy gym time and need that boost had a different perspective.
This happy purchaser thought, "It really made me feel like I could go to the next level."
Another claimed, "I lifted more on this than I had been able to manage before.
According to our research, dieters usually want something that will help them reach their weight-loss goals. With a product like this that is only designed for a niche population it may be difficult for the average person to get the results they are looking for.
The Science – "Not Available"
At DietSpotlight we look to the manufacturer to provide detailed evidence that their products do what they claim. In this case we were unable to find anything on the official site that proves that this would be beneficial to work out enthusiasts or dieters in general.
The Bottom Line – Does Ignite Work?
Should I race out for a bottle of Ignite? If you are in good shape and want to try something that will fire up your performance, this is an option. It is similar to other products like it in the field. However, if your primary objective is to lose weight this holds very little benefit which is why we are reluctant to endorse it.
If you are ready to lose weight, we suggest choosing a supplement designed to help you do just that. One with proven ingredients that are backed by solid scientific research.
Among the best products we've seen in 2016 is one named Leptigen. This formula is made of four key ingredients clinically shown to help amplify metabolism and intensify fat loss. We didn't locate any reviewers who had a negative experience. However, we did find a great many who were sharing their success stories.
The makers of Leptigen are so sure of their product they're offering a Special Trial Offer, which gives us even more confidence.