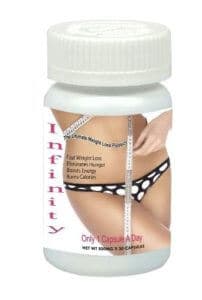 This review is what happened after I obsessed for weeks over Infinity Bee Pollen capsules. Our review scrutinized the side effects, ingredients, level of customer-service quality and scientific research. Additionally, we examined hundreds of user comments. Then, we condensed and refined to give you the info you need.
What is Infinity Bee Pollen?
To begin, Infinity Bee Pollen is a over-the-counter supplement. The ingredients include lotus seed, bee pollen, dietary fiber, Chinese yam and wolfberry. You only need to take one capsule daily, in the morning. It's supposed to help suppress appetite, increase energy levels and promote weight-loss. There is no special diet or fitness plan mentioned.
The company behind Infinity Bee Pollen capsules is Ultimate Floyd Nutrition. It appears as if only some third-party retailers sell the supplement. There are some helpful user comments posted on the web and it seems to be affordable, but read on…
FDA Advisory – "From Infinity Bee Pollen Ingredients?"
The first concern related an advisory issued relating to Infinity Bee Pollen ingredients. "The FDA issued warning relating to components of this supplement," said our Research Editor. "Several batches were found to contain sibutramine; a banned prescription drug."
According to drugs.com, "Sibutramine is a controlled substance that was removed from the market in October 2010 for safety reasons."
We did find that some users still used the supplement, despite the advisory.
One customer commented, "Infinity Bee Pollen helped me drop seven pounds."
Another posted, "Been on Infinity Bee Pollen pills for a week. This stuff seems intense."
Scroll below for one of the best products we've seen over the last year.
Lack of Availability – "Is Infinity Bee Pollen Still For Sale?"
According to Infinity Bee Pollen reviews, it's becoming difficult to locate the supplement. One person stated, "Found this supplement on eBay a year ago. But now it's impossible to get."
However, a different individual said, "Used this product for a few days. It seems to be effective. However, I had some Infinity Bee Pollen side effects. Specifically rapid heartbeat and nausea."
"Found Infinity Bee Pollen through a third-party dealer. But it's getting harder to find," posted another.
According to our research, if there is a lack of availbility is deemed a problem, the chances of long-term success is limited. There's an issue if dieters can no longer located Infinity Bee Pollen.
The Science – "Is Any Provided?"
We were unable to locate any clinical research regarding Infinity Bee Pollen pills. This is unfortunate, because we at DietSpotlight prefer to see some actual studies that support the product. With this supplement, we only see a big red flag.
The Bottom Line – Does Infinity Bee Pollen Work?
So, should you order a bottle of Infinity Bee Pollen capsules? Well, we like that this supplement contains some natural ingredients and that we found some positive customer comments. Then again, we have some serious doubts about it since there is no clinical research provided at all. Moreover, we're certainly leery of the advisory issued by the FDA and the lack of availbility.
If you really want to jump-start your weight-loss, then we suggest going with a supplement containing ingredients backed by science and not connected to harmful side effects.
Among the best products we've seen in 2016 is one called Leptigen. It contains four clinically-tested ingredients which have been shown to help accelerate metabolism and ignite fat loss. Customers aren't talking about harmful side effects, but they are chattering about seeing great results.
The makers of Leptigen are so confident in their supplement, that they're offering customers a Special Trial Offer.