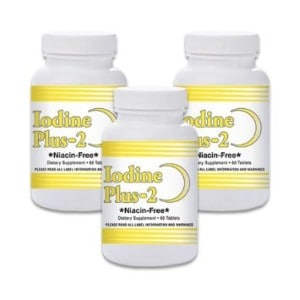 My love of diet products is only bested by my passion for reviewing them 🙂 We conducted an in-depth review of Iodine Plus 2 side effects, ingredients, clinical research and customer-service quality. Additionally, we picked apart hundreds of dieter reviews and comments. Then, we condensed and summarized to give you all the info you need.
What is Iodine Plus 2?
First off, Iodine Plus 2 is a dietary supplement. The ingredients are iodine 5mg, potassium salt 7.5mg, selenium 15mg and vitamin B2 15mg. The supplement promotes weight-loss by increasing thyroid function, thus resulting in a boost in metabolism. The recommended serving is one capsule per day. The company suggests not using more than two within 24 hours. One of the benefits is that it's niacin-free (no flushing).
Natural Living produces Iodine Plus 2 and has been around since 1996. A two-month supply is sold on the official website for $25.95. It's also sold through trusted retailers. We like the longevity of the company and that it contains a few natural ingredients, but read on…
Lack of Results – "Losing Weight?"
The first concern was Iodine Plus 2 ingredients not addressing weight-loss. "The active ingredient in this supplement supposedly helps the thyroid gland," said our Research Editor. "What we found was that research doesn't necessarily support this claim."
"No weight-loss at all, just another supplement that did nothing for me," said one user.
"This helped my iodine deficiency, but it did nothing for the thyroid problems and I'm still gaining weight," said another.
On the other hand, some users did notice results.
"Feel as if my metabolism increased while using Iodine Plus 2," said a customer.
Scroll below for one of the best products we've seen over the last year.
Iodine Plus 2 Side Effects – "Another Concern?"
We searched Iodine Plus 2 side effects and the results were surprising. "I've been taking Iodine Plus 2 for a while now, and I've noticed a decrease in energy and skin problems," said a customer.
"It says niacin-free, but I've felt flushed ever since I started taking Iodine Plus 2," stated a user.
We found that negative side effects associated with natural supplements are rare. For instance, a dieter said, "I'm almost finished with my first bottle and am feeling healthier and more energetic. Absolutely no negative side–effects."
"I feel great taking it and there are no side effects. Iodine Plus 2 is really effective," commented another.
Our research suggests that whenever a particular aspect of a supplement is considered problematic, such as being the cause of negative side effects, long-term success is limited. If dieters use Iodine Plus 2 and experience adverse reactions, it may be time to consider an alternative.
The Science – "Based on Research?"
According to the information on the Iodine Plus 2 website, lowered thyroid functionality could lead to weight gain. The company claims this supplement helps you lose weight. How? We followed the research and found that iodine is an essential part of the body making thyroid hormones. Those helping to regulate metabolism. What's missing are studies showing this particular product is connected to improved TSH levels, which could help you lose weight. At DietSpotlight, science-based facts are a critical part of the review process. When there's no evidence used to back up the claims, we start to have concerns.
The Bottom Line – Does Iodine Plus 2 Work?
Losing weight means more than simply boosting iodine levels. We like that Iodine Plus 2 ingredients are natural and the longevity of the company, but we're concerned about this one because there's no research showing the connection between this formula and weight-loss. We're also discouraged by customers talking about negative side effects and not noticing results.
We want you to be successful, so we suggest going with a supplement containing ingredients connected to weight-loss, backed by positive customer comments and not connected to harmful side effects.
Among the best products we've seen in 2016 is one called Leptigen. The supplement contains four clinically-tested ingredients that promote weight-loss by boosting metabolism and igniting fat loss. While there's there's no mention of harmful side effects, we did find dieters talking about seeing great results.
Also, the makers of Leptigen are showing just how confident they are in their product by offering a Special Trial Offer.