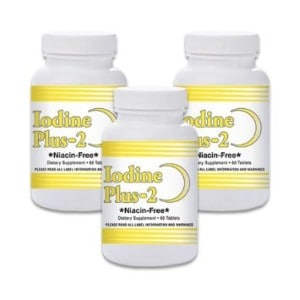 My love of diet products is only bested by my passion for reviewing them 🙂 With Iodine Plus 2, we conducted an in-depth review of the ingredients, possible side effects, research behind the ingredients and customer-service quality. We read reviews online from verified purchasers and scoured the web for information about this product. Then we condensed it all to give you all the info you need.
What is Iodine Plus 2?
To begin with, Iodine Plus 2 is an supplement that aims to correct an iodine deficiency caused by an underactive thyroid. It comes in liquid and capsule form, making it easy to take anywhere you go. It has very few ingredients with just iodine, salt, selenium, and Vitamin B2 listed.
Natural Living produces Iodine Plus 2. This company has been around since 1996, and they have several products on their website. It can be purchased from drug stores or a variety of other sources online. We like the longevity of the company, the broad array of choices, and the availability of this supplement, but read on…
Lack of Results – "No Weight-Loss at All!"
Firstly, when we heard about this product, we immediately wondered if its claims were too good to be true. Because Iodine Plus 2 ingredients address a symptom of thyroid imbalance and not necessarily weight-loss. "There is a small portion of the population that's dealing with slow metabolism that would even be affected slightly by this formula," said our Research Editor. "That means few people will see the results they're expecting."
"No weight-loss at all, just another supplement that did nothing for me," said one user.
"This helped my iodine deficiency, but it did nothing for the thyroid problems and I'm still gaining weight," said another.
Scroll below for one of the best products we've seen over the last year.
Side Effects – "Another Concern?"
One thing that jumped out at us was the potential side effects that stem directly from the iodine in Iodine Plus 2. Health professionals warn that iodine can have a harmful effect on those with hyperthyroidism or other conditions, which seems to defeat the purpose of this supplement.
"I've been taking Iodine Plus 2 for a while now, and I've noticed a decrease in energy and skin problems," said one customer online.
"The doctor said that I'd been taking more than 10 times what I should be taking in a day," said one verified review online.
Our research suggests that whenever a particular aspect of a weight-loss program or diet supplement is abnormally difficult (painful workouts, poor taste, high cost, side effects, etc.), the likelihood of losing weight and keeping it off for good is slim. If Iodine Plus 2 really does contain ineffective ingredients, it could make it difficult to achieve permanent weight-loss.
The Science – "Evaluated and Validated?"
Another issue we have with Iodine Plus 2 is the lack of scientific evidence behind its claims. While it's obvious that iodine does help solve deficiency, there's no proof that it addresses any part of weight-loss for a large portion of the population. If you feel you're suffering from an underactive thyroid, it may be best to seek medical advice and treatment.
The Bottom Line – Does Iodine Plus 2 Work?
Are we racing out for our first bottle? We liked that Iodine Plus 2 is made by a company that has been around for nearly 20 years and that it is readily available online, but because of the lack of evidence supporting this as a weight-loss product, we are skeptical about recommending this as an effective solution. We're also discouraged by the fact that only a select number of dieters have an issue with thyroid function.
If you're looking to drop those last few pounds or start a healthy lifestyle, we suggest you find a supplement that's made with clinically tested ingredients. Look for one that shows weight-loss results in tons of customer reviews.
Among the best products we've seen in 2016 is one called Leptigen. It has a proprietary blend of just four ingredients that have not been linked to many negative side effects. There have also been multiple clinical tests and published research showing it may help boost your metabolism and accelerate fat burning. Plus, users are raving about results.
The makers of Leptigen are showing just how confident they are in their product by offering a Special Trial Offer.