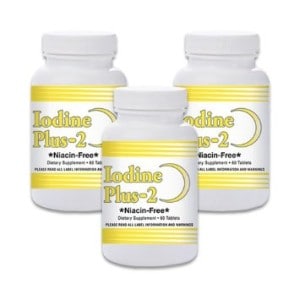 Many people are unable to lose weight due to a thyroid condition, so when we heard about Iodine Plus 2 and its claim to help those with thyroid issues lose weight, we were intrigued. In order to find out more about this Iodine supplement, we conducted an in-depth review of the ingredients, health concerns, research behind the ingredients, and customer-service quality. We read reviews online from verified purchasers and scoured the web for information about this product to give you all the info you need about Iodine Plus 2.
EDITOR'S TIP:
Combine Iodine Plus 2 with a proven fat burner such as
Leptigen
for better results.
What You Need to Know
Iodine Plus 2 is an iodine supplement that aims to correct an iodine deficiency caused by an underactive thyroid. It comes in liquid form as well as capsule form, making it easy to take anywhere you go. It has very few ingredients with just iodine, salt, selenium, and Vitamin B2 listed as ingredients for this product.
Natural Living produces Iodine Plus 2. This company has been around since 1996, and they have several products on their website. Iodine Plus 2 can be purchased from their website, from drug stores, or from a variety of other sources online. We like the longevity of the company, the broad array of products, and the availability of this supplement, but read on…
Lack of Results–"No Weight Loss at All!"
When we heard about this product, we immediately wondered if its claims were too good to be true. Because Iodine Plus 2 addresses a symptom of thyroid imbalance and not the root cause, it doesn't have an effect on most customers. "I took these every day, and never lost any weight," said one verified user. "Iodine Plus 2 may produce results in some dieters, but that is mostly a placebo effect, and not true results. This product can also have dangerous unintended consequences" said our research editor. Most users agreed that while Iodine Plus 2 was an affordable weight loss solution, it was far from effective when it comes to weight loss.
"No weight loss at all, just another supplement that did nothing for me," said one user.
"This helped my iodine deficiency, but it did nothing for the thyroid problems and I'm still gaining weight," said another. It sounds like Iodine Plus 2 does offer help to those that don't get enough iodine in their diet, but that can also be achieved through vitamins and minerals available at any drugstore or by changing your diet to include foods high in iodine.
Scroll below for one of the best products we've seen over the last year.
Harmful Side Effects–Another Concern
One thing that jumped out at us was the harmful side effects that stem directly from the iodine in Iodine Plus 2. Health professionals recommend 1.1 mg per day of iodine to maintain healthy levels, but Iodine Plus 2 contains 12.5 mg, which is 12 times as much as the recommended dosage. To top that, some people take multiple pills per day, which can lead to iodine overdose, which in turn can cause numerous health problems, including severe bleeding, headache, joint pain, fever, and more. Health professionals also warn that iodine can have a harmful effect on those with hyperthyroidism or other thyroid conditions, which seems to defeat the purpose of this supplement. "I've been taking Iodine Plus 2 for a while now, and I've noticed a decrease in energy and skin problems," said one customer online.
"I ended up in the emergency room with iodine poisoning," said one verified review online. "The doctor said that I'd been taking more than 10 times what I should be taking in a day."
Our research suggests that whenever a particular aspect of a weight loss program or diet supplement is abnormally difficult (painful workouts, poor taste, high cost, harmful side effects, etc.), the likelihood of losing weight and keeping it off for good is slim. If Iodine Plus 2 really does have too much iodine and can lead to harmful side effects, it could make it difficult to achieve permanent weight loss.
If you do try these pills, we recommend you get the OK from your family doctor to make sure that the iodine levels aren't too much for you.
The Science
Another issue we have with Iodine Plus 2 is the lack of scientific evidence behind its claims. While it's obvious that iodine does help solve an iodine deficiency, there's no proof that it addresses the root cause of the deficiency. There's also the science of just how much iodine our body actually needs. Most healthcare professionals and nutritionists recommend 1100 mcg per day, or 1.1 mg, but this product contains 25 mg per serving, and in many cases people took this multiple times per day based on the manufacturer's recommendation. The only science behind Iodine Plus 2 that we found was that it contained highly dangerous amounts of iodine that can lead to iodine overdose. We found nothing suggesting that this is a safe or effective weight loss tool.
The Bottom Line
We liked that Iodine Plus 2 is made by a company that has been around for nearly 20 years and that it is readily available online, but because of the lack of evidence supporting this as a weight loss product and the health concerns of iodine overdose, we can't recommend this as an effective weight loss solution. We're also discouraged by the fact that iodine can easily be found in foods that we eat on a regular basis, so it's easy to get your daily dosage of iodine elsewhere rather than pay for a supplement.
If you're looking to drop those last few pounds or start a healthy lifestyle, we suggest you find a supplement that doesn't have long-term health concerns. Finding an effective product can be difficult, but if you look for products that have claims backed by published research, you can get a good indication of how well they really work.
Among our favorites for diet supplements so far in 2016 is a product called Leptigen. Leptigen has a proprietary blend of just four ingredients that have not been linked to any negative side effects. There have also been multiple clinical studies and published research backing up Leptigen's claims that it will help boost your metabolism and accelerate fat burning.
The makers of Leptigen are showing just how confident they are in their product by offering a special trial offer.