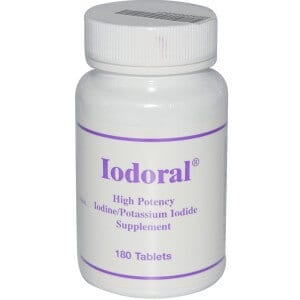 There are numerous reasons individuals may have difficulty losing weight, or maintaining a healthy weight. One of the more common reasons is an under or overactive thyroid. The makers of Iodoral, Optimox Inc., claims their product can help these individuals. However, they also claim the product can assist anyone who needs help losing weight. We were eager to learn more about the product and the associated claims.
What You Need to Know
Iodoral is essentially an iodine supplement. The primary purpose of the product was intended to provide supplemental iodine to the thyroid in order to promote better thyroid function. A properly functioning thyroid helps facilitate weight loss and can give individuals more stamina and energy. While it originally began as a health supplement for a different condition, there is a great deal of anecdotal evidence suggesting it is an effective weight loss supplement.
A 90 count bottle costs $26.00, however, it is typically sold in 90 or 180 count sets. This seems like a reasonable price for a weight loss supplement, but read on…
How does the thyroid affect weight?
One of the main claims made by the makers of Iodoral is that it helps increase production of the thyroid gland. Several studies have indicated that iodine deficiency can lead to hypothyroidism. By increasing the amount of iodine in the diet the problem is typically resolved. Hypothyroidism has many negative impacts on an individual's physiology, including weight gain, fatigue, difficulty concentrating, and reduced energy. By stabilizing thyroid production many of these negative impacts can also be eliminated. However, iodine must be used in conjunction with Vitamin A in order to impact the thyroid. Vitamin A is not one of the ingredients in Iodoral.
According to our research editor, "Even if the iodine was being delivered with the Vitamin A, the person taking the supplement would most likely only benefit if they had hypothyroidism."
Scroll below for one of the best products we've seen over the last year.
Ingredients
The two main ingredients in Iodoral are both iodine based.
The Science
While there is a link between increased iodine in the diet and improved thyroid function in patients with hypothyroidism, there is absolutely no clinical evidence that those individuals with normally functioning thyroid glands would benefit from additional sources of iodine. While the company does supply anecdotal evidence of consumers who have lost weight while taking the supplement, there is no way to know if this was because they had an underlying medical condition, or if the results were achieved through diet and exercise and the supplement wasn't a factor.
The Bottom Line
We like that Iodoral is all natural and has minimal ingredients. The science supporting iodine and improved thyroid function is valid, but this supplement doesn't include the needed Vitamin A to guarantee efficacy. Additionally, since there is no scientific evidence supporting the claims that the product promotes weight loss, we simply can't recommend it.
The best weight loss supplements rely on more than anecdotal evidence to support their claims. Rigorous testing and a robust money back guarantee make us feel more confident in recommending products.
One of the best examples of this we've seen is Leptigen. The company offers excellent guarantees and provides detailed information about the research that went in to making the product.
The makers of Leptigen are so confident their product will deliver on their claims that they provide new customers with a special trial offer. We have had many readers pleased with this show of faith.