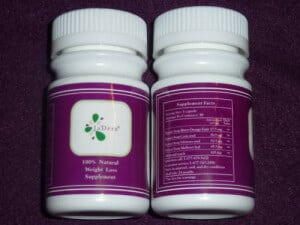 There's a bit of curiosity surrounding Jadera, so we took a deep look into the ingredients, side effects, clinical research and customer service. We also thoroughly searched hundreds of user comments and reviews. Then, we condensed and refined the info to give you the facts you need.
EDITOR'S TIP:
Click here
to substitute Jadera with a proven fat burner such as Leptigen for better results.
What You Need to Know
First off, Jadera is a diet pill company offering multiple supplements that have garcinia cambogia, guarana, caffeine, synephrine and undeclared sibutramine. Taking between two and four capsules before the morning and afternoon meals is supposed to help burn fat, boost energy levels and control appetite. Though that is a lot to take, you can use the product on the go.
The product, released by either the Dolphin Intertrade Corporation or Jadera USA, lists ingredients on the official website, a good effort. You can buy it online and through Amazon.com. We like that you can find information on the company location and you can contact the customer service department, but read on…
Side Effects – Not the Greatest Feeling
The first issue we're concerned about is Jadera side effects. "Dieters look for a supplement to help them lose weight," says our Research Editor. "You should never have to trade effectiveness for side effects."
"I started have trouble breathing and it scared me. One of my friends had the same effect with them. They are great but not worth your life," one dieter reports.
Another user felt the same thing, "I have been taking Jadera for just 2 days. I already feel shortness in my breath and rapid heartrate."
"I had rapid heart beat and shortness of breath it really scared me so I stoped using immediately!," says a worried user.
Scroll below for one of the best products we've seen over the last year.
FDA Alert
Dolphin Intertrade Corporation is the company behind Jadera products. In 2013, the FDA announced a voluntary recall of the supplement(s) because the formula has sibutramine, a prescription medication for appetite suppression. This medication was removed from the approved list in 2010 due to potentially serious side effects. This was the second time the business received the warning. The same issue arose in 2011.
Lack of Results – Nothing Happens
If you take the risk with Jadera diet pills, you at least want them to be effective. With Jadera, weight-loss does not seem to be a common result. "I have finished my first bottle and haven't lost one pound," a user says.
"I have been taking jadera for 2 months now i haven't noticed any weight change," another dieter reports.
The same claim came up multiple times, "It doesn't work at all…no engery boost, no decreased appetite. It's crap."
Based on our research, something as simple as lack of results is enough to offset chances of long-term success. If Jadera pills do not work to help the dieter lose weight, there's no sense in taking the supplement.
The Science
You can find all sorts of information on Jadera supplements, but you won't find any mention of clinical studies. If you look, you can find support for ingredients like caffeine and green tea extract, but it's the potential side effects associated with the other parts of the formula that concern us the most. Both synephrine and sibutramine are associated with some troublesome reactions. The latter is no longer available for sale in the United States due to health risks.
The Bottom Line
We were taken with all the hype about Jadera. We like that the contact information for the customer service department is easy enough to find and there are a few positive comments, but we can't support a product that comes with the risk of side effects and lack of results. We're also highly concerned about the FDA infraction that revealed the supplement contained an illegal prescription medication.
If you're stoked to lose weight now, we suggest finding a supplement that combines a list of ingredients with published clinical support and a great price.
Among the best supplements we've found in 2016 is one called Leptigen. The formula is packed with four clinically-proven ingredients shown to spark metabolism and promote fat loss. There's no talk of harmful side effects, but we found plenty of dieters reporting some fantastic results.
Also, the makers of Leptigen have enough confidence in their product to offer a special trial offer, not something you see every day.