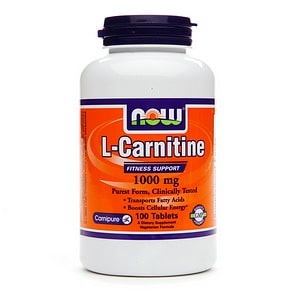 In the diet industry, don't mistake marketing for effectiveness. We wanted to know if that was the case with L-Carnitine, so we dug deep into all the details, the ingredient and clinical research. Then, we read tons of reviews and testimonials. Finally, we condensed it to give you the bottom line.
What is L-Carnitine?
To start off with, L-Carnitine is an amino acid. It works to support energy production, heart health and brain function. It is most commonly used to treat patients with a disorder that causes low levels in the body. Depending on the reason for taking it, the dosage instructions will differ.
There's no specific company behind the amino acid, but there are plenty of well-known ones who sells it. You can buy from just about every vitamin store and online shop. We like that there are proven uses for L-Carnitine and some people actually noticed weight-loss, but read on…
Effective – "Not for All"
First off, L-Carnitine is not effective in all cases, especially when it comes to increased energy, but some people did report improved mental clarity.
"Doesn't seem to have much effect. Stopped taking after half bottle," was one experience.
Another shared, "This didn't do it for me. I didn't feel a boost in anything. It was pretty much like taking a sugar pill."
On the flip side:
One person said, "If I don't get enough sleep they just don't keep me awake, but on a normal day they help keep me focused and productive."
"I find this product is helping to reduce my lipid levels and I do experience improved mental clarity," claimed another.
Scroll below for one of the best products we've seen over the last year.
Weight-Loss – "Not a Big Result"
We also found more than a few reports that weight-loss just wasn't something many users achieved.
"I didn't lose any weight or notice any sort of increased performance," reports a user.
One who tried L-Carnitine said, "I don't feel energetic, and I haven't lost any weight, even though I work out."
Despite the negative claims, there are those who did see results.
One dieter offered, "Always looking for a natural alternative for a weight loss and energy and this seems to be a great one!"
We also found one that claimed, "I have lost weight, however, I am eating a sensible diet, exercising regularly."
The Science – "Validated?"
There's plenty of science behind L-Carnitine for the treatment of low levels and even kidney health, but there's little to no reason to think it will help you lose weight. We assume some companies focus on the function in energy production, but that's not enough to have a strong effect on your success. Here at DietSpotlight, we want to see the research before suggesting any product.
The Bottom Line – Does L-Carnitine Work?
Have we decided to try out L-Carnitine? Well, we like that there are some proven uses for the amino acid and there are users who noticed weight-loss, but we are hesitant to give the green light because the science just isn't there. Plus, the number of people who lost nothing is a red flag.
If you've got weight-loss on the mind, you may want switch out L-Carnitine with a scientifically tested supplement that works on metabolism. There's a chance you could take the two together.
Among the best products we've seen in 2016 is one called Leptigen. Unlike L-Carnitine, there is a direct connection between the clinically tested ingredients and weight-loss. Customer reviews are absolutely amazing and users, from all over the world, are reporting few, if any, side effects.
Also, it's a big plus that Leptigen is offered as part of a Special Trial Offer, because the company is confident in the ingredients.