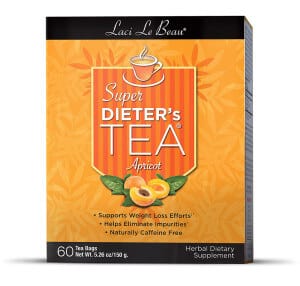 In the diet industry, don't mistake marketing for effectiveness. We took the time to create a detailed review of Laci Le Beau Super Diets, scrutinizing the ingredients, side effects, customer service and scientific studies. Furthermore, we looked at hundreds of dieter comments from around the web. At last, we compacted all of the facts and feedback we found to give you the bottom line.
What are Laci Le Beau Super Diets?
First off, Laci Le Beau Super Diets are intended to help you with weight-loss and overall wellness. The official website provides Laci's top 10 dieter's tips, as well as a diet plan, which involves eating only 1,200 calories per day. However, the diet teas are the primary focus. The key ingredients are Senna Leaf, Cinnamon Bark, Licorice Root, Siberian Ginseng Root and natural plant extracts for flavor.
Laci Le Beau teas have been available since at least 2007 and they can be purchased directly from the official website. There are several flavors of these diet teas and both women and men can use these products daily, but read on…
Unpleasant Taste – "A Consideration?"
Our first consideration about this one was with the flavor. According to our Research Editor, "We found a number of customer complaints posted online regarding the taste of Laci Le Beau Super Diets teas. Naturally this is concerning because people are unlikely to consume the teas daily if they are bad."
One customer complained, "HORRIBLE, tastes like medicine!"
"I did not like this product. It was hard to drink it on a daily basis," said another user.
Scroll below for one of the best products we've seen over the last year.
Side Effects – "Another Concern"
There are some side effects mentioned by customers. Some users have complained of diarrhea, abdominal discomfort and stomach pains. According to one person, "One of the top ten most painful experiences I have ever had in my life."
Another user mentioned, "This tea causes serious cramping and diarrhea. Not good!"
The extensive research we've done has proven that if there is a particular facet of a weight-loss product or diet system that is especially bothersome (unpleasant taste, side effects, steep price tag) the chances of prolonged results are not good. In other words, if Laci Le Beau Super Diets teas do in fact have a bad flavor, this could be problematic.
Any Actual Science?
At DietSpotlight, we need to see some actual clinical studies or science that supports the diet product and its weight-loss claims. Unfortunately there is no solid research or scientific studies presented to back up Laci Le Beau Super Diet teas.
The Bottom Line – Do Laci Le Beau Super Diets Work?
So, should you spend your money on Laci Le Beau Super Diets? First of all, we appreciate that these products are easy to find online and they are made with natural ingredients. Then again, we have some concerns about Laci Le Beau products because they are not supported by clinical research. Furthermore, we don't like that some users complain of side effects and unpleasant taste.
If you'd like to shed more pounds, we recommend you select a diet product that contains clinically proven ingredients, does not taste bad and does not lead to any unpleasant side effects.
Among the best products we've seen in 2016 is one called Leptigen. This supplement contains a unique blend of four powerful ingredients, which have been shown in documented clinical research to help ignite metabolism and encourage more fat loss. Also, we have not found any talk of negative side effects and user comments posted on the internet reveal people are seeing significant results.
The makers of Leptigen are so certain of their product they're offering a Special Trial Offer, which is a good sign.