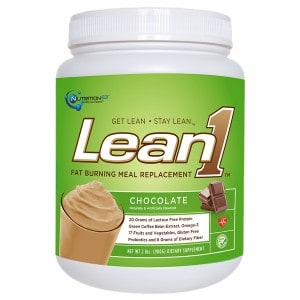 The results of my research into Lean 1 Healthy Performance Shake were somewhat surprising. We opted to do one of our in-depth reviews, looking closely at the ingredients, side effects, scientific support and customer service. Plus, we read hundreds of experiences from all over the internet. Then, we summarized and condensed it all to give you with the information you need.
EDITOR'S TIP:
Combine Lean 1 Healthy Performance Shake with a proven fat burner such as
Leptigen
for better results.
What You Need to Know
First of all, Lean 1 Healthy Performance Shake is a product from Nutrition 53. It contains an overwhelming number of ingredients, but is essentially a whey protein blend with fiber, vitamins and minerals and various dried fruits and vegetables. It works as a meal replacement. Each scoop contains 100 cal and one serving is two to three. You can find it for $39.97 and it is available in six different flavors.
Nutrition 53 was founded by former NFL player Bill Romanowski. He developed the business with the help of the world's best doctors, nutritionists and scientists, to create a product that would help restore his memory after suffering concussions on the football field. As the line expanded Lean 1 Healthy Performance Shake was added. We don't know when the company was founded, because it is not mentioned on the official website. We like that the contact information easy to find, but read on…
Bad Taste – "Yuck?"
The first thing that concerned us with Lean 1 Healthy Performance Shake ingredients was the taste. "If you do not like the flavor, how are you supposed to continue using the meal replacement over the long-term?," asks our Research Editor.
"It has a strangely sweet aftertaste that kind of reminds me of the sugar free chocolate syrup that I tried but refuse to use because it's disgusting," said one user.
"Let's just say when they say chocolate, they don't mean ben & jerry's chocolate fudge brownie milkshake sadly," offered another.
The same issue came up time and again as one buyer claims, "This is not Chai flavored. It is cinnamon flavored."
Scroll below for one of the best products we've seen over the last year.
Ineffective – "Weight Gain"
Another issue that came up was the fact that users reported no results and some actually gained weight. "Likely could have gotten the same or better results drinking water! Will not buy it again nor recommend it to anyone," said a user.
Another claimed, "The worst thing is that within 4 days of using this shake I gained 3 pounds!!!!!"
Our research indicates that if there's part of a diet program that's difficult, like bad taste, it can be hard for users to achieve long-term results. If Lean 1 Healthy Performance Shake has a poor flavor, that's not a good thing.
The Science – "Any Proof?"
Though the company founder and CEO claims that he worked with the best doctors, nutritionists and scientists, to formulate his supplements, we are unable to find any sort of clinical research to support this product. We know that protein helps you feel fuller, but there's nothing to say Lean 1 Healthy Performance Shake is better than all others. At DietSpotlight, we look to science for the final word and this time it is not a supportive one.
The Bottom Line – Does Lean 1 Healthy Performance Shake Work?
So, what's the 411 on this one? We were hoping that Lean 1 Healthy Performance Shake would be a quality whey protein supplement for dieters looking for a safe and effective meal replacement. After conducting our research however, we found numerous reports of horrible taste across a number of the available flavors. There's also no clinical proof this formula is any better than the competition, which leaves us skeptical about raising the green flag.
If you're looking to drop some pounds, we recommend choosing a clinically proven safe and effective. It's important that no side effects be associated with the formula and a great price is always a plus.
Among the best products we've seen in 2015 is one called Leptigen. This supplement is made with a unique blend of four clinically proven ingredients, known to help boost the metabolism and fat burning power. Over the course of our research, we could not find any negative mentions of side effects, but we easily found talk of dieters seeing amazing results.
We're happy to see the makers of Leptigen are so confident in their product they're giving new customers a Special Trial Offer, which is always a good sign.