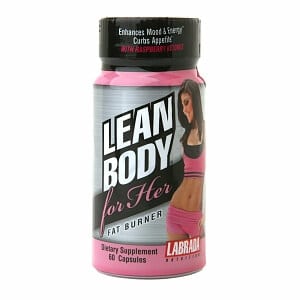 Bottom Line: We've all struggled to find the right diet product, so we closely examined the ingredients, side effects, customer service and clinical research in Lean Body for Her. We took hundreds of user comments and reviews into consideration. Then, we collected, condensed and refined the facts to give you the info you need.
EDITOR'S TIP:
Click here
to substitute Lean Body For Her with a proven fat burner such as Leptigen for better results.
What is Lean Body for Her?
First off, Lean Body for Her is a fat burning line that has whey protein, flax seed oil, rice bran and other ingredients. The diet pill has caffeine, raspberry ketones and synephrine. When used regularly, it is supposed to enhance mood, boost energy and help you lose weight. Both the shake and the supplement are portable, a good option.
The product website, from Labrada, offers detailed information on the Lean Body for Her fat burner and protein shake. We didn't find any synthetic ingredients, one positive. We like the ease of ordering and the customer service department was friendly, but read on…
Taste – "Meal Replacement Shake?"
Our first issue pertains to Lean Body for Her whey protein. The taste may not be what dieters expect. "Some protein products have a unique taste and gritty texture," says our Research Editor. "The best ones offer a great nutritional source that is appealing to the palette. Something that Lean Body for Her may be missing."
"I had to choke this stuff down. I didn't want fake sugars (tried hard to find out if that's what was in there before I bought it), but that's exactly what I got. It tasted horrible. I ended up drinking about 4-5 total (never finishing a single one) and gave the rest away," one user complains.
"I didn't like the thickness or the flavor, compared to another protein powder that I was used," explains another.
One dieter put it simply, "I did not like the taste."
Scroll below for one of the best products we've seen over the last year.
Product Recall – "Whoa!"
The only product problem addressed by the FDA pertains to Labrada nut roll bars. The food was recalled due to potential salmonella contamination in 2009. No issues with Lean Body for Her have been reported.
Side Effects – "Feeling Icky"
Another problem you have to take into consideration is Labrada Body for Her side effects. "This is the first fat burner I took that ever made me sick. It didn't curb my appetite and on the second day of taking it I literally felt an "electric shock" on my heart. Very scary!," a dieter reports.
"Taking this pill made me nauseous immediately although I took it with food, and It didnt really make me feel good at all and instead I felt tired and slightly sick often," another user says.
Even more side effects were claimed, "This product made me sweat all the time. Just sitting I felt hot and hot flashes. I couldn't keep up with replacing my fluids from sweating all the time and was getting dehydrated often. After two weeks of taking it, I was dizzy and light headed all the time."
All it takes is one problem, like side effects or poor taste, to lessen your chances of long-term success. If Lean Body for Her isn't what the dieter expects it to be, they will not stick with the company for long.
The Science – "Proven Effective?"
We looked at the Lean Body for her fat burner and whey protein shake and found no mention of clinical support for either on the official website. There is evidence using a meal-replacement for breakfast, lunch or dinner, when partnered with a healthy diet and exercise program, can boost weight-loss. There is no proof Labrada Body for Her is more effective than other options.
As for the Labrada Lean Body for Her fat burner, caffeine has some strong support, but synephrine is clinically proven to cause some side effects the dieter will want to avoid. At DietSpotlight, we need science to back a product. In the case of this supplement, there's just nothing there.
The Bottom Line – Does Lean Body for Her Work?
Somebody give me a drum roll. Our interest in Lean Body for Her was soon replaced with a humdrum conclusion. We like that Labrada offers an official website with details on the supplements and the prices are not far off from the competition, but we are skeptical about a line that comes with potential side effects or bad taste. We're also concerned that there's no BBB file, even though the company has been around for more than 20 years.
If you want to melt away those extra pounds, our suggestion is to go with a formula that packs a strong, clinically-proven ingredient list with no risk of harmful side effects and no FDA involvement.
Among the best products we've seen in 2016 is one called Leptigen. The proprietary blend of four ingredients is supported with strong clinical research showing it helps increase metabolism and boost fat loss. Dieters are not talking about any negative side effects, but we did locate numerous reports of great results.
Also, the makers of Leptigen feel confident enough in the formula to offer a Special Trial Offer, not your every day option.
Leptigen offers customers fast, reliable worldwide shipping, so you don't have to live in the US to take advantage of the Special Trial Offer. Whether you're in Canada, the UK, Australia, or others, choose your country on the order page – that's it!