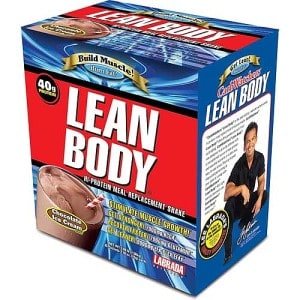 In the weeks that led to this review, I figured out whether Lean Body actually works. Here at DietSpotlight, we did one of our intensive reviews, examining the side effects, ingredients, clinical studies and customer-care quality. Plus we read all sorts of user comments and dieter experiences from around the web. At last, we summarized and condensed this information to give you the bottom line.
What is Lean Body?
To begin, Lean Body is basically a protein shake. It's available in both powder and ready-to-drink forms. Each serving provides 40 grams of protein to help stave off hunger and build lean muscle mass. Furthermore, they are claimed to boost energy levels and burn off fat. The flavors available are salted caramel, chocolate ice cream, vanilla ice cream, strawberries and cream, bananas and cream, and cookies and cream. These shakes do not contain any sugar, gluten, lactose or trans fats. You can consume them in place of meals to cut calories or after workouts.
We are not sure when Lean Body shakes were initially released, but they are available through online stores like Amazon. This company, Labrada Nutrition, has been around since 1995 and there are some positive customer comments posted online, but read on…
Bad Taste – "Can You Handle It?"
First off, we have an issue with Lean Body ingredients because the flavor is not exactly what some users expected. "There are numerous customer reviews that address the unpleasant taste of the shakes. Naturally this is concerning, because if you can't drink the product regularly, it's not going to help you with weight-loss," says our Research Editor.
According to one customer, "If you're into paying big money for that chocolately vitamin chemical taste, then you'll love this."
"The taste is horrible. I've downed a lot of bad shakes in my life but this one just tastes incredibly off, there is ZERO banana taste here, just chemicals," commented another user.
Scroll below for one of the best products we've seen over the last year.
Plenty of Customer Complaints – "An Issue?"
You will find all sorts of user complaints posted online about Lean Body shakes. One customer stated, "Way too SWEET!!! Neither I, nor my husband could even choke this stuff down. And I love sweets! But this was much too much. Gross!!"
Another user said, "Took it until it finished. Still haven't seen much results. No weight-loss and have not lost any inches."
The research we've conducted has proven that if there is some facet of a diet product that is very difficult or burdensome (bad taste, pills that make you jittery, a lot of customer complaints) the probability of real results for the long term is not good. Therefore if Lean Body does have a bad flavor, this could be a serious problem.
The Science – "Any At All?"
Unfortunately Labrada Nutrition does not provide any clinical study results or scientific research on Lean Body shakes. Therefore it's impossible to know if this actually works as well for weight-loss as it's claimed to. Here at DietSpotlight, we actually prefer to see published science that supports the supplement we're reviewing.
The Bottom Line – Does Lean Body Work?
Now the moment you've been waiting for: our bottom line on Lean Body. Well, we like this company's longevity and some positive comments we saw online about this brand. Then again, we have some reservations about Lean Body shakes because they are not backed by solid clinical research. Furthermore, we're concerned about the numerous user complaints posted on the web and the less-than-savory taste.
If you'd like to drop more pounds of fat, then we encourage you to choose a product that is supported by plenty of positive user feedback, does not have a bad taste and is backed by solid clinical studies.
Among the best products we've seen in 2016 is one called Leptigen. This supplement uses a blend of four potent ingredients that have been proven in published clinical testing to help elevate metabolism and increase fat loss. We can't pinpoint much talk of side effects and user comments and reviews around the internet show people are seeing excellent results.
The makers of Leptigen are so positive about their product they're offering a Special Trial Offer, which is uncommon.