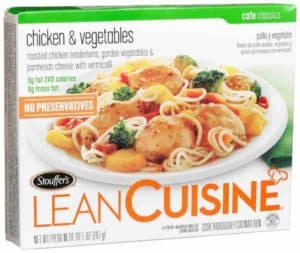 All it takes is two minutes of your time to learn whether or not Lean Cuisine is worth a try. We looked closely at the meal ingredients, possible side effects, customer service and clinical research. We also read more than a hundred reviews for real life experiences. Then, we summarized it all to give you the info you need.
What is Lean Cuisine?
First off, Lean Cuisine is a low-calorie meal replacement option sold in the frozen food aisle. You can eat one to two daily in place of home-cooked options. This is supposed to help you take in fewer calories and, thus, promote weight-loss. Some varieties include pizza, turkey, chicken and beef.
Nestle is the company behind the Lean Cuisine name. The website for the brand was purchased in 1996. That's more than two decades in the business. There are a ton of options to choose from, including Italian, French and Chinese. We like this variety and the price is right, but read on…
Stomach Irritation – "Don't Feel So Good?"
Our first concern with Lean Cuisine ingredients is the stomach irritation some people experienced. "There is quite a bit of salt in these meals," says our Research Editor. "This alone can cause issues like dehydration and increased bowel movements."
"Today, I was feeling perfectly fine until I ate a broccoli chicken Alfredo meal. Within a minute, I had to run for the bathroom," claimed a person who tried a meal.
One buyer said, "After eating lean cuisine Swedish meatballs I became sick to the stomach."
Others live by the brand as a means of controlling calorie intake or to just feel better.
"If you are in your 40's and would like to look and feel great, change your eating habits," said a buyer who's used Lean Cuisine for years.
Scroll below for one of the best products we've seen over the last year.
Poor Taste – "Can't Eat It?"
Another problem we found in customer reviews deals with Lean Cuisine taste. It didn't exactly live up to expectations for some people.
"This product is the saltiest thing I have ever tasted in my life. I actually coughed," said one buyer.
Another claimed, "Snack pizza is gag. Never again, spinach artichoke snack pizza. Never again."
Taste was a selling point for some customers.
"I love your meals. So much better than NutriSystem, both taste, and budget wise," was an experience.
A buyer also said, "I think Lean Cuisine dinner are delicious."
Over the years, our research shows it takes what seems like a small thing, like poor taste, to slash any chance of lasting results. If Lean Cuisine doesn't have the best flavor, the dieter won't stick with the plan for long.
The Science – "Any Real Research?"
Yes, we are thrilled to say that research shows meal replacements can promote weight-loss. You have to eat right and exercise for optimal results. If you don't change your diet, you probably won't see a difference. The official website for Lean Cuisine doesn't bother to share the studies, however. Here at DietSpotlight, we like to see companies that stand up for their products with science.
The Bottom Line – Does Lean Cuisine Work?
Do we suggest putting Lean Cuisine on your shopping list? Sure, there's no trouble in giving Lean Cuisine a try, maybe in place of that meal replacement shake. However, we do have some reservations because there is a lot of salt in there and that could cause problems for people with some medical conditions. Plus, the taste and stomach irritation are two problems customers have reported.
For those wanting to lose weight once and for all, our suggestion is to pair meal replacements with a supplement that's tested and shown to promote weight-loss. Plus, the price has to be right.
Among the best products we've seen in 2016 is one called Leptigen. You don't have to worry about taste and results are amazing, based on user reviews. The price is right and all ingredients have been clinically tested and shown to help boost metabolism so you lose more weight.
Plus, it helps that the makers of Leptigen are confident enough in the product to offer a Special Trial Offer.