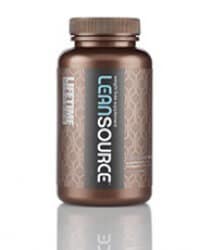 I was asked about Lean Source last week, and I realized that in spite of hearing the name many times, I didn't know anything about it. Guess what I did this week? I obsessed over the ingredients, side effects, clinical studies, and customer satisfaction related to this product. I then combed through forums and retail venues to track down customer reviews, and here is the condensed version of my findings.
EDITOR'S TIP:
Substitute Lean Source with a proven fat burner such as
Leptigen
for better results.
What You Need To Know
Lean Source is a dietary supplement pill that supposedly speeds up metabolism and burns fat. It has a fairly simple list of ingredients: 7 Keto, Conjugated Linoleic Acid, Chromium, and Green Tea Extract. 7 Keto specifically is said to boost metabolism, while chromium suppresses appetite and green tea has multiple effects. CLA is meant to impact body fat. The pills are relatively easy to take, and the pricing seems reasonable.
Lean Source is a product developed and sold by Lifetime Fitness, a popular fitness facility company (think YMCA or LA Fitness). Trainers at these facilities will often sell patrons this particular supplement, and Lifetime seems to accept in-store returns from customer who don't experience desired results. The supplement is sold through lifetime-weightloss.com, and pricing is $29.99 for 120 pills. We like the ease of use and the reasonable pricing, but read on…
Mediocre Results–Our First Concern
While this particular supplement seems pretty harmless, it doesn't seem very effective. "The combination of ingredients should provide at least a mild effect on body fat," said our research editor. "Green Tea extract can really have some nice qualities, and the other ingredients won't hurt you, but you probably won't be overwhelmed by the results." As we read through customer comments, the results seemed less than stellar.
"It didn't do anything for me," said one reviewer. Another said, "I did it for 3 weeks and gained 2 lbs. I returned it for a full refund at the gym. I hope that you have better results."
If you need a mild supplement that will gently boost your weight loss while you pursue other tactics like dieting and working out, this product might be a good choice. But if you are looking for something that packs a real punch, Lean Source may prove to be a disappointment because of its reliance on mediocre ingredients.
Scroll below for one of the best products we've seen over the last year.
Another Concern–Average or Unproven Ingredients
Are the ingredients in Lean Source harmful or totally ineffective? Probably not. But they aren't very reliable either. Ods.od.nih.gov says that CLA has "minimal effective on body weight and body fat," and lists abdominal discomfort and constipation as possible side effects. WebMD claims that there "isn't enough information on 7-Keto to know if it is safe," and chromium is also listed by Ods.od.nih.gov as having a "minimal effect" and causing mild side effects, such as nausea. Grean tea extract is probably the most reliable member of the ingredients list, and it can be purchase very cheaply from online retailers.
A brief survey of the ingredients in Lean Source online shows that you can find the individual ingredients at a much lower price. While a monthly cost of $30.00 isn't high when it comes to dietary supplements, you can find things like Conjugated Linoleic Acid and Green Tea Extract sold individually for around $10 and your supply will last much longer than a month. When you purchase ingredients separately, you are also in control of how much you take, whereas Lifetime's proprietary blend may use fillers to dilute the ingredients.
In the process of doing hundreds of these reviews, we've found that even minor drawbacks can hinder the long-term success of a supplement. One such negative would be a lack of timely, concrete results. If Lean Source does fail to deliver effective results, customers are unlikely to continue taking it and waiting for results to kick in.
The Science: Has Lean Source Been Clinically Studied?
This brings us to the matter of science–should we trust the research behind Lean Source? Lean Source doesn't seem to be backed by any clinical studies, and information on the website is pretty sparse. In fact, clicking on the shopping cart icon next to the product takes you to an error page–not a good sign. Furthermore, the headlining ingredient–7 Ketone–is largely unverified by science.
The Bottom Line
We gave Lean Source a lot of scrutiny and what we found intrigued us. Though it's reasonably priced we have a few concerns with it. We have reservations about how the unproven ingredients and lackluster results will affect your weight loss regimen. We can't guarantee using Lean Source will aid in assured weight loss.
Do you still need a supplement to help you burn off some weight? Consider researching products that are backed by clinical studies and have more potent ingredients–don't spend your money on something that may or may not work.
A product called Leptigen is at the top of our list here in 2015; it utilizes a proprietary blend of 4 ingredients that have been clinically proven to burn fat and boost metabolism. The online reviews look fantastic, and no talk of harmful side effects has emerged.
What's more, the makers of Leptigen are offering a special trial offer–always a good sign.